5 Riding Destinations for Getting in Shape in the New Year
Does your New Year's resolution involve getting in shape and spending more time in the saddle? Here is Equitrekking.com's top five guide to the best riding destinations for jump-starting your commitment to a healthier lifestyle.
The beginning of the new year is a great time to dedicate yourself to getting in shape. It's also the perfect time to plan a horseback riding vacation! Here are our picks for the best horseback riding destinations for equestrians looking to get on track with their fitness goals.
Nestled in the heart of Montana's Paradise Valley, Mountain Sky Guest Ranch sits on over 17,000 acres of pure wilderness. Conveniently located near the Gallatin National Forest and a mere 30-minute drive to Yellowstone National Park, Mountain Sky provides endless opportunities for outdoor activities for those looking for a fitness adventure. Equestrians looking to get in shape will enjoy the diverse riding activities the ranch offers. In addition to twice daily rides through rugged terrain, guests are also invited to participate in team penning or the "working ranch" experience. In the summer and early fall, Mountain Sky also offers a limited number of intense rides through Yellowstone National Park. Just make sure to inquire ahead about availability.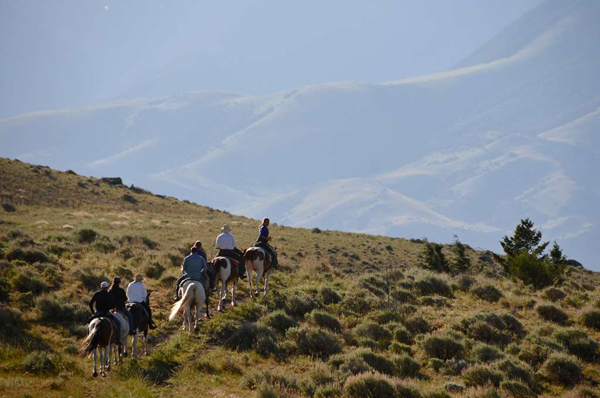 Horseback riding through incredible scenery like this won't feel like exercise--but it is. Photo courtesy Mountain Sky Guest Ranch.
Mountain Sky also provides a wide array of non-horsey recreational activities suited for those hoping to get in shape. The fitness center is complete with state-of-the-art-cardio and strength training equipment, and they also offer a yoga program for all ages and ability levels. For equestrians traveling with non-equestrians, the ranch also provides guided hikes anytime there is a scheduled ride--so all parties can stay active and explore the incredible landscape. For those looking to relax and unwind after a long day in the saddle--or the gym, Mountain Sky's heated pool, sauna, and spa offerings are the perfect way to recover.
An all-inclusive luxury dude ranch and winter resort in Steamboat Springs, Colorado, Vista Verde Guest Ranch is an ideal place for equestrians looking to plan their first "fitcation" on horseback. Located in the Routt National Forest close to the Zirkel Wilderness Area, the ranch provides a variety of outdoor activities to keep you active. Renowned for their commitment to personalizing the guest experience, Vista Verde customizes each guest's activity schedule on an individual basis, with special attention to skill, fitness level, and interest.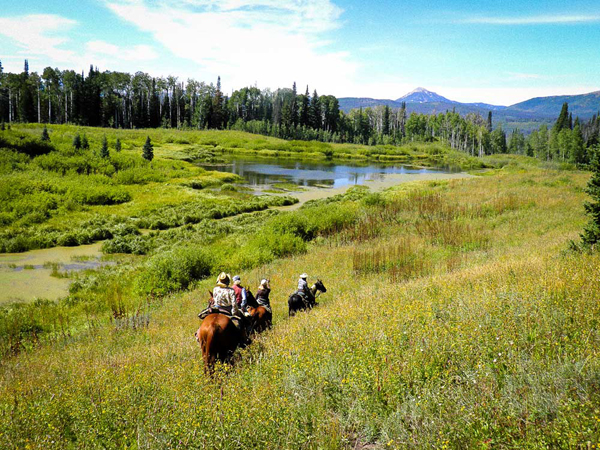 Get fit on horseback in the rugged Colorado wilderness. Photo courtesy Vista Verde Guest Ranch.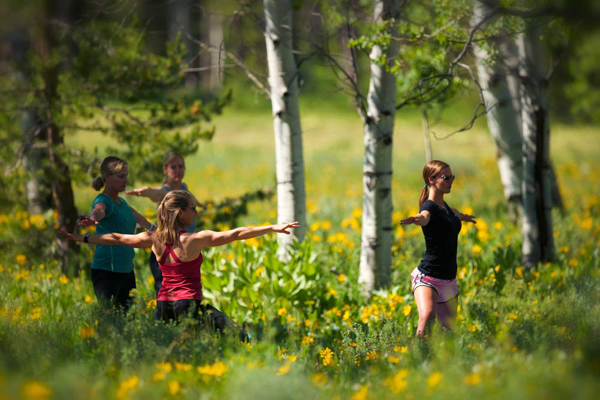 Take an outdoor yoga class at the WIld Yoga Hideout. Photo courtesy Vista Verde Guest Ranch.
Equestrians can keep busy enjoying the ranch's unique horse program, which offers trail rides, clinics, and lessons in their heated indoor riding arena. A variety of outdoor activities are offered, including hiking, paddleboarding, kayaking, and rafting. In the summer and autumn, guests are invited to hike or ride a horse out to their Wild Yoga HIdeout--where yoga enthusiasts of all levels and ages can enjoy twice weekly yoga classes. For guests looking for a more physically challenging experience, the ranch also offers rock climbing excursions and mountain biking trips, complete with one-on-one instruction. Though there is plenty of outdoor adventure to keep your heart rate up, the ranch also hosts a complete fitness center with elliptical, treadmill, and strength training equipment. Once guests have racked up a calorie deficit, they can relax and enjoy one of the incredible meals prepared by Executive Chef Cholly McGlynn--who also teaches cooking classes.
Rugged yet refined, The Resort at Paws Up in Greenough, MT hosts a wide variety of attractions for those trying to get fit. Sitting on over 37,000 acres of jaw-dropping Montana wilderness, Paws Up is a luxury ranch resort that offers a unique lodging experience. Guests choose from one of 28 luxury cabins and homes or one of 36 luxury safari-style tents for their stay--all featuring spectacular views of the wilderness sanctuary. In addition to the wide variety of physically challenging dude ranch activities the resort offers, including trail rides, cattle drives, and wagon team driving lessons, visitors can also challenge themselves at the Skyline Aerial Adventure Park or the Grizzlyman Fitness Trail, a one-mile outdoor challenge course. Paws Up also entertains equestrians and non-equestrians alike with an abundance of outdoor adventure activities, including mountain biking, hiking, rappelling, and more.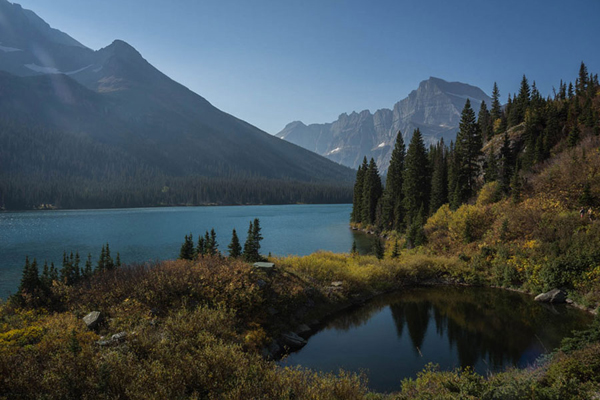 At the Resort at Paws Up, let the great outdoors be your gym. Photo courtesy The Resort at Paws Up.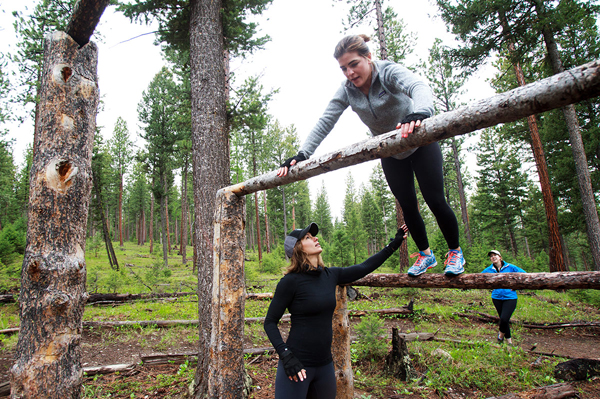 Guests can test their fitness level at the Grizzlyman Fitness Trail. Photo courtesy The Resort at Paws Up.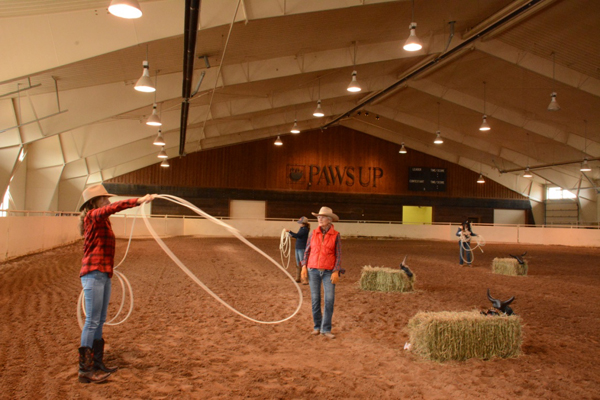 Even ranch activities like roping can work up a sweat. Sign up for a class! Photo courtesy The Resort at Paws Up.
At Tanque Verde Ranch in Tucson, Arizona, guests can whip themselves into shape while exploring the Sonoran Desert and Rincon Mountains. Located next to Saguaro National Park and Coronado National Forest, this 640-acre ranch provides an authentic western backdrop for travelers to explore on foot or horseback. The ranch features a variety of equestrian activities, including guided trail rides, team penning, and other ranch riding activities.
Tanque Verde also hosts a unique horsemanship program, Harmony with Horses, where guests can improve their horsemanship and work on their skills in the round pen--a workout all by itself! Guided desert and mountain hikes are offered, as well as swimming, tennis, basketball, yoga, and more. Visitors can unwind after an action-packed day at the La Sonora Spa or in the ranch's indoor pool.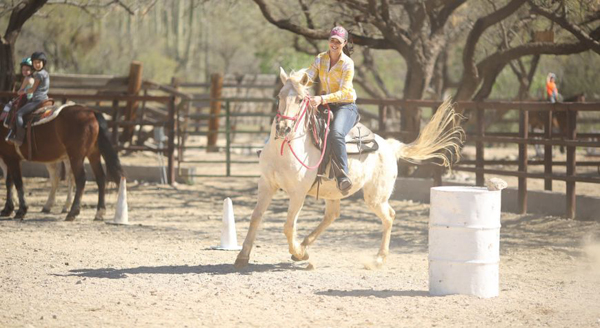 Arena work and groundwork can make for great exercise. Photo courtesy Tanque Verde Ranch.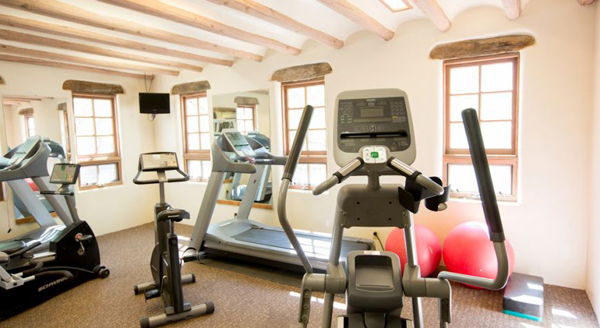 The fitness center at Tanque Verde Ranch. Photo courtesy Tanque Verde Ranch.
With over 9,000 acres of breathtaking Colorado wilderness, C Lazy U Ranch in Granby, Colorado has plenty to offer fitness-minded travelers. Guests will get plenty of exercise through all of the different riding activities the ranch offers--from twice a day trail rides to cattle and horsemanship clinics. The ranch also features a 24-hour fitness center on site for days that you just need some gym time. Guided hiking and mountain biking trips through the Rocky Mountains landscape are available for all skill levels and age groups.
The ranch also hosts a wide array of additional activities, including yoga, zip lining, archery, and more. With tennis, basketball, and volleyball courts on site, visitors can unwind with a casual game with their companions. Guests can also opt to recoup from the day's adventure with a famous Cowboy Soak beneath the stars in a rustic copper tub courtesy of the ranch's full-service spa, "The Lazy You."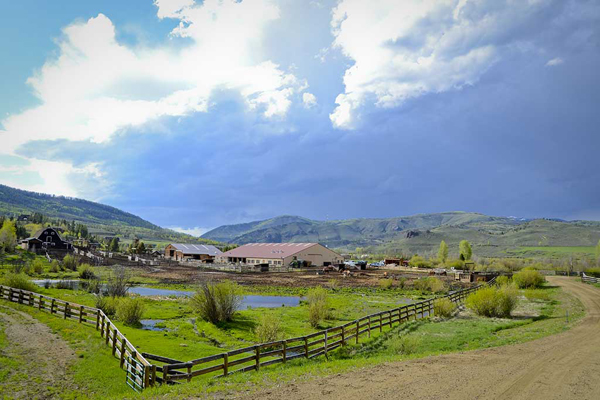 Exercise while exploring the Rocky Mountain landscape at C Lazy U Ranch. Photo courtesy C Lazy U Ranch.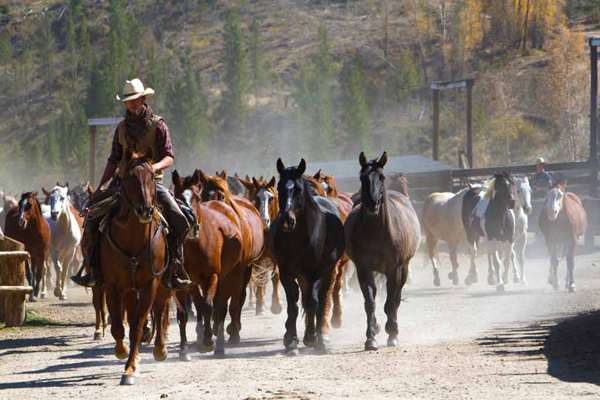 Make sure to catch a horsemanship clinic at C Lazy U. Photo courtesy C Lazy U Ranch.
Learn more about great equestrian destinations to visit in the new year by reading the Equitrekking Vacation Guide, EquitrekkingTravel.com, and Top20Ranches.com. Check out discounted trips on Equitrekking Travel Deals.
About the Author: Mary Katherine is an equine photographer and visual artist living in Birmingham, Alabama. Follow her on social media: Instagram: @marykatherinemorris Facebook: Mary Katherine Morris Photography. Visit her website at marykatherinemorris.com.