5 National Forest Dude Ranches in Wyoming
Many USA dude ranches are located in or adjacent to U.S. national forests, giving you an awesome opportunity to explore our nation's public lands on horseback, on foot, via snowmobile or in other cool ways, spending nights in comfortable lodging or on a ranch pack trip. The state of Wyoming is blessed with diverse national forests, ranging from the snow-capped peaks of the Snowy Range in the Medicine Bow-Routt National Forest to the high alpine plateaus of the Shoshone National Forest.
Explore your public lands using these historic ranches as your base.
1. Medicine Bow Lodge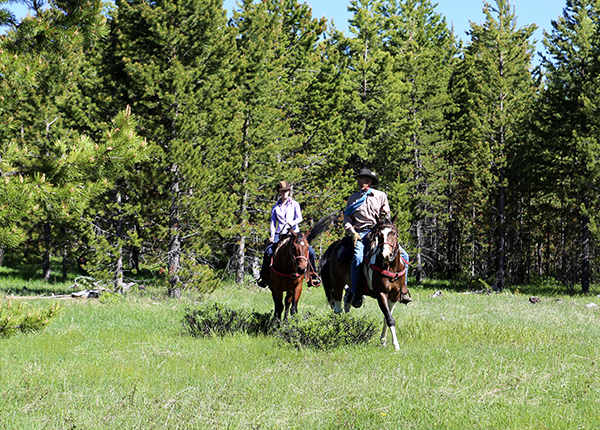 Riding with Medicine Bow Lodge's owner Tim Bishop in the Medicine Bow National Forest on a recent film shoot for "Travels with Darley Wyoming's National Forests" coming out this winter as a part of our newest PBS TV series.
This awesome dude ranch turns 100 next year. There's a reason folks have been coming here for such a long time. It's a special place to ride in a very unique location. Located the western edge of the Snowy Range Scenic Byway in the Medicine Bow National Forest, there are endless, beautiufl trails. With over a million acres in southeastern Wyoming, the Medicine Bow National Forest was designated as a national forest in 1902.

Guests at Medicine Bow Lodge can spot wildlife riding forested trails that are both flat and undulating, as you ascend into the mountains. Riders have the chance to lope, trot or meander amid wildflower covered meadows, through streams and into the woods. During the winter, the lodge is a haven for snowmobile enthusiasts, as this part of the Medicine Bow National Forest is also one of the most spectacular places to snowmobile in the west. Travelers stay in historic cabins, eat tasty, homemade meals cooked up by Debbie Bishop in the main lodge and enjoy hiking, riding horses, fishing and relaxing amid pristine nature.
2. Gros Ventre River Ranch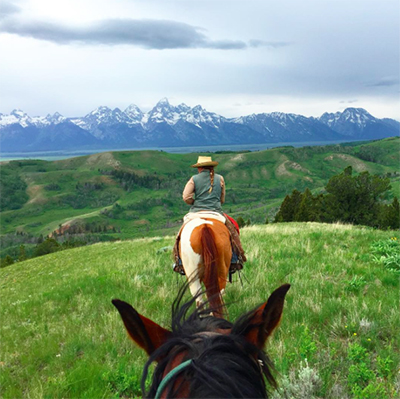 My through the ears shot riding with Gros Ventre River Ranch in the Bridger Teton National Forest.
Ride out from the stables at Gros Ventre River Ranch into the Bridger-Teton National Forest and you'll have beautiful views of the Teton Range. This is one of the most photogenic places to ride we've ever encountered with some of the world's best through the ears shots. Located just outside of Jackson Hole, Gros Ventre is a family owned ranch and the owners have a lot of pride in their horses and historic ranch property. Longtime members of the Dude Ranchers Association, this ranch is close enough to Jackson Hole that you can enjoy time in town, trips to the local rodeo and beyond, but also feel a world away from civilization.
The food at this ranch is supurb and you can dine taking in views of the Tetons in the well-appointed main lodge. I traveled to this ranch solo, but this was not an issue at all. During my stay, there was a group of horse lovers with their husbands, two younger professional gals from Germany and a family with their teen-aged kids from North Carolina. Bascially, a very diverse group, making me feel right at home. If you want to be in Jackson Hole and explore the Bridger-Teton National Forest and nearby national paks, this ranch is a good pick.
3. Crossed Sabres Ranch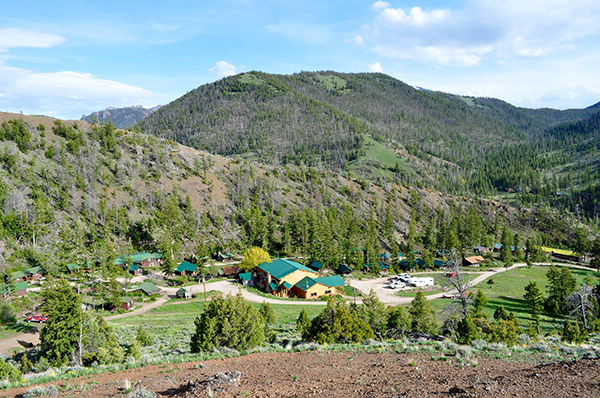 A high view of the ranch, which features a 6000 square foot lodge complete with a dinning hall, western saloon, game room and library.
Located within the Shoshone National Forest, the first national forest designated in the United States, Crossed Sabres Ranch has endless trails to discover amid this over two-million acre national forest. Just outside of the Western town of Cody, you may spot wildlife, including deer, moose and elk, as you ride here. Trails wind through the mountains, some of which are snow-capped and offer challenges for both beginning and experienced riders. Travelers also come here to ride horses, but also to fish on the North Fork of the Shoshone River, where top fly fishers seek Yellowstone cutthroat trout.
Crossed Sabres Ranch dates back to 1898 and was originally used as a home base to carry tourists from Cody on camping expeditions into Yellowstone. It's only 8 miles from the East Entrance to Yellowstone, so you can enjoy the forest and the national park.
4. Turpin Meadow Ranch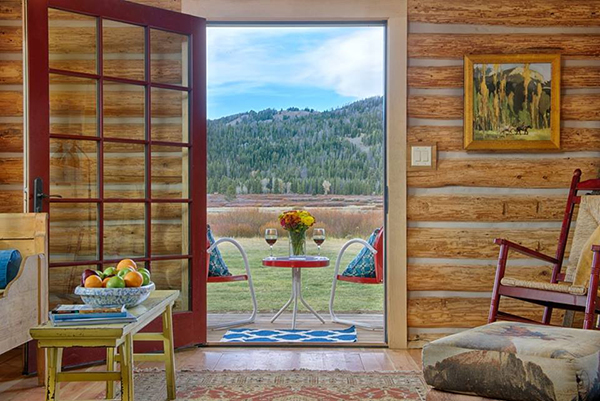 Turpin Meadow Ranch offers mountain biking, yoga, fishing, disc golf, bird watching and endless trails.
Take a day horseback ride or longer pack trip into the Bridger-Teton National Forest with Turpin Meadow Ranch, which has been welcoming travelers since 1932. Trails wind along the Buffalo Fork River, alpine meadows and up into the mountains. Guests get a glimpse of the Tetons on horseback and back at the ranch, enjoy luxurious cabins with handmade furniture accented by Pendleton blankets and gas-lit fireplaces.

This ranch has hosted a variety of famous guests, including astronaut John Glenn and Bob Dylan, who sang at the ranch's bar. Meals are enjoyed in the ranch's historic log-beamed main lodge and include locally sourced delights with a menu that changes daily.
5. Eatons' Ranch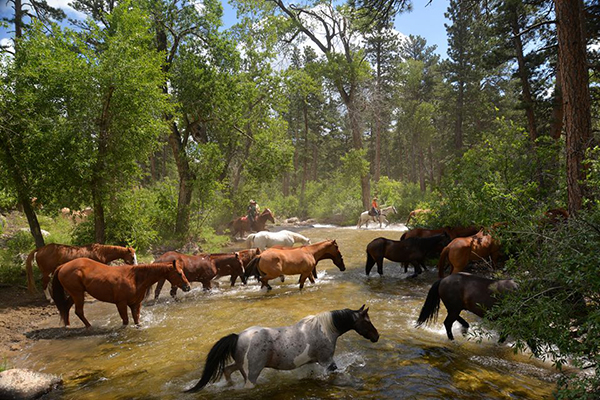 In addition to horseback riding and pack trips, Eatons also offers fishing, trap shooting, a pool, exercise room and a weekly dance in Howard Hall.
Ride horses or take an overnight pack trip into the Bighorn National Forest in north-central Wyoming with Eatons' Ranch, our nation's first dude ranch. Located between Mt. Rushmore and Yellowstone National Park, this national forests' terrain is diverse, ranging from verdant grasslands to clear lakes to rugged mountain valleys. At over 1.1 million acres, the Bighorn National Forest is one of the oldest forest lands in the USA. Guests at Eatons can soak in stunning scenery and a rich history.
The Eaton family has always owned and operated the ranch and its now the fourth and fifth generations of Eatons who serve as the ranch stewards. Enjoy Western-style meals, comfortable cabins and a friendly saloon at this 7000 acre ranch just east of Sheridan.

Watch for the "Travels with Darley Wyoming's National Forests" episode coming to PBS this winter. Check out great ranch travel deals and search our guides for your next trip at Top20Ranches.com and the Equitrekking Vacation Guide.