5 Great Autumn Adult-Only Ranch Vacations
Fall is a beautiful time to travel and ride at USA ranches. Many open their doors for special adult-only weeks, complete with wine tastings, spa treatments, dinner cruises and lots of great trail riding. Check out these ranches offering special adult-only weeks this fall (many of which are discounted!) and line up your trip.
#1 Gros Ventre River Ranch Jackson Hole, Wyoming: Adults only from the last week of August through the last week of September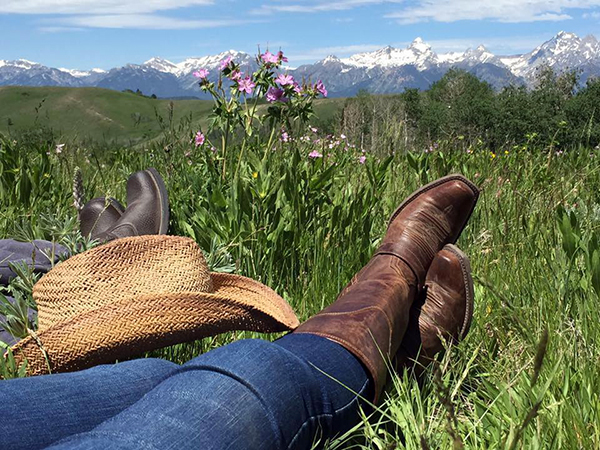 Gros Ventre River Ranch's location alone is a reason to travel here. This ranch is located by Jackson Hole with awesome views of the Grand Tetons and access to national parks and forests. This all-inclusive ranch's rates include all meals, including soda, beer, and wine with dinner, an appetizer hour, well-adorned private log cabins; campfires, team sorting and penning, naturalist presentations, and much more for the outdoor enthusiast. During the adults only time, the ranch is peaceful. Crowds diminish in the valley. The fall colors appear, and the weather cools. The fall is a perfect time for couples, singles, and friends to visit this stunning Jackson Hole Dude Ranch!
Their horseback riding program offers beginner to advanced rides for those looking to take on the trails. In addition to riding, a fly fishing guide offers private lessons on the Gros Ventre River, and cooler temperatures make the adults only season an ideal time to hike and mountain bike around the ranch. Elk, moose, bison and bears are on the move during this time as well, so make sure to bring your camera to capture your most memorable moments at this Wyoming guest ranch.
Learn more! Call 307-733-4138. info@equitrekking.com?subject=Equitrekking%20Travel%20Deals-%20Gros%20Ventre%20River%20Ranch">Email the ranch. Visit Gros Ventre River Ranch's website.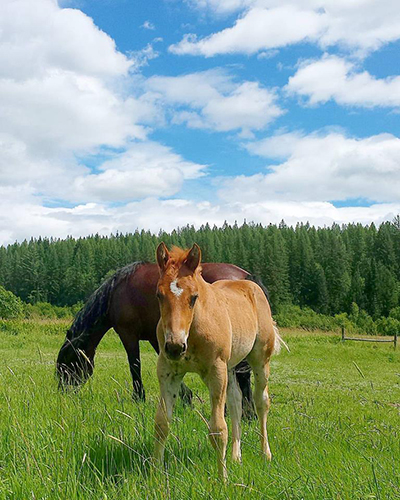 Leave the kids at home and enjoy five nights of grown up fun! Allow the beauty of North Idaho to rejuvenate you as you trail ride through open meadows, quiet forests, and slow moving creeks. Cowboy up with team cattle sorting, cattle drives, arena games or, if you wish, private and semi private lessons in the arena. Take a morning to enjoy a relaxing spa treatment or try your hand at skeet shooting. Evening activities may include archery, wagon rides, or old fashioned cowboy music around the campfire.
This adult only vacation week includes lodging, meals, horseback riding, a relaxing spa treatment, dinner cruise on Lake Pend Orielle and evening entertainment. From September 18th-23rd 2016 or September 25th-30th 2016 the cost is $1350 per person, plus tax.
Learn more by info@equitrekking.com?subject=Equitrekking%20Travel%20Deals-%20Western%20Pleasure%20Guest%20Ranch%20Mountain%20Spa%20">emailing Janice. Visit Western Pleasure's website. Call (208) 263-9066.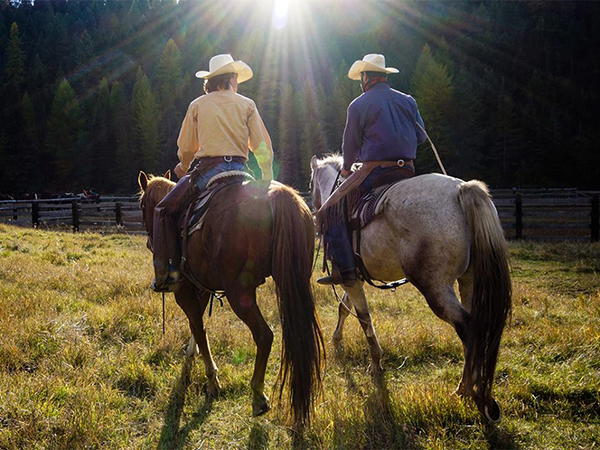 Singles, couples and parents alike are invited to unwind for a six-night getaway at this Montana guest ranch. Escape to beautiful Whitefish and experience for yourself some of the most unspoiled nature while exploring Montana's spectacular and diverse scenery by horseback. The Adults Only Week at the Bar W is an all inclusive retreat designed to allow you to relax, have fun and let your stress evaporate into the fresh mountain air.
Your biggest daily dilemma will be choosing between the fantastic trail riding or working on horsemanship skills with team penning/sorting of cattle, barrel racing, and roping during your dude ranch vacation! If you'd like to spend some time out of the saddle, Bar W offers something for everyone including skeet shooting, fly casting lessons, archery, horseshoes, campfires and guided hikes. Winding down at the end of each day, you are invited to join the ranch for an informal cocktail receptions sitting by a cozy fire in the lodge.
Learn more by calling 406-863-9099 or toll free at 866-828-2900 and info@equitrekking.com?subject=Equitrekking%20Travel%20Deals-%20Bar%20W%20Photography%20Week">emailing Bar W. Visit Bar W's website.
#4 Elk Mountain Ranch, Colorado- Adults Only Dude Ranch Weeks September 4th and 11th, 2016
High and remote in the San Isabel National Forest, this Colorado guest ranch offers weekly ranch vacation packages for 30 pampered guests. The single occupancy fee of 10% is waived for Elk Mountain's adult-only weeks.
Enjoy the mountains near the peak of the fall colors in the Colorado Rockies. The already spectacular scenery at the ranch unveils more glory in the Autumn. Aspens crown the mountainside in golden grandeur.
Fall is exclusively for adults at this Colorado dude ranch. The tranquility and stillness are uninterrupted, whether you're riding through the aspen forests…or curling up with a favorite book by an crackling fireplace. Elk Mountain Ranch offers many of the same activities as summer, but takes a maximum twenty guests. With a focus on riding and relaxation, the adult-only weeks have proven to be quite popular.
Contact information: info@equitrekking.com?subject=Equitrekking%20Travel%20Deals-%20Elk%20Mountain%20Ranch">Email Elk Mountain Ranch. Call 800-432-8812. Visit their website.
#5 Rainbow Trout Guest Ranch, Colorado- Adults Only Week between August 28 – September 18, 2016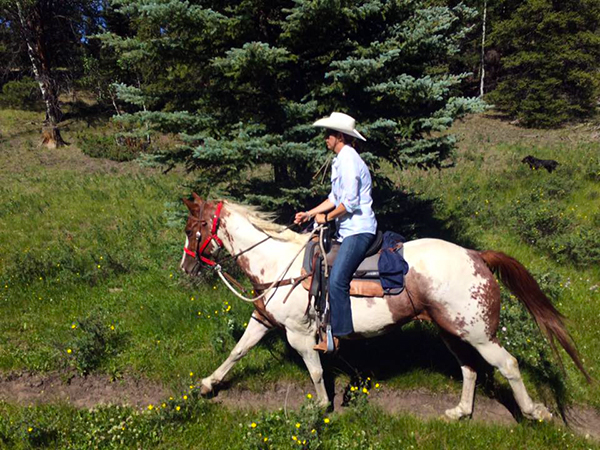 Rainbow Trout Ranch is located at 9000 feet in the southern Colorado Rocky Mountains in a little-known canyon called the Conejos River Canyon. Rainbow Trout Guest Ranch offers a special Colorado late season for "adults only" during the glorious month of September with the main emphasis on riding and fishing. A three night minimum stay is required and evening activities can be curtailed based on guests' preferences. Adults Only runs between August 28 – September 18, 2016. Enjoy a variety of half-day rides twice daily and also all-day rides upon request with views that will take your breath away.
The fishing is at its best and this guest ranch even offers a fisherman's rate for those who prefer to spend their time on the river—or you can combine riding and fishing in any way you prefer. Either way, the scenery is spectacular.
Evenings can be spent fireside in the lodge getting to know the other guests or perhaps in the hot tub or on the porch of your cabin enjoying the serenity of a Rocky Mountain Fall. And remember, those Rocky Mountain stars are the brightest you can imagine.
Contact information:info@equitrekking.com?subject=Equitrekking%20Travel%20Deals-%20Rainbow%20Trout%20Ranch"> Email Rainbow Trout Ranch. Call 719.376.2440. Visit their website.
Check out more discounted weeks and special deals on Equitrekking Travel Deals.