5 Best Vacations for Learning to Horseback Ride
Always wanted to learn to horseback ride? Have kids you want to learn while they're still young? Check out these five top places to learn to horseback ride on your next vacation.
A great way to find out if you want to take up a new sport or hobby can be to try it out on vacation. A great way to get introduced to horses, whether you're an adult or child, is to saddle up at ranch or horseback riding resort. There are many great vacation destinations that welcome beginning riders.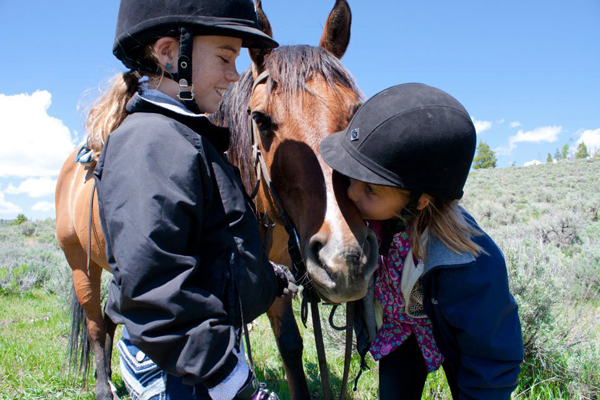 Kids learning to ride and love horses at C Lazy U Ranch in Colorado.
For many of us living in cities or suburbs, it's not always easy to make a trek to the stables. We're all short on time and many modern riding stables are located in harder to reach locations. If you've always wanted to feel like John Wayne, play City Slicker or just want to be around horses, check out these five great places to saddle up and learn to ride while on your next vacation.
Travelers of all ages, including kids 10 years or older can saddle up 90 minutes from Albany, 10 minutes from Cooperstown and about a four-hour drive from New York City at this upscale rural country inn that is part of the Agritourism movement. If you've never ridden and want individualized instruction, try a 30 to 40 minute private session ($35 USD). For longer saddle time and a little less focus on you, sign up for a semi-private 60 or 90 minute lesson. You'll be paired with a horse to ride and join two or three other riders. Book a night at the inn and enjoy delicious, locally raised Italian-inspired meals. All-inclusive packages combining food, lodging and riding are also available.

Riding Lesson Lowdown- You'll learn to ride English style, which is practiced throughout the world. The tack or riding gear will be an English saddle. Think Jackie Kennedy.

Vacation Perk- Feasting on foods that are local, seasonal and sustainably grown is tasty and fulfilling. From this riding destination, you can also visit the nearby National Baseball Hall of Fame.

Learn more on B&B Ranch's website and check out their special travel deals and packages.

This is a great family pick, especially if you are brining along younger kids to learn to horseback ride. Located 35 miles northeast of Durango, this ranch runs an extensive horsemanship program for all ages, including kids as young as three years old, who can experience pony rides twice a day. Enjoy riding instruction, mountain trail rides, natural horsemanship clinics, rides combined with fishing, cattle work, arena work, a gymkhana, and private lessons. Out of the saddle, there are tons of other activities, including enjoying water sports on Vallecito Lake.
Riding Lesson Lowdown- This is a Western style riding destination with a well organized horsemanship program led by certified American Riding Instructors Association (ARIA) instructors. Using Cowboy Horsemanship, the ranch blends old school sensibility with new school sensitivity.
Vacation Perk- Wilderness Trails Ranch also offers a Cattle 101 program for riders of all abilities who want to play cowboy.
Learn more on Wilderness Trails Ranch's website and at Top20Ranches.com.

Riding Western style in the Sonoran Desert with Tanque Verde Ranch.
This Arizona dude ranch resort welcomes riders to learn to ride in a desert environment and has lessons for beginners, intermediate riders and more advanced equestrians. Take a lesson in the arena and saddle up for trail rides in the surrounding Sonoran Desert. The ranch also offers a special Harmony with Horses program for more extensive horsemanship skills and to get to know yourself better through horses. For kids, various camps for kids aged seven and include riding lessons and trail time in the saddle. The ranch has resort amenities, including tennis courts, a fitness center, spa, and indoor and outdoor whirlpools and swimming pools.
Riding Lesson Lowdown- This is a Western style riding destination with over 180 horses from which to choose. Beginners get organized lessons focusing on everything you need to start out riding, including the fundamentals of basic horsemanship-- proper mounting and dismounting, correct posture while riding, and how to turn stop, and get your horse to walk.
Vacation Perk- Each day brings new riding adventures including the popular Breakfast Ride and Sunset Ride & BBQ. Ride a little, eat a little and enjoy getting to know horses at your own pace. The ranch also has a spa with an indoor pool, great for soothing sore riding muscles.
Learn more on Tanque Verde Ranch's website and at Top20Ranches.com.

This luxury Colorado dude ranch and working cattle ranch has an extensive horseback riding program for kids ages three and up and adults. If your family or group likes to get competitive, you'll like this ranch's Saturday afternoon "Shodeo," when all ages can show off what they've learned with horses through horseback riding contests and games. This is a great ranch for kids who want to learn to ride. Children are placed into three groups according to age and ability level. There are also family rides where everyone can explore together. With a variety of cabins, fly-fishing, gourmet food and even a ropes course and zip line, there's a lot to do at this Colorado ranch.
Riding Lesson Lowdown- Expert wranglers teach riding lessons, including one-one-one sessions that concentrates on specific skills you want to learn. Special riding clinics, including yoga with horses and other unique equestrian learning opportunities are frequently scheduled.
Vacation Perk- Interested in playing in the snow? C Lazy U boasts an impressive 12,000 square foot, heated indoor riding arena. Guests can horseback ride in the snow and brush up on their riding skills in the warm indoors, making this a good choice for a year-round family riding vacation. The ranch's full service spa, which overhangs the Willow Creek, is a good way to relax after a time outdoors and in the saddle.
Learn more on C Lazy U Ranch's website and at Top20Ranches.com.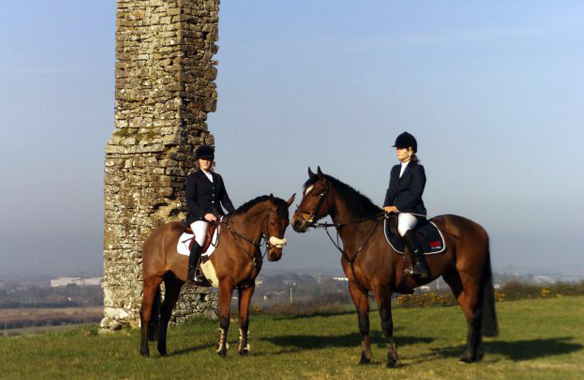 Fully outfitted and riding English style to historic sites in the Dublin hills with Coolmine Equestrian Centre.
If learning to ride in Ireland sounds like a dream to you, this riding centre, conveniently located in the countryside outside Dublin City, is a good pick. The centre boasts excellent standards and approvals from Failte Ireland (Ireland's tourist board), AIRE (the association of Irish riding establishments) and the BHS (the British Horse Society). Coolmine Equestrian Centre hosts regular riding lessons for kids, teens and adults, including overnight horse camps for teens and day camps for kids. With large indoor and outdoor arenas and beautiful countryside for trail rides, travelers coming to ride at Coolmine will be riding in the English style and can benefit from the centre's introduction to horses and riding. For travelers who have always wanted to try Dressage, this is available at Coolmine, as is showjumping and cross country for more experienced riders.
Riding Lesson Lowdown- Riding instructors at Coolmine are British Horse Society qualified and teach riding in the English style. Coolmine Equestrian provides the basic horse riding equipment for travelers, including helmets, boots and rain gear, so you don't have to worry about filling up your travel bag. For kids, Coolmine's camps will teach how to care for horses, stable management and classes on horse anatomy and tack.
Vacation Perk- Location, location, location... Ride in the morning and sightsee in Dublin in the afternoon. Visit the nearby Irish National Stud and Japanese Gardens during a half day trip.
Learn more on Coolmine Equestrian Academy's website.
Check out more great dude ranches, equestrian lodges, estancias, castles and riding vacation destinations that welcome beginning riders in the Equitrekking Vacation Guide.