48 Hours in Aiken for Horse Lovers
What to see and do in Aiken, South Carolina, a top equestrian retreat, including in and out of the saddle adventures.
by Darley Newman
Aiken is a charming Southern travel destination with lots to do for horse lovers. We recently visited Aiken to film for our Equitrekking series, a new episode you can watch this winter on PBS, and Travels with Darley, which is coming to PBS this fall and currently online on AOL, MSN Travel, Budget Travel and beyond. Since everyone has limited time these days, below are some top picks we discovered, which are a great fit for an itinerary if you only have two days or 48 hours in Aiken. This also applies if you want to spend two days soaking in equestrian culture prior to or after one of Aiken's many equestrian events.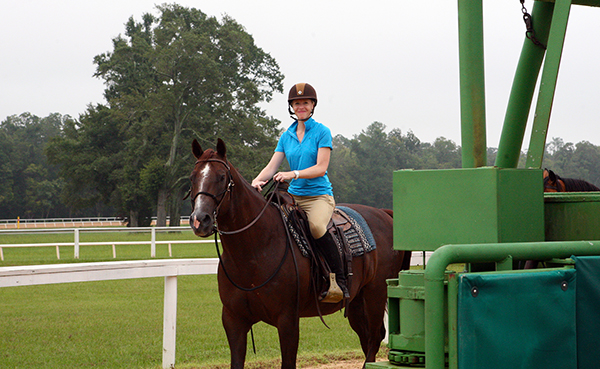 The Quarter Horse Zip that local Mary Jane Howell graciously arranged for me to ride!
Aiken is a top place to play spectator or participate in equestrian sports. The Aiken Steeplechase, Aiken Trials, the Aiken Horse Show and Derbies and Races are just some of the top annual events. When not at an event, here's what we recommend.
Early or 9am
Arrive in Aiken or head out of your door at The Willcox, a historic inn where Count Bernadotte of Sweden, Winston Churchill and affluent equestrians have stayed throughout time. It's beautiful and welcoming to riders, something we like!
Morning and Day Pursuits
Pick up a horse from an area stable (Seahorse Stable rents horses) and saddle up on your own horse to ride through Aiken's Horse District. You'll see just how horse friendly this community is as you ride through streets of dirt, unpaved to accommodate riders.
If you can, find locals with whom to ride. I went out with two great locals who even provided me with a traditional Stirrup Toast (with iced tea!) prior to our departure. Now that's Southern hospitality.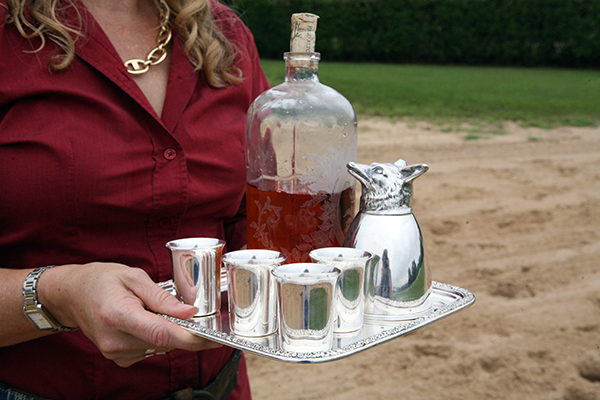 A Stirrup Toast... with iced tea.
Stop by the Aiken Training Track and take a spin on this track where 39 Thoroughbred racing champions have trained. Take a photo of the iconic tree at the track before heading onwards.
Riding with locals Mary Jane Howell and Sarah Bridges, who you will be able to watch in an upcoming episode of Equitrekking on PBS.
Snap some photos of the frequent signs telling people to slow down for horses, which we love. Wave at your fellow residents out for their morning hack and enjoy seeing the many beautiful and old stables and barns in the Horse District.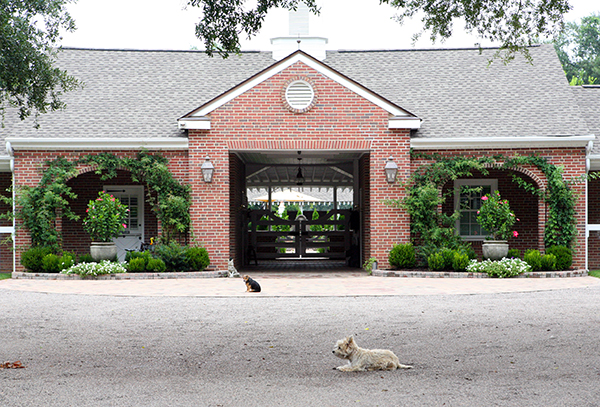 One of the many cool stables in Aiken's Horse District.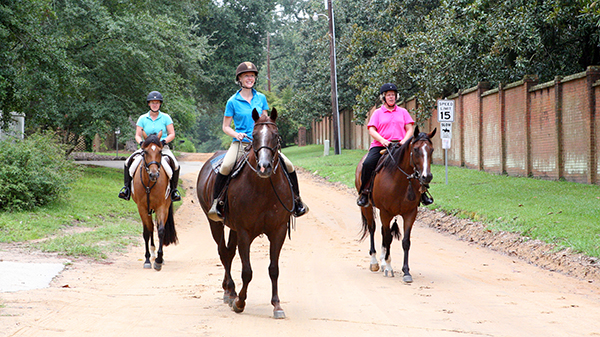 Riding the unpaved roads, great for equestrians, in Aiken.
Meander over to the Whitney Polo Fields, the oldest polo field in continuous use in the USA. Depending on the time of year, you might want to circle back to watch a match. (3pm during March-July and Sept.- Nov).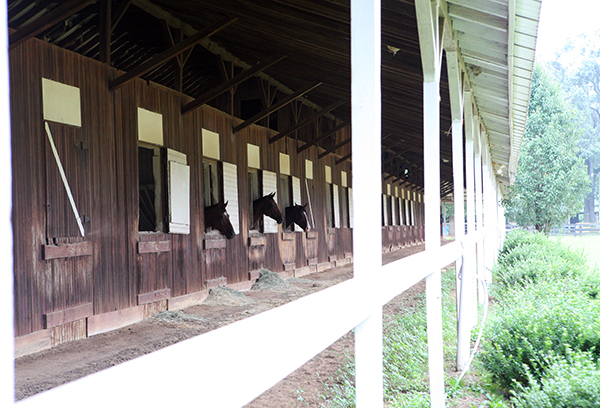 One of the old stables by Whitney Field in Aiken.
Cross the intersection at Whiskey Road, but not before pushing the signal change button without dismounting. The button is placed at an appropriate height for riders. How fun!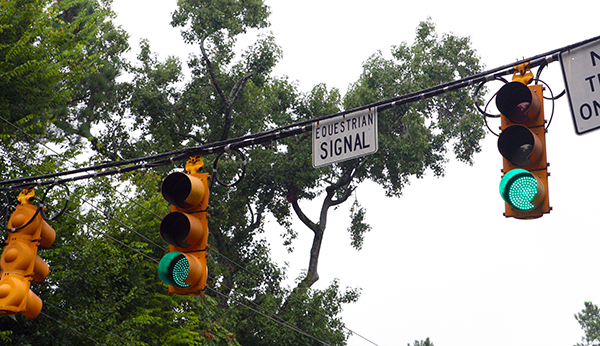 In Aiken, horses have the right-of-way.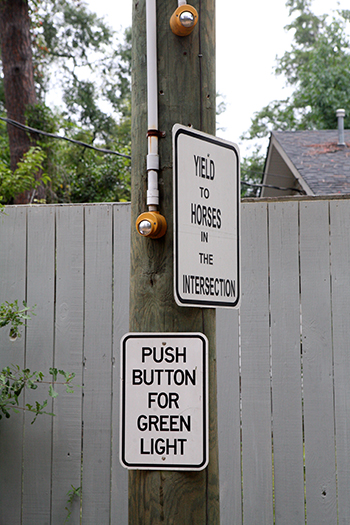 Even crossing signals are built with the rider in mind in Aiken.
Meander down a little further to Hitchcock Woods and spend an hour or more winding through shady trails under Dogwood, Oak and Magnolia trees. Hitchcock Woods is one of the largest urban parks in America with 2100 acres, open to the public, and over 70 miles of equestrian trails.
Riding Aiken's Hitchcock Woods.
Enjoy lunch on the trails or dismount and head into town. If you head into town for lunch, check out New Moon, a local cafe and coffee roaster, using fresh local ingredients. Feeling like you want a lunch with a brew, head to Aiken Brewing Company, a local brewery with a great atmosphere and burgers.
Late Afternoon
Visit Gaston Livery, whose unusual U-shaped barn is the only remaining barn in South Carolina with a carriage lift.
Dinner
Freshen up and head to Rose Hill Estate/Stables, the quintessential Old Aiken "Winter Colony" estate. Located on a preserved historic garden estate encompassing a downtown Aiken city block, this was the first property in Aiken recognized on the National Register of Historic Places. The Stables Restaurant at Rose Hill is one only a few stables on intact historic estates in America that have been re-purposed for a restaurant.