3 Most Surprising National Parks for Horseback Riding
From giant sand dunes to volcanic landscapes, unusual national parks for horseback riding from Arizona to California.
We know a ton of great parks to ride horses around the world, but the below national parks surprised even us! Check out these diverse national parks in the USA to saddle up.
#1 Lassen Volcanic National Park, California
This northeastern California national park is one of the most surprising on our list... lesser known Lassen Volcanic National Park is home to fumaroles, pristine mountain lakes, geysers, steam vents, bubbling mud, spurting pools, and beautifully colored landscapes, which you can visit on horseback. Travelers can ride with Drakesbad Guest Ranch, which has been operating for almost 60 years and through two generations. This guest ranch takes riders to Lassen Peak and Lake Almanor, hot springs, mud pots and more on horseback. Homesteaded by Edward Drake in the 1880s, the ranch is at the base of a glacial valley and open June to October, depending on the weather conditions.
There are around 100 miles of trails open to riders in the national park. A free backcountry permit is required and can be obtained at the Kohm Yah-mah-nee Visitor Center near the park's southwest entrance. Overnight stays are allowed only in certain campgrounds with corrals.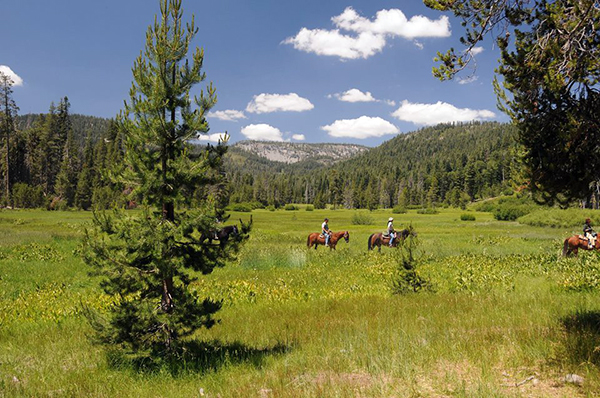 Riding through the park with Drakesbad Guest Ranch.
#2 Great Sand Dunes National Park and Preserve, Colorado
It's most unusual to think about sand dunes in Colorado, which is why the Great Sand Dunes National Park and Preserve with tallest dunes in North America is on our list. The tallest dune ranks in at around 750 feet high! Most of the national park and the entire national preserve are open to riders. Parking for horse trailers is available at the start of the Medano Pass Primitive Road. Those who don't want to bring their own horse can saddle up through Zapata Ranch and ride in the park. Be prepared to ride high, because this national park is set at 8,200 feet. Staying for more than one day? Camps are open to equestrians at Sand Creek, Little Medano, Aspen, and Cold Creek backcountry campsites.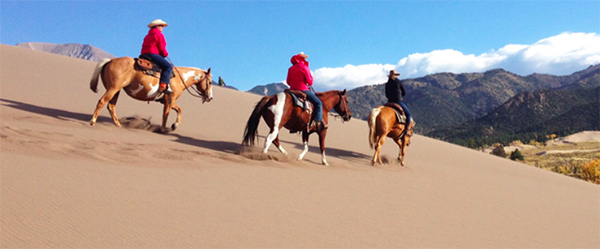 Horseback riding in the park with Zapata Ranch.
#3 Petrified Forest National Park, Arizona
Imagine riding through wilderness areas and the ancient landscaps of the dramatic Petrified Forest National Park in northeast Arizona. This park is famous for its deposits of petrified wood and fossils. Getting into the wilderness area can be a challenge with a steep initial swtichback. Many riders decide to lead there horses through this area. Once you've past that, the terrain is relatively flat. If you're planning on bringing your horse here, check the weather conditions! Riders are asked to trek through the washes, but these can contain quicksand and sticky terrain due to summer monsoons. Trailer parking is available two miles north of the Painted Desert Visitor Center near Kachina Point.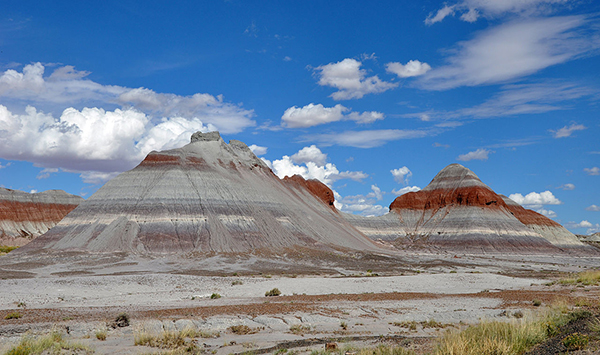 Conical rock formations showing horizontal banding in red, white, and shades of grey. Photo by Finetooth.