2015 Mongolia Wilderness Conservation Ride
Horse Trekking with a Purpose. Join a Conservation Holiday on Horseback.
A summer horse trek in Mongolia is an unforgettable experience. Riders enjoy great scenery in excellent horse riding terrain, learn about an intriguing horse culture and bond with their Mongolian trail horse. These small horses are the most likable equine companions on a backcountry trek, with an easygoing character and amazing stamina.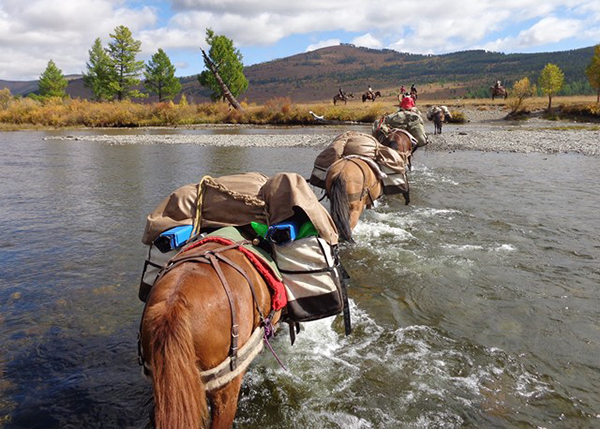 Horse Trek crossing Tuul River with Stone Horse Mongolia.
Natural beauty, great horses and cultural experiences are reason enough to head to Mongolia for an adventure holiday on horseback. But you can even add another good and very personal reason. Join the 2015 Wilderness Conservation Adventure Ride and contribute with your travel and active involvement to the preservation of the unique landscapes in which you travel.

Stone Horse Expeditions have dedicated an entire horse trek of the 2015 season as a "Wilderness Conservation Adventure" to help protect the conservation values of the Khan Khentii Wilderness. In early August, Stone Horse Expeditions will partner with the Khan Khentii Strictly Protected Area Administration and their rangers, to clean up around Hagiin Har Nuur – a beautiful lake deep in the Khentii Mountains wilderness which has seen recent degradation. The lake is perfect at this time of year for swimming.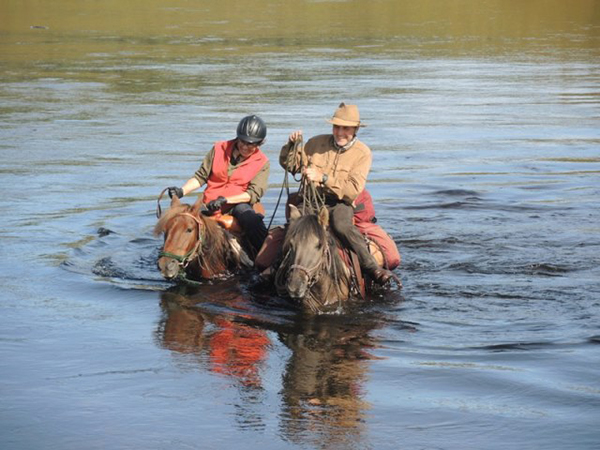 Crossing the waters of the Khongor River in the Khentii Wilderness, Mongolia
A small group will ride in by horseback, spend a few days at the lake undertaking some needed environmental cleanup and construction and then take another beautiful route out. Guest riders can take part in the planning, work and camp duties along the way and help with their knowledge and skills in protecting this magnificent lake.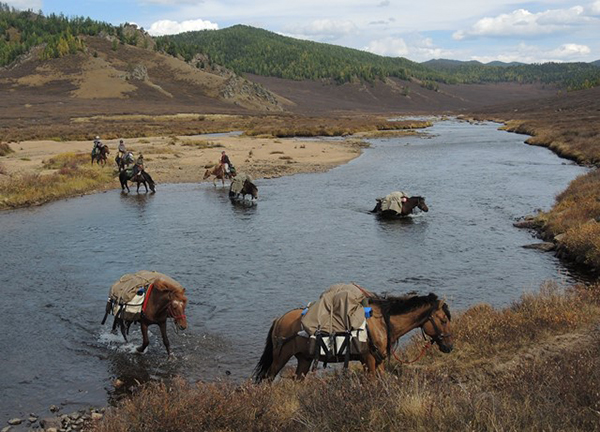 Horse Trek crossing the Khongor River, Khentii Wilderness trek, Stone Horse Mongolia.
The Khan Khentii wilderness is one of Mongolia's most treasured parks and enjoys the highest level of formal protection – as a "Strictly Protected Area". The conservation values of the Khentii Mountains include important ecological functions, outstanding historical and spiritual significance – and inspiring scenic beauty.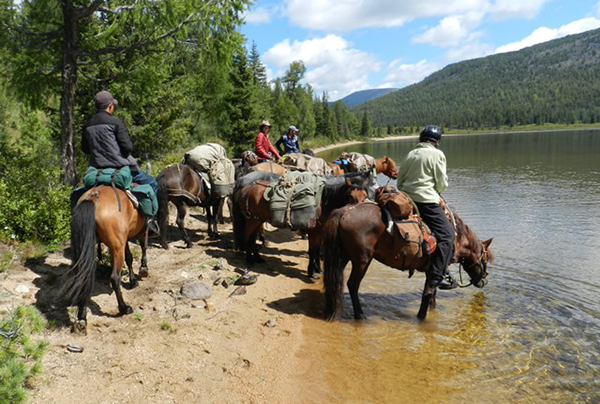 Horse trek at Hagiin Har Nuur, Khentii Wilderness, Mongolia.
If you want to explore this great wilderness of Mongolia on horseback, and contribute to wilderness preservation, this is a great opportunity to do both!

Mongolia Wilderness Conservation Adventure
Khan Khentii Strictly Protected Area
August 1 - 10*, 2015 $ 2,950.00 per person
6 places only
This is a back country expedition. A fair level of fitness is required to take part.

* The ride starts on August 1, to join, you must arrive in Mongolia July 31 latest.

Contact Stone Horse Expeditions to learn more about the Wilderness Conservation Ride. info@equitrekking.com?subject=Equitrekking-%20Stone%20Horse%20Conservation%20Ride">Email Sabine. Call +976-95921167.