10 Things to Love About Spain Riding Vacations
Andalusian horses, medieval villages, pristine beaches and sparkling cava... there's so much to love about riding in Spain! Here are ten reasons you should pack your riding boots and hit the trails in this European country.
We at Equitrekking have been privileged to ride in Spain on several occasions, testing out Spain riding holidays for Equitrekking Travel and also filming for Equitrekking on PBS. Spain is a wonderful country for an equestrian vacation. Here are some of the top reasons why we love it, along with photos that will make you drool over your next trip.
#1 Andalusian Horses
So powerful, smart and pretty, who doesn't love an Andalusian horse with its thick mane, commanding build and stunning movements. It's an amazing experience to better your dressage skills on an Andalusian champion, something you can do with an Olympic trainer on the Spain Dressage Training & Trail Riding in Andalucia. On many trips, you'll be riding Andalusians and Andalusian crosses, making for a unique adventure in Spain.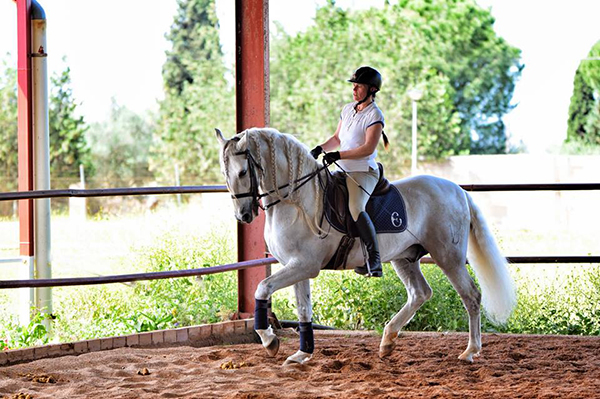 #2 Tapas on the Trails
Imagine riding through a field of wildflowers and stopping for a break of jamon, manchego cheese and sparkling cava. It can be on your agenda when riding in Spain. Tapas on the trails was one of our favorite parts of the trial ride. You stop in a stunning locale, giving the horses a rest and savoring wonderful Spanish meats and cheeses-- divine! The below photo is from the Spain Historic Villages & Sierra de Gredos Riding Vacation.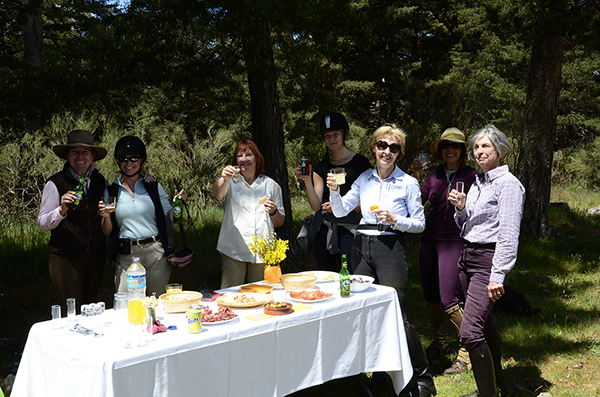 #3 Beach Riding
Some of the best beaches for horseback riding are along the coast of Southern Spain both in Donana National Park and the Costa de la Luz (coast of light). If you love to ride through beautiful scenery and dream about galloping along miles of deserted, golden sandy beaches, this may be the trip for you.
#4 Top Dressage
Spain is a great place to better your dressage skills with world class equestrian coaches. From Intensive Dressage to Classical to lessons with an Olympian, there are lots of great choices and great stables from which to choose. Plus, the setting can't be beat.
#5 Equestrian Training Combined with Trails
For those who want to combine training with trails, there are several good choices in Spain, including a week of fantastic tail riding coupled with top class training on classically trained Andalusian horses in one of the most beautiful areas of Southern Spain on the Spain Coast Equestrian Training & Trail Riding Vacation. Brush up on your horse riding skills with training sessions. When you are not taking riding lessons, trail ride out during full and half days rides through forests and on the beach.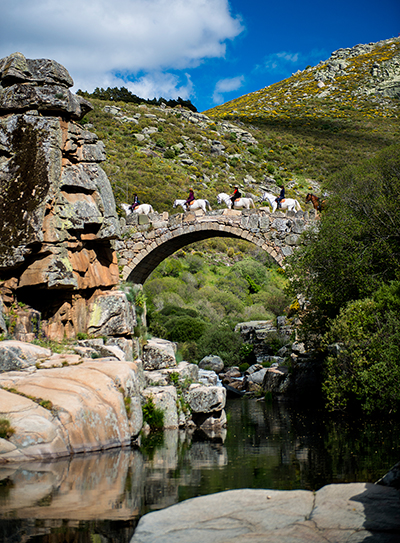 #6 Sherry, Cava, Sangria and Beyond
If you like an aperitif or sunset cocktail, you'll like trying these typical Spanish drinks in Spain. Get a new recipe to test out on your friends at home and enjoy learning about the world of pairing wine with Spanish foods. You'll impress your friends and family with your new culinary knowledge once back home.
#7 Brushing Up on Your Spanish
Maybe you haven't tried to speak Spanish since high school or you've always wanted to learn. Being immersed on a Spain riding vacation is a great way to brush up on your language skills. Though the riding providers we know and love also speak English, they will be happy to converse with you in their native language and some destinations also offer formal Spanish lessons for those looking to really learn.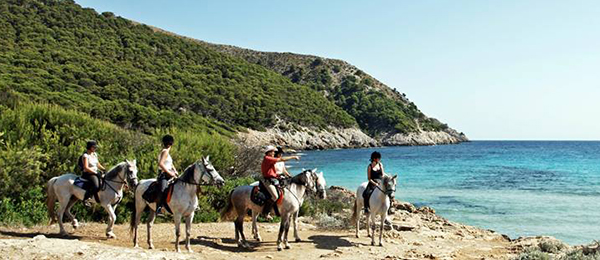 #8 Spanish Food
From gazpacho to paella to Serrano Ham, Spain has diverse and tasty cuisine to try on the trails and in historic restaurants and haciendas. On many riding holidays, picnic lunches are a feast. On the Spain Historic Villages & Sierra de Gredos Riding Vacation, enjoy some lunches cooked on the spot, like the barbecues of famous Avilian free-range beef or Iberian pork. Feast on a rich variety of salads and tasty tomatoes, and fruit of the season as dessert including strawberries, melon, grapes, and more.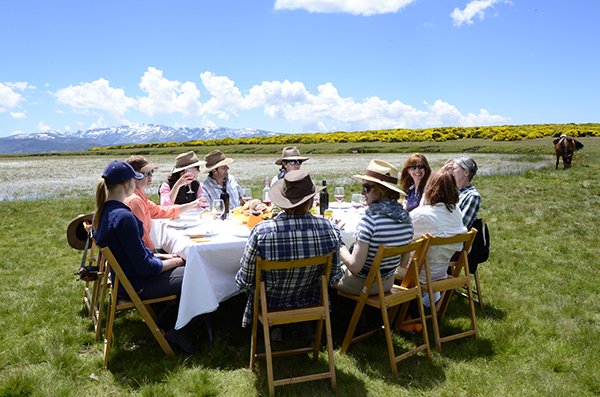 #9 Cool Diggs
Whether you stay in a hundreds year old hacienda or a hunting lodge built by King Alfonso the 13th, you'll find diverse and memorable accommodations on Spain riding vacations. Some trips are progressive, meaning you ride and stay in different inns or lodging each night, while others have you at one place, so you can dig in and get cozy.
#10 Passionate People and Horse People
Spaniards are known for having a passion for life and living it to the fullest. They do this with life in general and even more so with life with horses. Enjoy learning how to be more laid back and savoring every moment of your time away with your new Spanish friends. You may find that the horse you ride is one you want to take home with you!

Check out great choices for Spain riding vacations. Can't decide where to go? Let Julie match you with a trip.