10 Things to Love About Ireland Riding Holidays
Riding horses in Ireland is a great way to explore diverse mountains, countryside and beaches and get to know the locals. Here's what we've loved about our equestrian travels in Ireland.
I'm often recommending people travel to Ireland, whether it's to horseback ride or do other sightseeing. Friendly people, beautiful and dramtic scenery, fun pubs and restaurants and a rich history are just some of the reasons. Horse lovers in particular have a love affair with Ireland. Called the Land of the Horse, you can literally ride all over the country. I've been fortunate enough to do this a few times, so have much to tell you about Ireland equestrian vacations.
Here are my top 10 things to love about Ireland riding holidays.
Beautiful Beaches
Connemara, Donegal, Ring of Kerry and beyond... Ireland has stunning beaches for horseback riding. Whether it's a rocky cove or a football-field sized beach with compact sand, you'll find spectacular beaches to gallop, especially in the Western part of the country.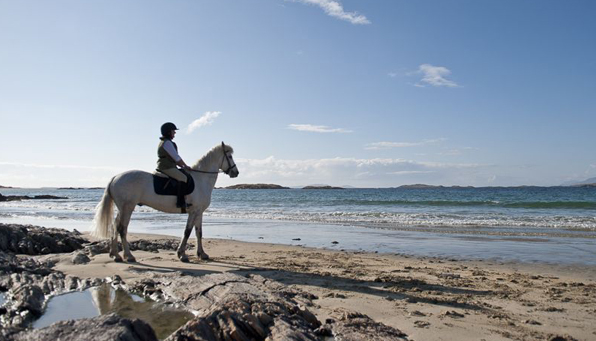 A beautiful Connemara beach. Photo from Connemara Equestrian Escapes.
Dramatic Mountains
Ireland's mountains provide stunning places to horseback ride. Whether it's the mountains that crash into lakes on the Ivereagh Peninsula in County Kerry or the heath and bog cloaked mountains in Wicklow, mountain trekkers have much to admire and enjoy.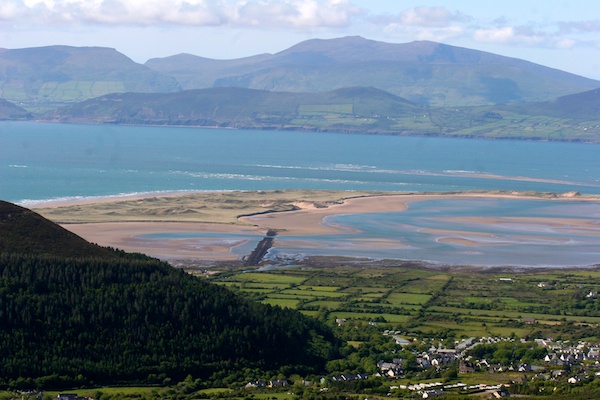 Dramatic views in the mountains along the Ring of Kerry in Ireland.
Lush, Open Countryside
Patchwork views and open spaces for a very good canter or gallop abound in Ireland's countryside, giving adventure enthusiasts a place to pick up the pace and feel the freedom of faster riding. These open spaces also allow one to reflect on the beauty of nature, especially as seen from on horseback.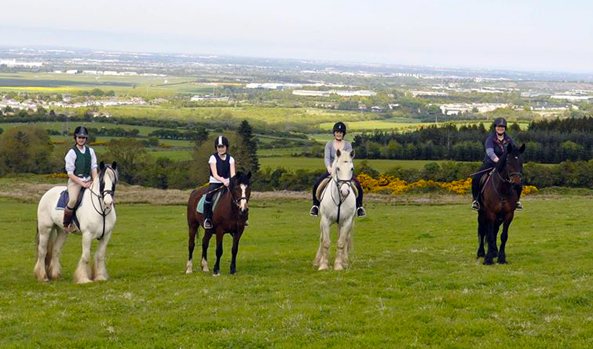 The beautiful countryside just outside of Dublin with Coolmine Equestrian Centre, which welcomes adult guests, families and unaccompanied teenage guests for fully inclusive Ireland riding holidays.
Romantic Castles
Staying in a castle while in Ireland tops many people's bucket lists. For riders who want to do this on their Ireland riding holiday, there are a few destinations where you can stay in a castle and horseback ride, including my favorite Castle Leslie.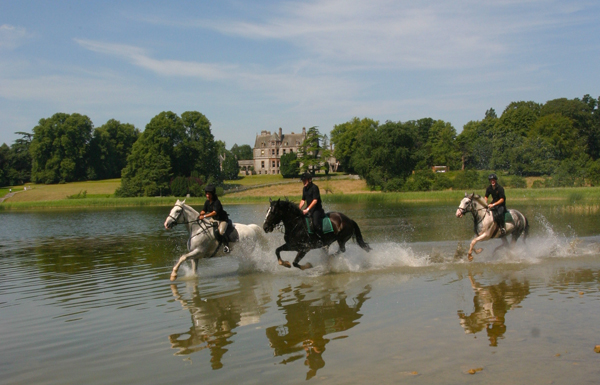 Nestled on 1,000 acres, Castle Leslie Estate is a dream destination for equestrians.
Celtic History
Ireland is a country with a rich history, much of which you can discover on trail rides. You may find yourself horseback riding to a Celtic tomb or ring fort or by an old stone cottage abandoned during the potato famine, bringing more depth to your travels by immersing you in Ireland's history.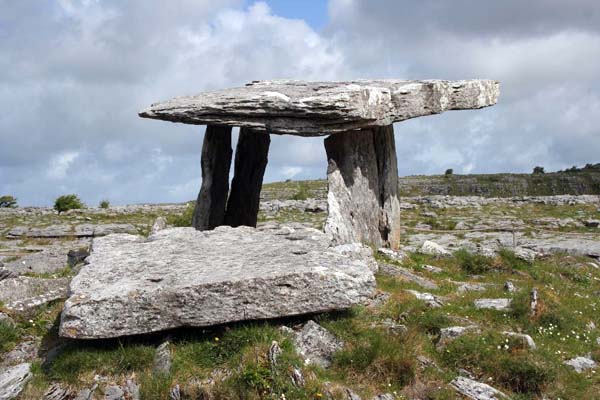 You can horseback ride to this portal tomb in County Clare on the Galway Riding Holiday.
Strong, Thoughtful Irish Horses
Whether you're an adult who loves ponies or someone who appreciates a horse with a good head and heart, you'll love the Connemara Ponies, Irish Sport horses and Irish Draughts that have grown so strong throughout Ireland's history.
A sweet Connemara Pony on the beach in Connemara. Photo from Connemara Equestrian Escapes, which leads luxury equestrian vacations.
Top Notch Training
With historic equestrian events like the Dublin Horse Show and top level British Horse Society approved instructors holding regular Master Classes in Show Jumping, Dressage and Cross Country throughout the year, there are a variety of choices for riders that want to improve on equestrian training vacations.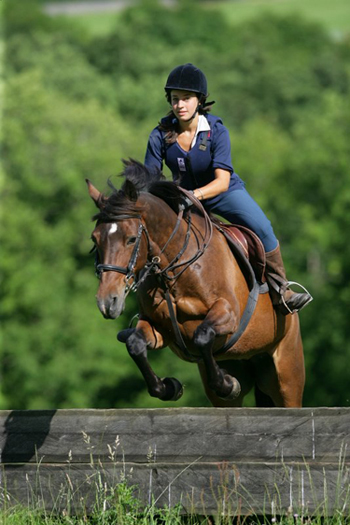 Hunter Trials at Crossogue Equestrian Centre in Tipperary, which offers training holidays for number of equestrian disciplines with a specialty in open countryside horse riding and cross country jumping.
Pubs, Pubs and did I say, Pubs
There's nothing more fun than visiting a local Irish pub for a pint and to hear authentic Irish music after a day on the trails in Ireland. Many of the locals who lead riding vacations can recommend good local pubs and may even offer to take you to their favorite.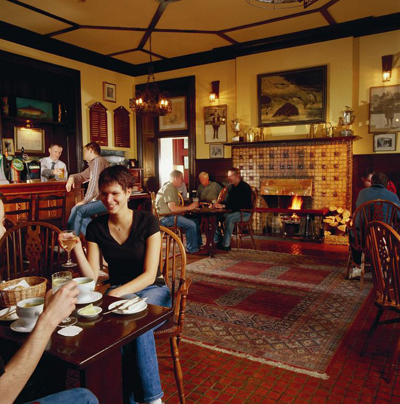 Enjoying a castle pub with Connemara Equestrian Escapes.
Friendly Irish People
Why are Irish people so friendly and welcoming? I don't know, but they sure are incredible hosts. Your hosts will likely go out of their way to accommodate you on your visit and that will make your trip even more memorable.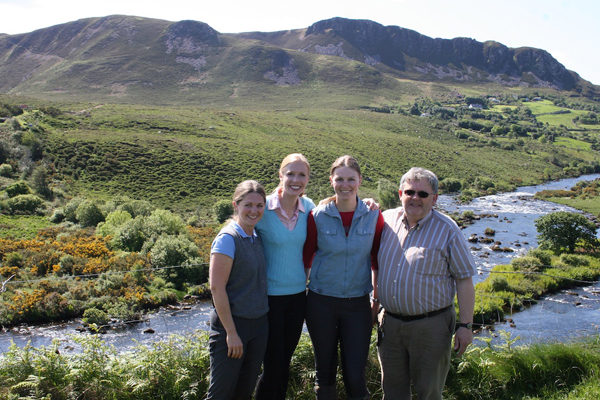 The friendly O'Sullivan family welcome me into their area of Ireland, the beautiful Ring of Kerry.
Horse Culture
Throughout your trip to Ireland, you'll find that horses have influenced the culture in a variety of ways. Whether you want to shop for equestrian clothing or gear, visit a horse museum, attend an equestrian festival or visit a breeding farm, you'll find a vibrant equestrian culture throughout Ireland.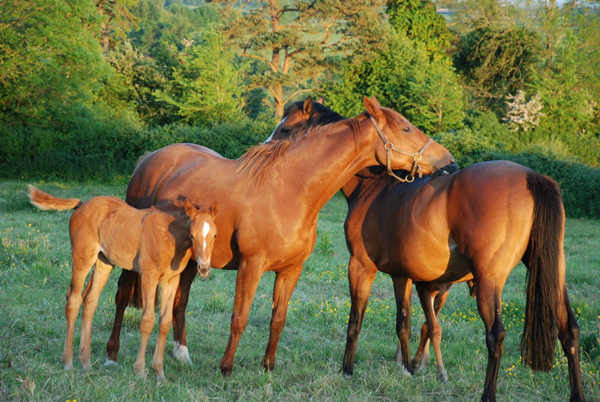 Trails and cross country rides wind through fields of young thoroughbreds and breeding stock at Crossogue Equestrian Centre, a working Irish Stud farm.
Is there something we missed? Tell us about it by linking up with us on Facebook or Twitter. For great Ireland equestrian vacations, including equestrian training holidays, trail riding vacations and castle stays, visit the Equitrekking Vacation Guide. Need help in picking a vacation? Visit EquitrekkingTravel.com and work with an equestrian travel agent specialist to get matched to a trip.