10 Things to Love about Dude Ranch Holidays
What you might enjoy about a dude ranch vacation with your family, group or on your own.
I love a good vacation. Who doesn't? And for me, mixing the fresh air and beautiful scenery in great outdoors with Western hospitality, history, active adventures and friends is a great trip. All of these things can be found at American dude ranches, where adventures abound and you can do something rare-- unplug! Below are 10 things to love about dude ranch vacations and 10 reasons to saddle up.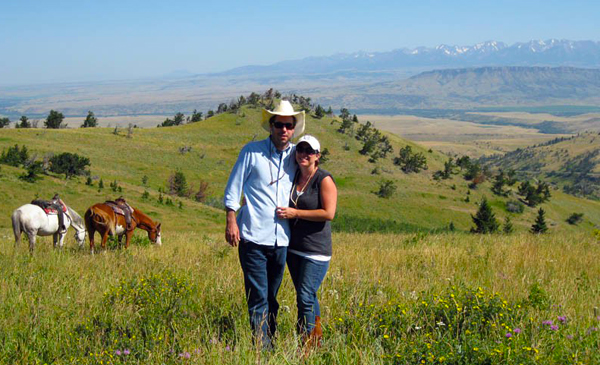 A couple enjoys nature and the views on a trial ride with 63 Ranch, bordering the immense Gallatin National Forest in Montana.
Awesome Trail Riding
Whether it's a high mountain pass, a serene open meadow or Sonoran desert landscape, there are amazing trails to discover in the open lands that surround American dude ranches.
Good Ranch Horses
Many dude ranches have horses that were born and raised there-– horses for the experienced rider and the novice yearning to learn. Connecting with an equine partner can make your vacation especially memorable.
Gorgeous Scenery
Of course there are always great views from the back of a horse, but while hiking, biking or just sitting on your cabin's front porch, you'll likely be impressed with the beautiful scenery around you. Many ranches are specifically located in stunning natural areas, making them a great place to appreciate the beauty of Earth.
Darn Good Food
Whether you're looking for a gourmet ranch experience or hearty home cooking, there are diverse food options at American dude ranches. Many ranches have chefs adept at cooking five-star meals. Others have camp chefs who excel with a Dutch oven–– equally good depending on your desires.
Family & Group Friendly Vacation
Have a group with differing interests? Ranch vacations are group and family-friendly, often attracting multiple generations to travel together. With a variety of activities on-site, there are things to please groups of varied ages and agendas.
Budget Friendly
Obviously this depends on the ranch, but if you're looking for a vacation that's economical, many ranches offer all-inclusive packages. Once you do the math, you'll find that a guest ranch can be a budget-friendly vacation option. Knowing the total cost ahead of time can also be a stress reliever, especially if you're traveling with a group. Don't want to take your wallet out during your vacation or worry about splitting the bill with your group at every meal, you don't have to at many American dude ranches.
Total Relaxation... Unplugged
To truly step away from your daily life, sometimes you need to unplug. This may be easier than you think at a dude ranch. While some ranches are equipped with Wi-Fi, televisions and even conference centers, others are off the grid. Choose wisely, but, if you can, choose to unplug for a bit during your time at the ranch.
Active Adventures
You won't feel as badly about having that extra dessert after you've been driving cattle, skiing, kayaking, participating in a yoga class or whatever activity you choose while on your ranch vacation. While some dude ranches have modern gyms, others have outdoor climbing walls, mountain trails and other ways to keep you active on your vacation.
Time in Nature
If you can truly get out of your head and forget your daily worries, stresses and duties, spending time in nature, either reflecting or working up a sweat, can be one of the most refreshing parts of your vacation. Let Mother Nature "mother" you during your trip. Step outside of yourself and enjoy the beauty of the simple things–– the sound of a rushing stream, the feeling of a soft meadow–– and enjoy being out of your urban or suburban world. It can do a world of good.
Western Heritage & History
If you're traveling to a ranch, one great thing to do is find out about its history. I love how many ranches have been preserved and passed down through generations, keeping a unique way of life alive in America. Many ranchers have special stories they will share with you. You may stay in a historic cabin, try a family ranch recipe, or peruse photos from the generations who homesteaded and settled the ranch where you're on vacation. It's a cool way to soak in the past and help in preserving its future.
Learn more about great dude ranch vacations in the Equitrekking Vacation Guide, where you can search by location, activity and find international riding holidays, and Top20Ranches.com, twenty of our favorite ranch vacations.