10 Things to Love About Arizona Ranch Vacations
From sunny skies to desert sunsets, there's a lot to love about Arizona ranch vacations. Check out these reasons why you might love saddling up for a dude ranch vacation in Arizona!
Having traveled to vacation ride in Arizona a few times, including while filming for Equitrekking, I've gotten to experience a variety of ranches and landscapes. From riding by those eye-catching saguaro cactus in the Sonoran Desert on a gals getaway to blueberry pancakes out of a chuckwagon on a breakfast ride in Tucson, check out ten things to love about Arizona dude ranches and ten ways to create cool memories on your next ranch vacation.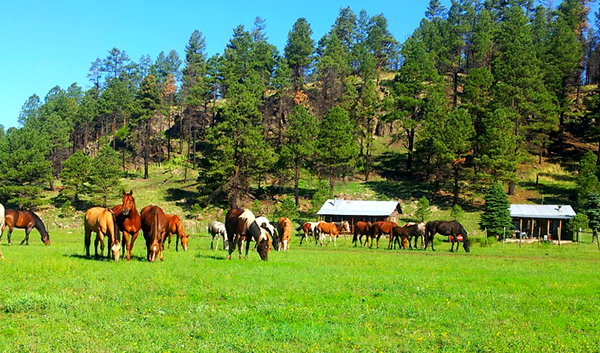 Horses grazing on the grounds of Sprucedale Guest Ranch.
Sunshine!
When the winter blues set in, it's nice to know you can bet on getting sunny skies on your visit to Arizona. Ranches around Phoenix and Tucson enjoy sunny skies an average of 85 percent of the time. Nights and mornings can be cool, so pack layers. You'll want them on those early breakfast rides!
Real Western Lifestyle
Arizona dude ranches that are members of the Arizona Dude Ranch Association are charged with holding fast to true Western lifestyle. Sprucedale Guest Ranch in eastern Arizona's White Mountains treats guests to a truly Western-style vacation, complete with hayrides and Western dancing.
Hiking, Biking, Fishing & Tennis
Arizona dude ranches offer more than just time in the saddle. From mountain biking to trap shooting to tennis, ranches offer diverse activities for the whole family, so even if someone in your group doesn't want to ride, they won't be bored.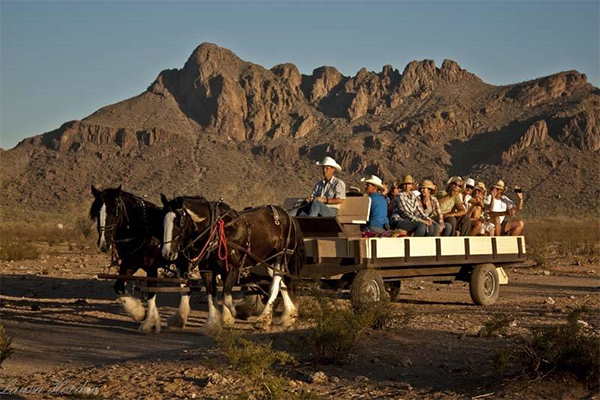 A leisurely hayride, great for adults or kids, at an Arizona Dude Ranch.
Sunsets & Sunrise
There's not much that's better than taking in a vibrant sunrise or sunset from the back of a horse. Tanque Verde Ranch's sunset rides take you through the Sonoran Desert at sundown-- definitely a photo worthy adventure. For those who like to rise early, take in sunrise from the porch of your adobe-style casita before the chuckwagon breakfast ride, where cowboy coffee will warm you right up.
Spas
Many Arizona dude ranches have full-service spas. After hiking, horseback riding or hitting the gym, work in your R&R with a relaxing massage or facial.
Special Clinics & Events
From yoga and horsemanship clinics to painting and photography workshops, Arizona ranches have recently been diversifying their offerings with an abundance of special educational adventures. Elkhorn Ranch, south of Tucson, has Horse Sketching and Old-Time Music Workshops that stand out. At White Stallion Ranch, guests can join Anna Twinney for an in-depth clinic in Animal Communication. The Flying E Ranch welcomes guest for a Christmas celebration and the special Bombproof Horsemanship Clinic featuring Chad Brinlee.
Not Just Lessons & Trails
Now we're completely happy with time in the arena and time on the trails, but it's also nice to spice things up with new horsemanship adventures. At White Stallion Ranch, one of the most popular activities is the Cattle Team Penning. Circle Z Ranch offers saloon rides into town, team penning and pony rides.
Riding at Circle Z Ranch,
But Endless Trails
Love trail riding, but don't love fences? Ranches like Hideout Ranch offer access to millions of acres in the Coronado National Forest and US National Parks, where there are trails of every experience level. White Stallion Ranch offers all day rides into the Saguaro National Park. Trust us, there's plenty of room to roam!
Location, Location, Location
Fly into Tucson or Phoenix and you've got easy access to Arizona dude ranches. Some ranches will even pick you up! Travelers in Southern California, Las Vegas, Albuquerque, New Mexico and throughout Arizona will also find pleasant drives on good roads to get you there without the hassle of flying.
Southwest Flavor
From the architecture to the food, many Arizona dude ranches will transport you to another place and time and with a distinctive Southwest flair. Tombstone Monument Ranch takes you back to the 1880's. Modeled after an old Western frontier town, you literally step back in time just by stepping on the ranch. At Tanque Verde, the ranch's executive chef creates colorful entrees and memorable food occasions inside the Santa Fe style dining room and in the great outdoors–– a great ranch pick for foodies!

Learn more about current specials at Arizona dude ranches and other top ranch travel deals. Check out a complete list of ranches that are members of the Arizona Dude Ranch Association.