10 Things to Love About Africa Riding Safaris
A safari on horseback is one of the most exciting vacations you can experience. Below are ten things to love about a horse safari in Africa.
The amazing experiences I was able to enjoy on my horse safaris in Botswana were once in a lifetime and unique to riding in Africa specifically. On a riding holiday in Africa, whether you travel to Botswana, Kenya, South Africa, Tanzania or beyond, be prepared to challenge yourself amid stunning scenery, culture, wildlife and nature.
#1 Wildlife Sightings, Including Big Cats
On a horseback riding holiday in Africa, you can experience awesome game viewing. On horseback, you unobtrusively ride to places that vehicles can't go, making for special sightings. In Kenya, you may see big cats, zebra, giraffes, buffalo, wildebeest, gazelle, hippos and more. In Botswana's Tuli area, lion, cheetah, leopard, African wild dog, a multitude of plains game like zebra, wildebeest and giraffe, as well as over 350 species of birds may be discovered. If going to the zoo interested you before, the horse safari will leave you totally spoiled. This is seeing animals in the wild, a totally unique and life-changing adventure.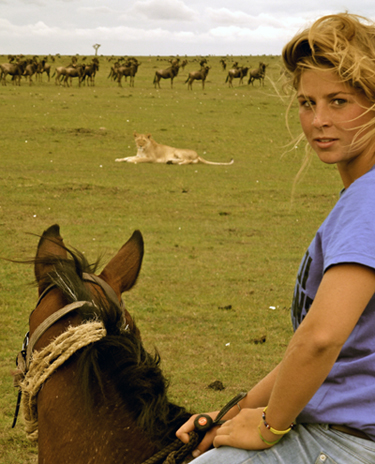 Spotting a big cat and wildebeest from on horseback with Offbeat Safaris in Kenya.
#2 Riding Fast
If you like a good gallop, you'll have fun riding in Africa. Depending on your ability and the destination, many places have ideal terrain and open spaces for faster riding. For instance, Limpopo Horse Safaris in Botswana was where I had one of the longest canters of my life. With Mkulu Kei Horse Trails and Riding Holidays, you can combine a horse safari with horseback riding on South African beaches, galloping in the surf and sand.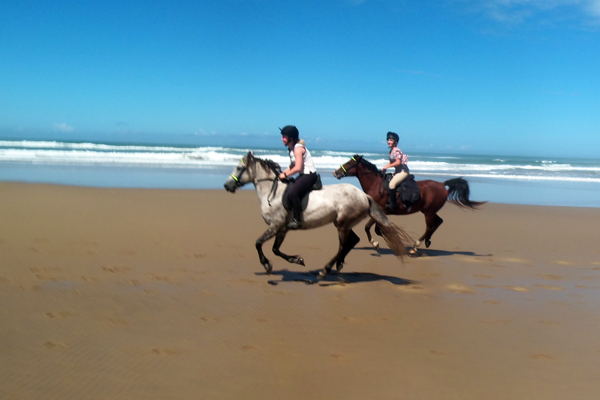 Galloping along the Eastern Cape of the Sunshine Coast, "the Adventure Province in South Africa," with Mkulu Kei Horse Trails and Riding Holidays.
#3 Camping Out in Style
If you're idea of great camping is "glamping", you'll enjoy the accommodations at many safari camps. Details depend on the camp, but may include large, walk-in tents, big enough for beds, en-suite bathrooms with hot showers, cozy duvets, tented living rooms complete with rugs and plush furniture and more. Keep in mind that at some camps, you will have limited power, but many will give you some time to charge your camera and other electronic gear. After all, you don't want to miss any of the many photo opportunities.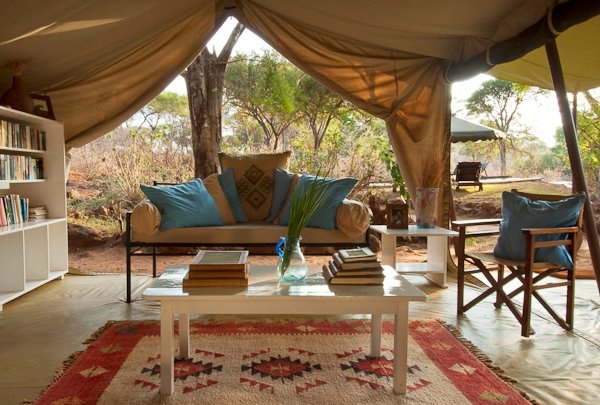 The beautiful main tent with Offbeat Safaris in Kenya.
#4 Bush Meals by Candlelight & Sundowners at Sunset
Campfire food can be delicious, sundowners at sunset memorable and picnics on the trail a true adventure on a riding vacation in Africa. Africa has some of the most stunning trees and sunsets and all of this makes already good food taste even better. The safari camps with whom we work have experienced camp chefs, making for tasty meals on your Africa riding adventure.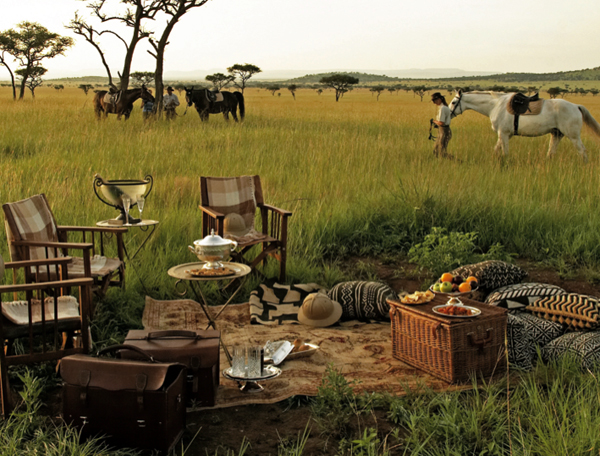 A picnic lunch in Tanzania on a horse safari.
#5 Fit, Responsive Veteran Horses
You definitely want to ride a good horse on your horseback safari and there's something to admire about a horse that doesn't mind being around prey and other potential dangers. We've certainly bonded with, been impressed by and wanted to take home some of the horses we've ridden in Africa. You likely will, too!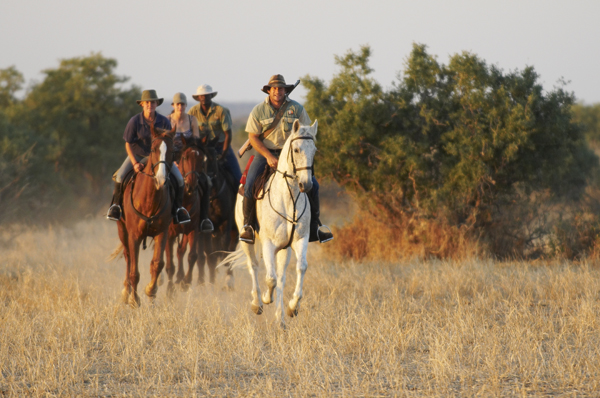 A long canter on top horses with Limpopo Horse Safaris in Botswana.
#6 Small Groups
Small group travel is a hallmark of a horse safari, ensuring personal attention and care on the trails. This can be a great thing if you are traveling solo, want to meet like-minded, adventurous riders and travelers, and enjoy getting to know your guides on your riding safari.
#7 Varied Terrain
From baobab studded plains to rushing rivers to large sandstone outcrops, Africa's varied terrain makes for interesting and sometimes challenging riding. You won't get bored by the exotic scenery, especially when you never know what wildlife you my spot around the next bend!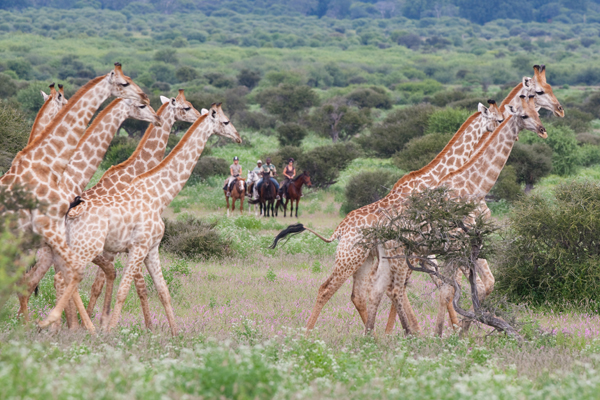 Riding through land largely untouched by man with Limpopo Horse Safaris.
#8 Amazing Star Gazing
I saw some of the most beautiful star-filled skies in Africa. If you've missed seeing shooting stars or wonder about the Milky Way, you'll have ample opportunity to gaze into the night sky on a horse safari. Most horse safaris take you through game reserves and remote areas far away from the lights of the city, making them a great place to star gaze.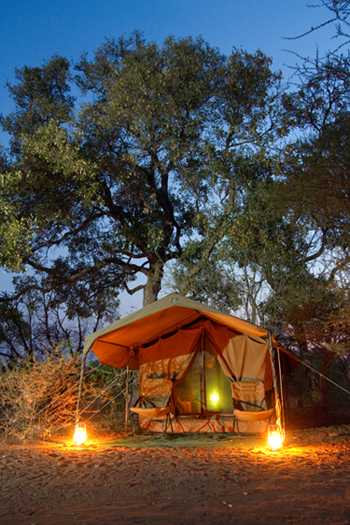 Night descending on Limpopo Horse Safaris' camp in Botswana.
#9 Real Local Villages
It's a special trip when you go off the beaten path and let locals act as your guides. Many riding safaris take place in destinations that are truly wild, and take you on side excursions to authentic villages. With Limpopo Horse Safaris, we visited a small village where one of our guides grew up. With him as a guide, the visit was personal, authentic and truly memorable.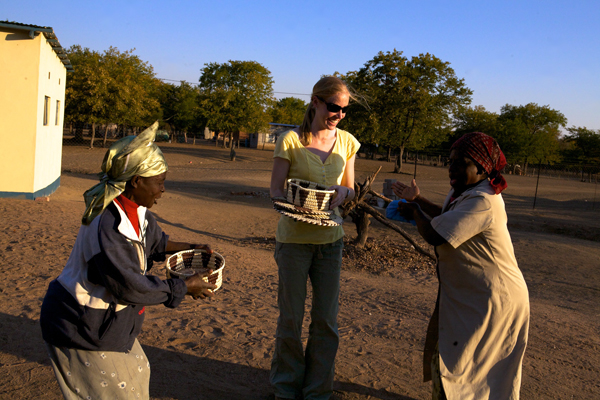 My visit to Motlhabaneng Village with Limpopo Valley Horse Safaris' guide David Cheno.
#10 Surprising Activities
Lest you think it's all about horseback riding (it can be if you wish), many safaris offer a variety of other activities including fishing, cycling, game drives, wine tasting, sightseeing, shopping and more for you or your non-riding companion, making for a diverse vacation.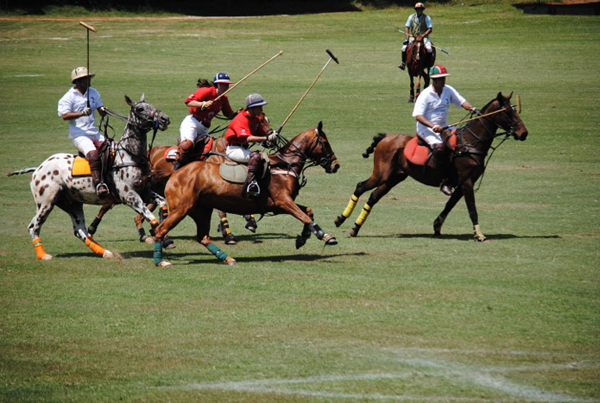 Polo Safaris offers a African polo holiday combining farm polo in Uganda with safaris to some of the most exquisite destinations on the continent.
Learn more about Africa riding holidays and horse safaris in the Equitrekking Vacation Guide, an online guide to great equestrian vacations, estancias and ranches.