10 Things to Know About Iceland Riding Holidays
Things I wished I'd known before horse trekking in Iceland. If you're thinking about horseback riding in the Land of Fire and Ice, read this first.
by Darley Newman
Below are 10 things to know before you travel on an Iceland riding holiday. Have something I've missed? Join the conversation and add your insight on Facebook or Twitter.
Riding Icelandic Horses
You'll be riding Icelandic horses, a special breed, on your Iceland riding vacation! Get ready to experience their unique gaits or ways of moving. In addition to the walk, trot and canter, Icelandic horses may also tölt and pace. The tolt, a four beat gait, similar to the running walk, is a smooth gait. It has helped the Icelandic people traverse their rough, terrain for centuries.
Don't call them ponies!

Whatever you do, don't refer to these small horses as ponies. You may offend an Icelander or two. Icelanders take great pride in the Icelandic horse, which has been purebred for over a thousand years on this isolated island. Though small in stature, these horses are hardy, smart and strong.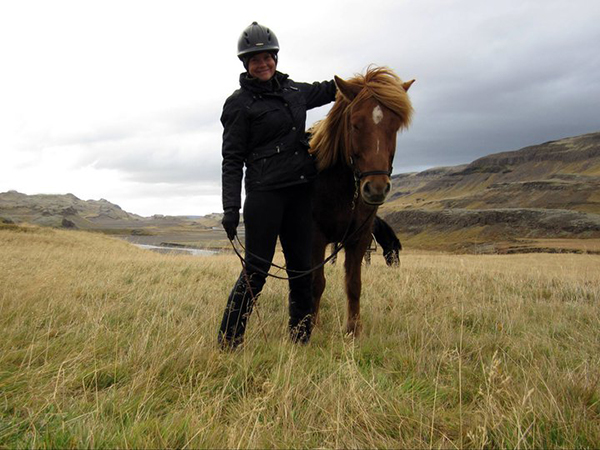 A rider stands beside the small, but mightly Icelandic horse. Photo from Riding Iceland, a riding vacation company.
Do "Pony Your Horse"
Riding along with free running horses is the traditional way of travelling in Iceland, since horses are changed at least once a day on longer tours. This means that you'll get to ride variety of horses on your Iceland riding vacation. Icelanders may also "pony their horse," which essentially means to lead a horse alongside the horse you're riding. This makes it easier to also change horses during the riding day.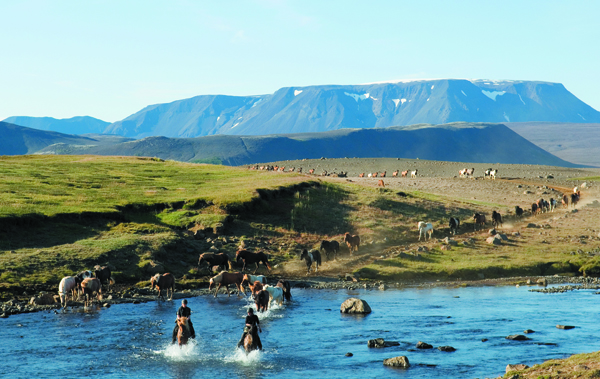 Riding with free running horses and crossing a river with Islandshestar, which has been leading Iceland horse riding tours since 1982.
Hot Springs, Hot Dip
Pack your bathing suit, because in Iceland you can find hot springs for soaking after a day of riding. Hot pools or hot pots and geothermal hot springs are a popular way to relax.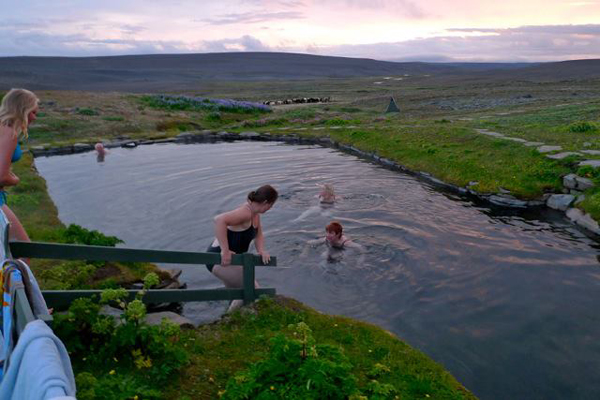 Riders with Islandshestar take a dip in hot springs in Northern Iceland.
Sunny Days or Dark Ones
In the summer in Iceland, it can be light for almost 24 hours a day and Icelanders take advantage of this by playing outdoors. In the winter, it's dark! Iceland's location within the Arctic Circle has given it the name of the Land of the Midnight Sun for these long days!
Reykjavik Rocks
For a sense of Icelandic city culture, head out at night in Reykjavik. This hot European capital is known for its party scene. It's also small and walkable, so you likely won't get lost.
Icelandic Horses Don't Vacation Off the Island
All Icelandic horses in Iceland were born on the island. In order to keep the breed free of disease in this geographically isolated island, once an Icelandic horse leaves the country, he or she may not return, so as not to bring back any outside diseases. If an Icelandic horse competes in competitions outside of Iceland, that horse cannot return. Thus, you'll find many great Icelandic horse competitions in Iceland, like Landsmot, the biannual National Horse Show of Iceland, which is organized in the even years.
Clean Gear Required
Riding gear which has been used abroad needs to be dry cleaned or sterilized before bringing it into Iceland. This, again, is an effort to keep any potential contagious diseases or contaminants away from the pure Icelandic horses. Riding gear (riding boots, tights or pants, jackets, hats, gloves, etc.) needs to be washed (104°F/ 40°C), dry cleaned or disinfected before arriving in Iceland. Most veterinary clinics will be able to do the disinfecting. Saddles, bridles and other leather gear may not be brought into the country.
Icelandic Tack is... Icelandic!
The tack used for Icelandic horses is slightly different then the tack ordinarily used for other breeds. The saddle resembles a dressage saddle and has a relatively flat seat. Saddles may also come with plain or quilted seats. The riding style used on Icelandic horses is close to English riding style, but stirrups are worn longer, so you may feel like you are riding a bit loose or relaxed at first.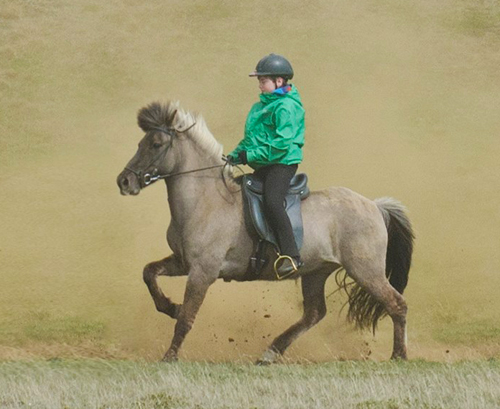 In this photo from Riding Iceland, which leads horseback riding tours into the mountains of Iceland, you can see more clearly the Icleandic saddles and tack and that riders keep closer rein contact and ride with a longer leg.
Pack Warm Layers
Just because it's Iceland doesn't mean it's freezing, but like on any riding vacation, you'll be out in the elements, which can mean changing weather. The best time to visit Iceland is June, July and August, and even then, it can be windy and chilly, especially at night. Whoever you book your Iceland riding vacation with will send you a listing of recommended clothing and gear, which may include knee high rubber boots for crossing rivers. Definitely pack a warm wool or fleece jacket or sweater. We like layers that zip or button up, making them easier to take on and off while in the saddle.
Learn more about Iceland horseback riding vacations in the Equitrekking Vacation Guide, including in our special section devoted to European riding vacations. Need help in choosing a trip? Check out trip itineraries and get help from an equestrian travel agent through EquitrekkingTravel.com.