Utah Colorado Plateau Horseback Riding Photo Journey
High deserts, lush forests and secluded slot canyons are some of the diverse scenery you may experience horseback riding Utah's Colorado Plateau.
Southeastern Utah holds special areas of wild, backcountry, where horseback riding or hiking is the best way to get around. The Colorado Plateau, centered on the Four Corners region of the southwestern United States, covers western Colorado, northwestern New Mexico, northern Arizona and southern and eastern Utah. With the greatest concentration of National Park Service units in the country, this is a great place to camp out under the stars, horse ride to lesser visited natural areas and soak in unique geology and outlaw history.
This vast area has been written about as the "Great Back-of-Beyond" and "The Place Nobody Knew," but you can get to know it with local Pat Kearney, who guided us in Equitrekking's Utah episode, and enjoys leading riders through this rugged, beautiful section of Utah.
Enjoy this Utah Horseback Riding Vacations Photo Journey with Kearney's Hondoo Rivers & Trails, which have been outfitting small-group, guided adventures since 1975 by horse, vehicle and foot.
Remote, pristine natural areas with stunning scenery can be found in this part of Utah. In order to really soak in the surroundings, Hondoo Rivers & Trails leads riders on camping and the other inn to inn horseback rides for multiple days, exploring Capitol Reef National Park, Escalante Canyons, the San Rafael Swell and High Plateaus.

Riders may pass through ancient water-carved canyons to discover secret outlaw hideouts-- shaded corners hidden by high canyon walls that would have been the perfect place for outlaws to hide.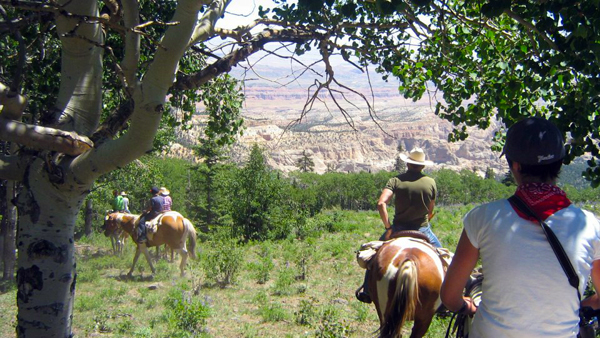 While many horseback rides in this part of Utah take you through ruddy-colored canyonlands, others take you up to Utah's High Plateaus to overlook this spectacular terrain. It stands out even more when juxtaposed with the Plateaus' greenery.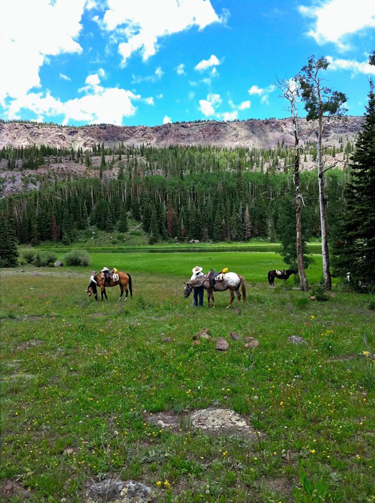 In the spring, lush meadows fill with wildflowers in the High Plateau's alpine wilderness, where you may spot great rock cliffs and terraces. During warm weather or fall foliage, you may wish to travel to the lakes and alpine meadows of Fishlake or Dixie National Forest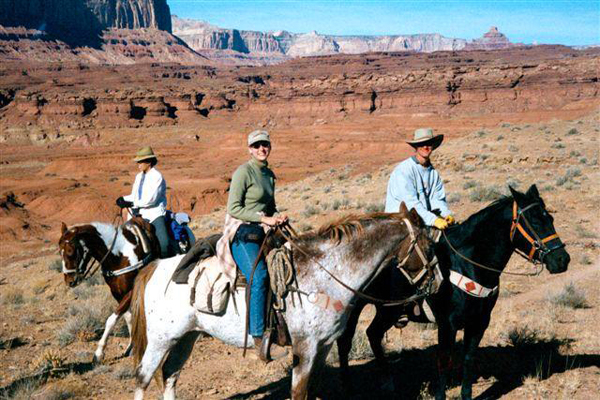 You can ride out every day in a new direction and never get bored. If you want a true trail riding vacation, where you can spend up to 6 hours in the saddle each day, this part of Utah has it.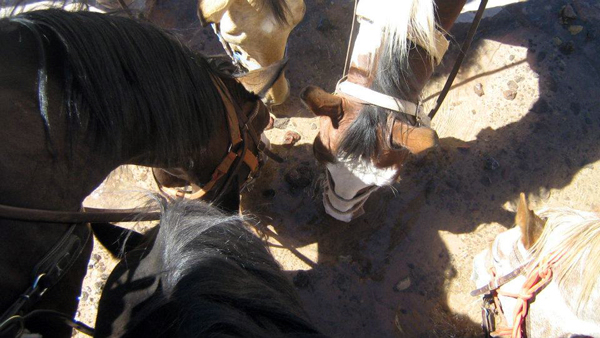 Horses stop at a drinking hole on Slickrock Trail. Hondoo's horseback rides explore higher areas during mid-summer and lower elevations earlier or later in the season.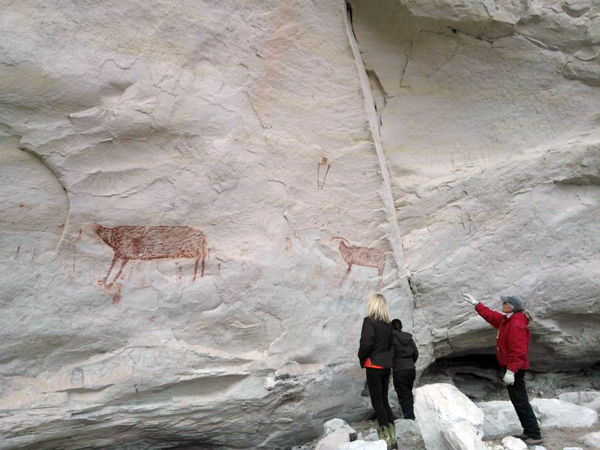 Remote trails pioneered by wildlife, Native Americans, outlaws, herdsmen and explorers may take you to areas with Utah's prehistoric rock art, including pictographs and petroglyphs.
Learn more about Hondoo Rivers & Trails horseback riding vacations on Hondoo's website and on their Equitrekking Vacation Guide page.