Summer Solstice Benefit Trail Ride
One cancer survivor's efforts to raise money for the organization that taught her to live again
By Stacey Stearns
Diagnosis and First Descents
I was diagnosed with cancer in 2008, at the age of 28. To tell you the truth, I was somewhat relieved; I was in constant pain and had been through two years of misdiagnosis. I finally had answers but still took a healthy case of denial into chemotherapy.
I rode my Morgan gelding throughout my six months of chemotherapy treatments. Many times he babysat me as I played the role of the passenger, but I truly believe that riding helped me cope with chemotherapy.
A few months after treatment ended, I attended a whitewater kayaking camp for young adult cancer survivors in Montana with the organization, First Descents. First Descents is an organization that provides young adult cancer survivors the opportunity to "defy their cancer, reclaim their lives and connect with others doing the same" by participating in outdoor adventures "designed to enable them to climb, paddle and surf beyond their diagnosis."
The week I spent kayaking on the river with my fellow campers truly taught me to live again. Being surrounded by a group of people who had walked the same road, many of them a tougher road, changed me and gave me a network of people to depend on as I continue this journey.
Giving Back
I decided to fundraise for First Descents so that I could give something back to the organization that had given me so much. As I am not comfortable asking people for money, I instead decided to plan a benefit trail ride. The trail rides have since taken on a life of their own. I have learned a lot about organizing trail rides and have made some wonderful friends along the way. The support from the equestrian community – businesses that have donated prizes, riders who participate despite horrible weather, and dedicated volunteers - has been phenomenal. My first three rides raised a combined total of $2,355 for First Descents – money that will allow more young adult cancer survivors to have their own First Descent experience.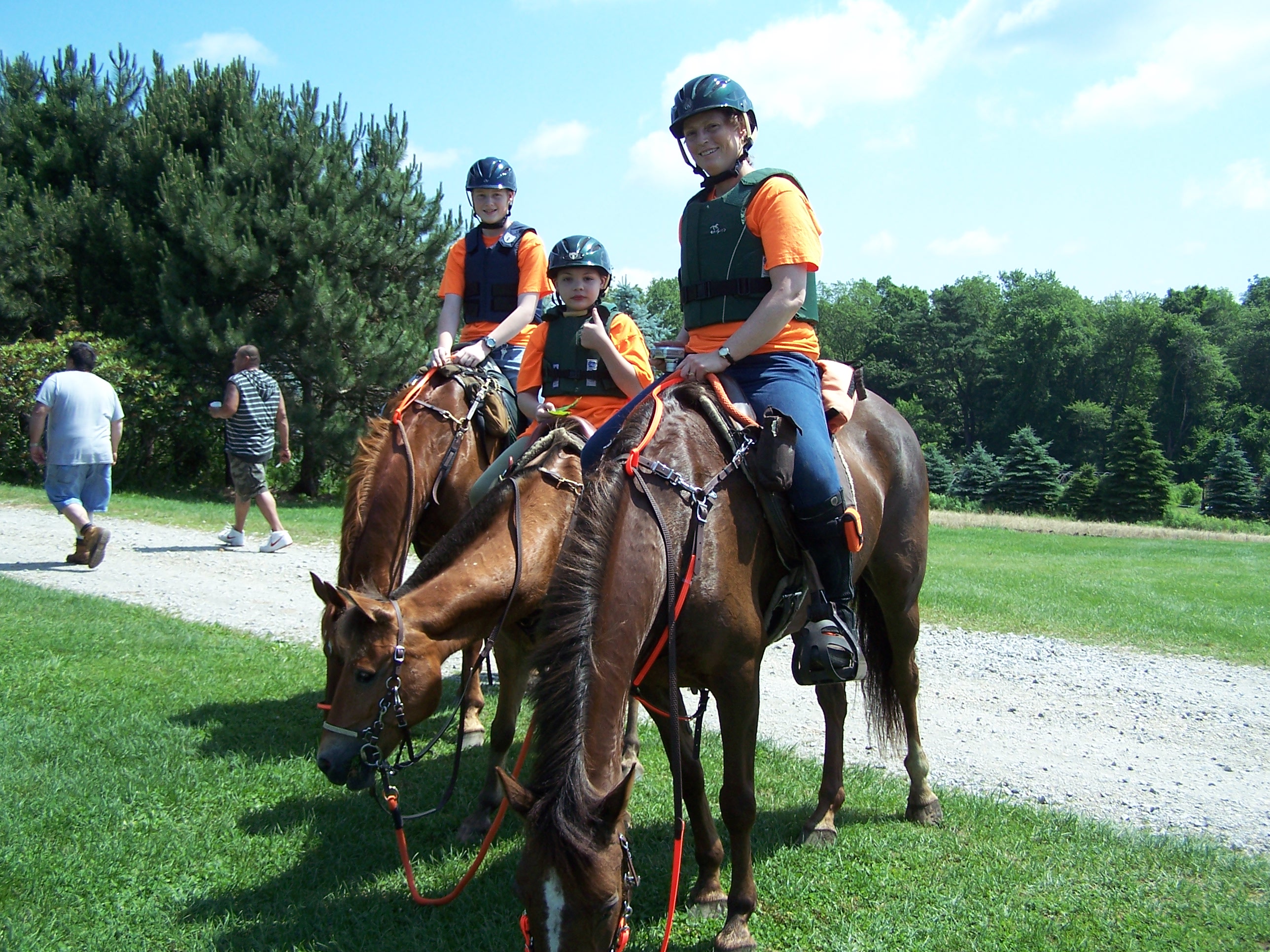 Riders prepare for the 2011 Summer Solstice Benefit Trail Ride at Fort Hill Farms, photo by Carolyn Stearns.
2011 Summer Solstice Ride - The Best Yet
Two weeks ago, I held my fourth benefit trail ride. I changed the format a bit and accepted an invitation from Fort Hill Farms in Thompson, Connecticut to hold the ride at their farm. Owners Peter and Kristin Orr have beautiful organic gardens, a dairy farm, and an ice cream stand. My trail ride coincided with their event, "Come to a Farm for the Health of it." In the past I have held mileage rides with at least 10 miles of marked trail. I told riders ahead of time that the ride at Fort Hill Farms would instead be a destination ride.
Twenty-three riders arrived the morning of June 18, 2011 to ride the carriage roads and fields of Fort Hill Farms. The ride began by climbing to the top of a hill where the Federal Aviation Association has a tower. From this spot, the view extends to Massachusetts and Rhode Island. The carriage road then took riders through a maple grove, around the edges of cornfields and within the woods.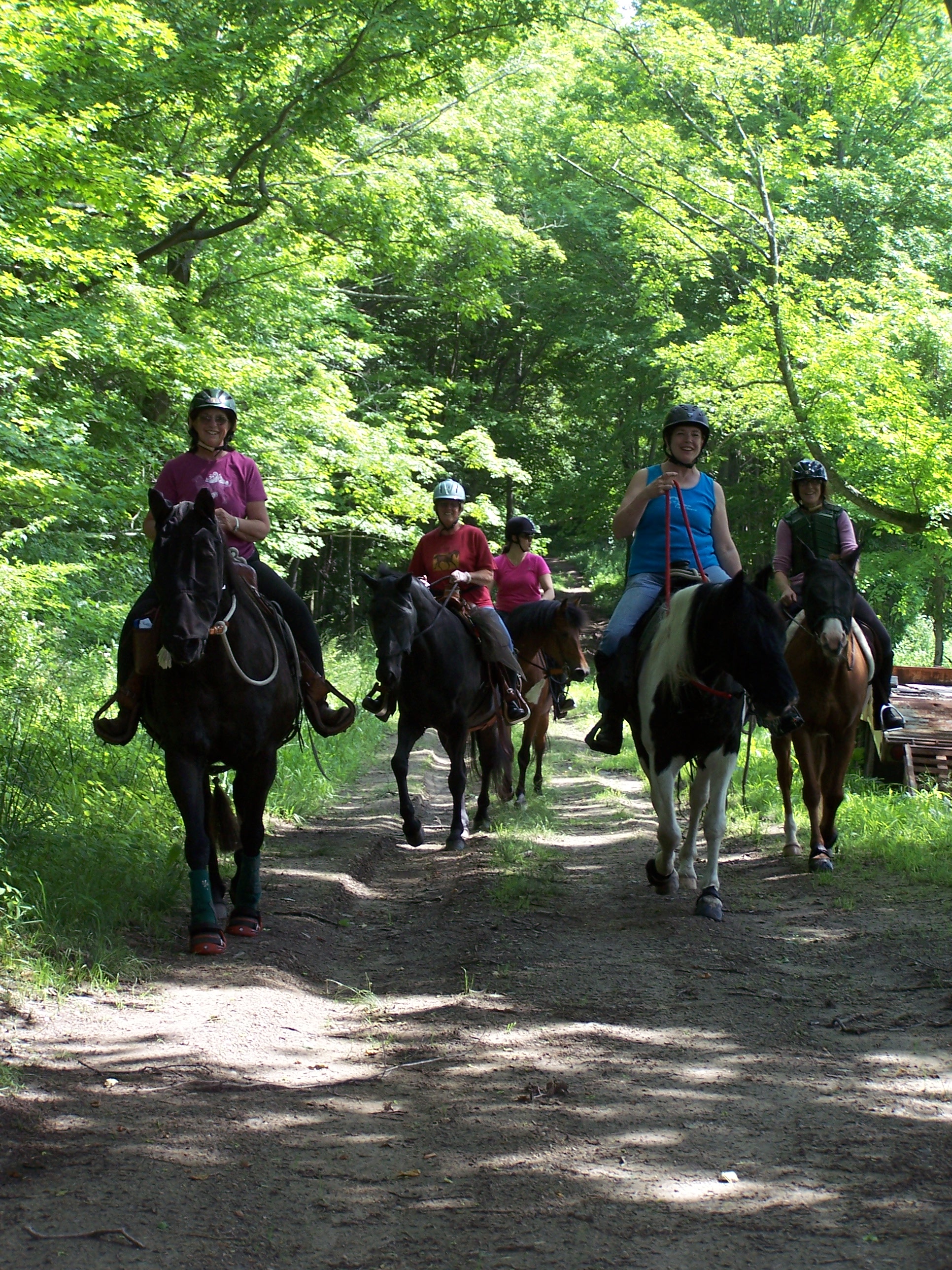 Riders travel through the woods of Fort Hill Farms, photo by Carolyn Stearns.
As riders finished the trail, they were met with a fresh lunch of chicken salad and fruit, generously sponsored by Nutrena. All riders received prizes from our sponsors in the equine community including: magazine subscriptions, a rope halter, gift certificates and the Equitrekking book and DVD set. At the end of the day, we tallied up the donations and had raised $2,550 for First Descents. I cannot thank my riders, sponsors, volunteers and friends at Fort Hill Farms enough for their support.
The trail rides began as a way to raise money for First Descents, but they have grown into so much more. I have made some incredible friends in the horse community while organizing these rides and those friendships are something that will last a lifetime.
If you wish you donate to the Summer Solstice Trail Ride team, in support of First Descents, please visit their team page on the First Descents website.