Barn Night at the Washington International Horse Show 2010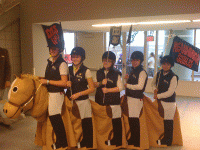 by young rider Alexis Mozeleski

Once again, October is when the Washington International Horse Show takes place at the Verizon Center in downtown Washington, DC. As a local young rider, I always look forward to watching this internationally renowned show in my own backyard and it is always exciting to see the streets of Washington replaced with horse stalls instead of cars.
Throughout the week, I was able to attend many of the events from the junior hunters to the grand prix superstars. Young riders, like me, can learn so much from watching the professionals compete.

In addition to the high level competitions that are always exciting to watch, WIHS's barn night returned this year for the local barns in the area. Barn night is a way for barns in the area to come together one night of the show to share their horse stories and participate in various chances to wins merchandise for their barn through team spirit.
This year, barn night hosted a costume contest that I volunteered to take part as part of Meadowbrook Stable's costume entry. Showing support for my barn and having the opportunity to be a part of the Washington International Horse Show's festivities was a great experience.

My four other teammates and I climbed into our 5-maned horse costume and headed down to the arena for the exhibit and judging. We "trotted" and "cantered" around the ring whinnying and snorting as we passed the spectators. We tried some leg yielding and some shoulder-in, which I will admit is much easier when in the saddle and not as a part of a 10 legged horse! Full of enthusiasm and team spirit, our efforts paid off as we were named best costume of the night. We exited the ring with smiles and our bucket of goodies that we'd won for our barn. It was a thrill to take part in the show, even if it was on foot ....and who knows, maybe one day I will be lucky enough to canter around the arena with an equine partner!