Tipperary Mountain Trekking Centre
Ireland
Contact
Tipperary Mountain Trekking Centre
Rusheen, Borrisoleigh, Thurles, Co. Tipperary, Ireland
Tel. +353 87 410 6868
Email Clare
Camp Photo Gallery
Search by:
Activities »
Region »
In Depth
Tipperary Mountain Trekking Centre is a picturesque equestrian centre and bed and breakfast located in the pretty and peaceful mountain countryside of north County Tipperary. Deep in Ireland's horse country, this horseback riding vacation and pony camp destination is Association of Irish Riding Establishments (AIRE) & Failte Ireland Approved as an Equestrian Tourism Centre.
With six ponies and six horses, kids and adults can also enjoy guided horse treks ranging from an hour to a day. These trail rides are appropriate for beginners or experienced riders. Horseback rides are through mountain pastures with breathtaking views, where you can see ancient ring and hill forts, standing stones and wonderful Irish ruins. Be sure to bring a camera!
Horse Camp Activities
Pony Camps include horseback riding lessons for children with a focus on building confidence and balance in the saddle and having fun. Kids learn how to care for ponies, gain skills through lessons and confidence on treks through the surrounding hills. Kids may stay overnight during children's pony camps sessions each summer. Travel with your child on a family riding holiday or send them to camp while you explore Ireland. Many international families also send their kids to camp by themselves, another great way to gain confidence and life skills.
Pony camps run from 10:00 am to 5:00 pm daily at Easter and from 9:30 a.m to 5:30 p.m in the summer. Participants spend a minimum of two hours each day on horseback and the rest of the time in the yard working with and learning about ponies, with the goal of successfully competing in a gymkhana on the final day of camp. The pony camps are geared to teaching riding through fun and games, stable management, and natural horsemanship methods of bonding with your pony. They are geared for riders of all abilities from lead-rein novices to competent jumpers, aged from 6 to 18 years, though kids staying overnight should be 12 to 18 years old.
Tipperary Mountain Trekking Centre also provides residential horsemanship courses and riding holidays for novice and experienced adult riders using the on-site farmhouse accommodation.
For Adults, bring your own horse or ride one of the Centre's horses. Trail rides range from five to seven hour treks that can include a visit to a gourmet pub where both you and the horses will be fed and watered. Adults on residential riding holidays may also enjoy lessons, off road rides, hacks on quiet boreens. You can also learn about natural horsemanship techniques in the training of horses and riders.
Other Activities
Kids love, splashing about in the stream, or playing one of the many board games available. There is a library filled with books and satellite TV. Free wifi is available on-site.
Access to several hundred acres for hill walking and pony trekking routes. Boating, fishing and other water sports available at nearby Shannon Sailing. The Clodagh River, one of the cleanest in Europe, borders Rusheen. You can wander along its streams, swim in it, and fish for trout and salmon.

Local attractions include the fabulous medieval cities and castles at Cashel, Cahir, Kilkenny, Limerick and Fethard, as well as water sports and cruises on Lough Derg. In addition, there is an open farm and adventure playground practically on the doorstep. The owner, Clare , can arrange for you to attend traditional Irish fiddle and flute lessons, holistic healing and acupuncture sessions. She can also advise you where and when to find the best local dining and pub music experiences, as well as local attractions. Or she can tailor-make you a package holiday, fitting in all your riding and sightseeing experiences.
Accommodations
Built in pre-Georgian times, with exterior walls over 3' thick in places, Rusheen House, which is set on 28 acres of lush green rolling hills and woodland with panoramic views has always provided a friendly welcome for generations of children. There is space for up to eight people on the second floor of this restored Irish farmhouse. Accommodations comprise a spacious family en suite bedroom, which can sleep up to six, and an additional double room if there are extra adults in your party.

Couples and lone travellers as warmly welcomed as large family parties.. Guests can also relax in the family sitting room, which contains a library of books as well as a grand piano and satellite TV, and where meals are served if guests require them. Good, wholesome, home-cooked meals can be ordered at Rusheen House, though no meals at Rusheen House contain meat. Fish is available on request. Wherever possible, the owners buy local and organic produce. There is complimentary tea, herb tea and coffee (including de-caff) for guests.
Pony Camp Dates 2015
Tuesday 7th – Saturday 12th April
Monday 6th – Friday 10th July
Monday 27th – Friday 31st July
Monday 10th – Friday 14th August

Cost: $519 USD* (€460) per child includes six nights full board and accommodation and five days of horseriding lessons, treks and stable management lessons, plus evening entertainments.

* USD prices are subject to changes in currency fluctuations. Price is based in the Euro.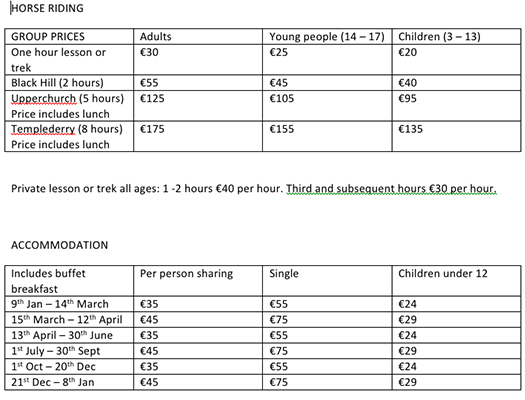 At a Glance
Tipperary Mountain Trekking Centre is a small, family friendly horse riding stable with a popular children's horse camp with lessons for children and adult residential riding holidays and courses on horsemanship.
Location
Mountains of North Tipperary in Ireland in the province of Munster.

Less than a 2 hour drive from Dublin, Cork, Shannon Airports. Airport pick-ups are available.
Train and bus stations are also nearby.
Age Group
Unaccompanied children over the age of 12 for residential summer camps.
Children ages 6 to 18 may participant in camps.
Gender
Female and Male.
Riding Style/ Ability
Beginner to advanced. English.
Season/ Sessions 2015
Pony Camp Sessions run in March, July and August