The Hideout Lodge & Guest Ranch- Wyoming Dude Ranch
Wyoming
Contact
The Hideout Lodge & Guest Ranch
3170 Road 40 ½
Shell, Wyoming 82441 USA
Tel. 800-354-8637 or 307-765-2080
Visit The Hideout Website
Email The Hideout
Destination Photo Gallery
Search by:
Activities »
Region »
In Depth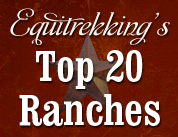 The Hideout Lodge & Guest Ranch is an upscale Riding, Horse and Cattle working guest ranch, just east of Yellowstone Park. This Wyoming working ranch offers two horseback riding programs, the Classic Cowboy Program and a new Advanced Riders Program. This ranch attracts serious equestrians, as well as those looking to improve their riding skills and beginners interested in a horseback riding holiday.
A herd of approximately 3,000 Black Angus and 250 horses graze a combination of private property, BLM lands, and a national forest at elevations varying between 4200 to 10,000 feet. They share 250,000 acres with the 100-year old Flitner Ranch in Shell.
The Hideout is mainly a riding, horsemanship, and cattle guest ranch, with other activities available from fishing to hiking, allowing a full outdoors experience. Most of the horses are owned and trained by The Hideout, including a string of Mustangs. All of these horses are fine-tuned and conditioned prior to the start of the season and are looked after with extreme care by a specialized horse vet. The Hideout also has their own Ferrier on staff.
This Wyoming dude ranch takes pride in its large number of returning guests, among them, many Europeans who come to ride and explore The American West. This upscale Wyoming guest ranch allows only 25 riders at a time, providing an intimate and true experience, which draws guests to choose The Hideout among other Wyoming guest ranches.
The Hideout is not a "nose-to-tail" riding experience. On your horse vacation, rides are diverse and customized according to riding skills and the desires of the group. Advanced riders will experience high end horses, while instructed by experienced wranglers, charro's, cowboys and cowgirls, all excellent horsemen, riding and stockmanship instructors. Beginner and intermediate riders will ride safe and willing horses, as well as patient instructors. The Hideout believes that a true ranch experience should allow the family to enjoy this experience together and there for does not provide separate children's programs. Children as young as 7 years old have taken part in this ranching vacation, as many of the experienced younger riders can do it all!

The Hideout is proud to speak 5 languages, which include French, German, and Dutch and provide great vacations for those who want to experience riding in North America.
Activities
Trail Riding, Horseback Riding Lessons, Horsemanship Clinics, Overnight Mountain Rides, Mustang & Horse Training, Riding Mustangs, Trapshooting Range, Biking, Hiking, Dinosaur Dig Site Visits, 4x4 Wildlife Tours, Fly-Fishing, Canoeing, Archery, Photography.

Guided tours to Yellowstone, Big Horn Canyon, Big Horn National Forest, Cooking Lessons. Off-season activities include snowmobiling (500 miles of groomed trails), cross-country skiing, culinary classes, chocolate making, art & music, horse training and Yellowstone guided visits.
Accommodations
Guests sleep in comfortable and nicely decorated log cabins with a private bathroom, fridge, TV, wireless Internet, and rocking chairs on the porches. Rooms at this Wyoming dude ranch are cleaned daily, with fresh linens provided mid-week for a comfortable guest ranch experience.
The Hideout Lodge & Guest Ranch also has Ranch Homes with greater luxury than the standard accommodations. Located across from The Hideout's main property, The Hideout Homes are western-style log homes feature two master suites with oversized bathrooms, walk- in showers, private decks and fully-equipped designer kitchens with granite counter tops and hardwood floors.
Food
The Hideout's kitchen is managed by the nearby Trapper Creek Lodge & Supper Club, one of the best restaurants in the area, providing European-inspired Western dining. The chefs provide personalized attention to guests and are happy to tend to dietary requests. Wine with meals and cocktails during cocktail hour are included.
Area Attractions
Yellowstone National Park, The Big Horn National Forest, Custer Battle Field, The Big Horn Canyon Dam, many local dinosaur digs, The Shell Canyon & Falls, Cody with the Cody Nite Rodeos, The Buffalo Bill Museum, The McCullough Peaks and Prior Mountains Wild Horse herds, Sheridan.
At a Glance
This upscale Wyoming working cattle ranch vacation is at one of the bigger and older ranches in the area. With over 300,000 acres of land, it offers a diversity of terrain for exceptional horseback riding vacations while striving for excellence in hospitality, lodging, and culinary pampering.
Location
Shell, Wyoming – population 50
Airport
Cody, East of Yellowstone National Park
Riding Style/ Ability
From beginning to very advanced
Season
Year round
Capacity
25 riders

Corporate Groups, Retreats, Meetings Welcome
Rates
$416 / $539 a night, all included – 4 nights minimum stay required.
We accept Visa, American Express, MasterCard, Cash, Checks, Wire Transfers
Travel Agents Accepted- This ranch works with travel agents!