Rancho Las Cascadas - Mexico Ranch Vacation
Mexico
Search by:
Activities »
Region »
In Depth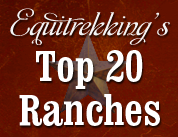 Spend your vacation at one of the most beautiful guest ranches in Latin America under Swiss management! Fantastic horses, unique rides, exclusive accommodations, excellent food and friendly service, will delight you on this All-Inclusive vacation. Extensive plains without fences and open sky country that invites you to ride without boundaries on this Mexico riding vacation.

Enjoy 333 days of sunshine a year and year-round midday temperatures around 75F/22C.

Horse ride through Mexico's breathtaking landscapes, flowering cacti, picturesque villages, ancient haciendas, and the Mexican hospitality... unforgettable impressions. Learn about Mexico's charro culture and the Charro demonstrations that can be visited during your stay at the Ranch
For full details of just what makes Rancho Las Cascadas so special, please visit our website or please see contact information at the top of this page. All trips are All-Inclusive!
Las Cascadas Riding Holiday - 'Personalized Itinerary' - Choose Length of Your Stay
This is the most flexible All Inclusive Horseback Riding Vacation. Add on extra days to the Riding Package of your choice or arrange the length of stay completely up to your taste. The most popular way to experience our horseback riding! Enjoy a different ride of the more than 20 different routes and regions every day here at the Rancho. Take in different sights and achieve many personal challenges. All inclusive rate per overnight. Learn more.
Viva Mexico Ride - 5 Days / 4 Nights
This is a popular center based progressive ride for the intermediate to expert rider. Unlike nose to tail riding, this is real, open-range guided riding including beautiful canters and gallops. Each day offers something new and gives you the opportunity to discover the real Mexico. Learn more.
Highland & Canyon Explorer 8 days / 7 nights – Twice monthly… ask us for dates!
This is a popular progressive ride for the advanced or expert rider through varied landscape and terrain. It is not a trek. It is real, open-range riding with many canters and gallops. Each day offers something new and gives you the opportunity to discover the real Mexico. Horses will be changed throughout the week so you can be sure to have a fresh horse at all times. Learn more.
Magic of the Mexican Highlands 13 days / 12 nights – All year round… ask for dates!
Extended progressive ride combined with sightseeing for horse lovers who would also like to get to know the rich culture of Mexico during their once of a lifetime riding holiday. Rides suited to ability. Get immersed in the feelings, colors, vibes and flavor of this incredible place. Learn more.
A unique fusion of Horseback Riding, Relaxation and Cultural Tours
Mix your Personal Cocktail!
Discover 'Mexico Magico' right from the heart of this beautiful country. Don't just visit the touristic places, immerse yourself into the Mexican culture. Come back to your 'home away from home' after each days adventures and relax in rural Mexico. Enjoy a Margarita in the hot tub or take a swim in the solar heated infinity pool before sitting down for another tasty Nouvelle Mexicana dinner. You may choose between a fantastic horseback riding holiday, a full program of captivating cultural tours or... why not choose a bit of both.
Enjoy the real Mexico from this beautiful place...
'Custom Tailored' Horseback Riding!
Choose from over 30 different rides of fast paced, relaxed, demanding or easy days in the saddle. Or join on of our packages of adventurous riding programs. Our fantastic horses invite you to ride in this open sky country across extensive plains without fences or boundaries.
Great Cultural Excursion
Discover Mexico and all it has to offer from one central place. Whether you're passionate about history and art, love shopping or just yearning for adventure, there is something for everyone. Enjoy a trip to Teotihuacan with the famous pyramids of the sun and the moon, to the beautiful colonial town of San Miguel de Allende or take a fully guided tour of Mexico City... Enjoy 333 days of sunshine a year with midday temperatures around 75ºF/22ºC. The climate is one of the most incredible features at this altitude. Arrive/Depart any day of the week and choose the length of your stay. Private transfer to the ranch. Any time of day or night any day of the week. That is where the 'custom tailored' begins.
For full details on our All-Inclusive packages and what makes Rancho Las Cascadas so special, please visit Rancho Las Cascadas website or please see contact information at the top of this page.
Accommodations
For these Mexico ranch holidays, the guest rooms are individually decorated in typical Mexican country style with a modern twist. Much attention is given to the finer details creating a seamless combination of comfort and style.
Rancho Las Cascadas is only able to accommodate a select number of guests at the ranch, thus providing a truly unforgettable experience.
Discovering the beauty of this incredible countryside of Rancho Las Cascadas, breathing in the fresh mountain air, letting your eyes feast on the array of colors from cactus and wild flowers to picturesque from the traditional mainhouse setting to the authentic décor of the pubelito. This is your home away from home.
All rooms have private en-suite facilities and...
Food & Dining
The heart of any Mexican home is the fabulous open kitchen. At Rancho Las Cascadas, the finest local ingredients are combined with innovation by highly skilled chefs to create authentic Mexican, as well as international cuisine.
There is seating in the dining room, outdoors on the patio or under the trees, where you may watch the sunset and listen to the rushing waters.
You are welcome to hang out and chat in the kitchen. Many guests have enjoyed watching and learning as meals are prepared. Fresh fruit drinks and cool purified water are always available there. Breakfast and lunch rides to scenic areas are regular events. Don't worry if you are a non-rider, we'll take you to the picnic spots!
According to ranch tradition the meals are served family style, with plenty of second and third helpings and lots of good conversation.
Spices
The meals are specially created to introduce the characteristic flavors of this region. Whether a simple lunch or a festive dinner, you can be assured of great service and attention to detail. Chili is a common ingredient in many of our recipes, but we can always adapt to your taste preferences.
Dietary Requirements
Special dietary requirements can be catered for, just let Rancho Las Casacads know in advance.
Area Activities
This exclusive Resort consists of a lovely Boutique Hotel, a first class Horseback Riding Operation and is the ideal central place for all Cultural Excursions in the Mexican Highlands including Mexico City. It is located in a peaceful rural erea at 7,500 ft /2,300 m bordered by three waterfalls (Las Cascadas) that give the place its name. Mexican-Style Ranch It is made up of several buildings in Mexican-style with a modern twist and set in beautifully tended gardens. Facilities include a spacious and comfortable lounge and library, a conservatory with guest computer, a well-stocked all inclusive bar, billiard table and dart board. Free Wifi access. A walk around the grounds offers further 'hidden treasures', including...
Pool with integrated Jacuzzi
Outside is the beautiful solar heated infinity pool with built-in Jacuzzi. Daytime water temperature around 30°C / 85°F.

Hot Tub
The sun terrace, decked with loungers and a hot tub – the perfect place to unwind. All overlooking rolling hills and natural waterfalls below, a breath-taking view.
The ranch provides the perfect setting for relaxing after your day's adventures. You and your like-minded fellow travelers from around the world can share stories, experiences and goals, while enjoying a nice 'Margarita' around the pool, the bar or the hot tub for example.
This is the final one promise....
But not only horseback riding...
Rancho Las Cascadas also offers a spa, cultural excursions, mountain biking, hiking and yoga.
At a Glance
All-Inclusive, Unique Rides, Cultural Outings, Colorful Markets and Great Hospitality in the Mexican Highlands
Location
Rancho Las Cascadas can be discovered on a central Mexican mountain plateau at 7,500 ft. bordered by three waterfalls (Las Cascadas) that give the ranch its name. Located just 90 minutes North of Mexico International Airport.
Airport
Mexico City International Airport (MEX) or Queretaro International Airport (QRO)
Riding Ability
Mexican Charro (similar to Western) style riding
All abilities from beginner to serious equestrians (riding in small groups based on ability)
Season
Open every day of the year
Capacity
30 guests
Rates
All-Inclusive Stay! Rates are $333 USD per person per night or $310 USD per person per night when staying 7 nights or more.
Weekly rate $2,170 USD per person per week. Learn more.
*based on two persons sharing a standard room (20% single supplement). This rate includes all booked accommodations, all meals, open bar while at the Rancho (national alcoholic and nonalcoholic drinks), unlimited horseback riding, the use of the Rancho facilities including our solar heated infinity pool with jacuzzi, hot tub and much more...