Rainbow Trout Ranch- Colorado Dude Ranch
Colorado
Search by:
Activities »
Region »
In Depth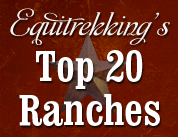 Rainbow Trout Ranch is located at 9000 feet in the southern Colorado Rocky Mountains in a little-known canyon called the Conejos River Canyon. The ranch is known for the superb riding and fly-fishing and the western hospitality that brings guests of all ages back time and time again.

This Colorado guest ranch's terrain allows for very varied riding, from quiet mosey rides in the river meadows to truly advanced high mountain rides and everything in between. Rainbow Trout Ranch offers abundant loping (cantering) at various levels, and instruction as needed. They do not insist on head-to-tail riding although some trails require it, rather they encourage guests to spread out on rides and enjoy their horse. This dude ranch owns their horses and has plenty to match each rider with the right partner for the week. In addition to the wonderful trails, Rainbow Trout Ranch offers arena activities such as team-penning and barrels/pole practice for the summer ranch rodeo.

The Conejos River is well known amongst serious fly fishermen, and the ranch owns just over a mile and a half which is limited to ranch guests. Rainbow Trout Ranch encourages fly-fishing and catch and release, but spinner use is allowed, and of course ranch staff are happy to prepare that fresh trout for you anytime. There are some great holes that allow even the most novice angler to catch a gorgeous rainbow, native brown or cutthroat, and the setting is pristine and lovely. The ranch does provide basic equipment and there are flies and supplies in the ranch Trading Post.

In addition to the riding and fishing, the ranch itself is such fun. The unique and historic main lodge is a mighty 18,000 square feet, and the focal point of the ranch. There are two children's programs—3-5 yrs and 6-11 yrs—both optional, and very popular, as well as an awesome and loosely structured teen program which they love. Then there are cookouts, hayrides, trapshooting/archery, hiking and so much more besides. You will have to come here to truly experience the RTR magic! And by the way, you might check out Rainbow Trout Ranch's Trip Advisor reviews to get an idea of the ranch from a guest point of view.

Rainbow Trout Ranch truly wants this to be the best vacation you've ever had and goes out of their way to accommodate each person's needs, not only at the Barn but in every aspect of the ranch.
Accommodations
Sixteen comfortable log cabins of various size and layout, each with a living area and fireplace and each with a nice cool verandah. Three bedroom cabins have two bathrooms each. Two bedroom cabins have one bathroom each but all are newly remodeled and spacious.
Food
Good wholesome ranch fare with daily home baked breads, fresh salads and hearty entrees. Special consideration given to dietary requests and requirements, such as vegetarians or allergies.
Activities
Fantastic and varied riding including team-penning and all-day rides as well as a ranch rodeo; superb fishing on the 1 ½ mile stretch of the sought after Conejos River that runs right through the ranch; awesome Teen Program, Cowpoke Program (6-11 yrs) and Buckaroo Program (3-5 yrs); traphshooting/archery; evening activities; horse-drawn hayride; glorious hiking; bird watching and so much more.
Area Attractions
Great Sand Dunes National Park and Preserve; Santa Fe; Taos; Bandelier National Monument; Los Alamos Historical Museum; Colorado Gators.
At a Glance
Superb alpine riding and fishing in the southern Colorado Rockies along with huge historic lodge, teen and children's programs, trapshooting/archery, spectacular scenery and warm western hospitality to create memories that last a lifetime.
Location
Southern Colorado Rockies
Airport
Albuquerque or Santa Fe, NM; Colorado Springs, CO
Riding Style/ Ability
Western. From total beginners to expert.
Season
Late May/early June to third Sunday of September.
Capacity
60 in summer, 35 in September (adults only)
Rates/ Payment methods
Check, Visa/Mastercard, Cash, Traveler's Cheques, Wire Transfer