Elkhorn Ranch- Arizona Dude Ranch
Arizona
Contact
Elkhorn Ranch website
27000 W Elkhorn Ranch Road
Tucson, Arizona 85736
Email Elkhorn Ranch
Tel. 520-822-1040


Destination Photo Gallery
Search by:
Activities »
Region »
In Depth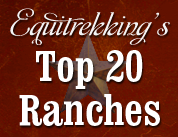 About 50 miles southwest of Tucson, you will find Elkhorn Ranch nestled into secluded Sabino Canyon. This Arizona guest ranch offers unparalleled horseback riding and comfortable living for around 32 guests.
Couples, families, and solo travelers find a home away from home at Elkhorn Ranch, and many return year after year. Horseback riding at Elkhorn Ranch provides plenty of opportunity for adventure and a great way to see the incredible scenery of the Baboquivari Mountains and Altar Valley. Gentle or loping rides through the desert and more vigorous trips up into the mountains are offered every day except Sunday, when the horses enjoy the day off. The ranch's 10,000 acres provide plenty of remote canyon and mountain country to explore, a true wilderness experience. For those who really wish to see the country, there are all day adventures with sandwiches or a mule-packed hot lunch.

With six guides, groups are kept small so that you may have the length and pace of ride you desire. Beginning riders have the chance to build skills and confidence while more experienced riders can find challenge and stimulation. Over the years, people of all ages have learned to ride at Elkhorn and many adults have continued to venture high into the mountains well into their senior years. (Children must be age 6 or older to ride, and there is a 250 lb. weight limit for all riders.) The Elkhorn herd of 120 head of horses includes brood mares, colts and saddle horses that vary in type and temperament to suit any rider – the right horse and saddle remain yours throughout your visit. Horses have been raised and trained here for years and we pride ourselves on having the variety that makes for fun and safety.
Workshop Weeks
Add creative flair and camaraderie to your week, at no extra charge
Jan 6 2019 – Old-time Music
Jan 20 2019 – Digital Photography
March 31 2019 – Western Art
Learn more by visiting Elkhorn Ranch's website. Call 520-822-1040. Email Mary.
Ranch history
Elkhorn Ranch has been continuously owned and operated by the Miller family since 1945, when Grace and Ernest Miller ventured south from Montana to find a sunny winter guest ranch location. They already operated an Elkhorn Ranch in the Gallatin Valley of Montana, and had teamed up with other pioneer dude ranchers to found the Dude Ranchers' Association.
In Arizona, they found an ideal location at what had been the Fresnal Ranch School, and before that a cattle ranch homesteaded by Sabino Otero. Sadly Ernest passed on soon after purchase of the Arizona ranch, but Grace and her son Bob and his wife Jan improved the ranch infrastructure and developed generations of friendships among ranch guests. The third generation, Charley and Mary Miller and Tom and Anne Miller, continue the tradition today.
The Millers raise and train Thoroughbred, Percheron and Quarter horse cross horses uniquely suited for the Baboquivari Mountain terrain, and they work closely with ranching neighbors involved in the Altar Valley Conservation Alliance to keep the surrounding country a healthy open working landscape. For over 60 years now, the Miller family and their crew have provided the care you need to enjoy rest, quiet and stimulating activity around the ranch and on miles of mountain and desert trails. You will always find a friendly welcome plus abundant birds and wildlife and curious Sonoran desert vegetation will greet you each day.
Activities & Amenities
Winter Ranch Vacations, Birding in Sonoran Desert, Heated swimming pool, Tennis court, Western horse riding, Hiking.
Accommodations
Twenty cabins provide comfortable accommodations for singles, couples of families. Cabins are equipped with private baths, electric heat and good reading lights. Some have separate sitting rooms and fireplaces – no television or phones in the rooms. Accommodations are scattered throughout the mesquite to provide privacy and seclusion for rest, sunning on chaise lounges, writing, reading or socializing with friends or family. You'll find a bird feeder outside your cabin and as much birdseed as you care to feed.


Food
Meals are served buffet style in the Long House three times a day and you can order hot breakfast of your choice. Meals are well-balanced, nutritiously prepared and the variety appeals to most appetites. You'll have the option of an adventurous lunch on the trail a couple times a week, plus everyone enjoys the weekly Saturday picnic in the desert. The ranch has no bar, rather those who wish entertain at their cabins. Special dietary requests or celebration cakes are welcomed, with advance notice.
Area Attractions
Live amidst the curious beauty of the Sonoran Desert during your Elkhorn visit, and access scenic mountain country on horseback or on foot with wilderness views as well as open desert country for faster riding. For regional sight-seeing, the Arizona-Sonora Desert Museum is our family favorite – also the old Spanish missions at San Xavier del Bac and Tumacacori, and Kitt Peak National Observatory.
At a Glance
Traditional winter season Arizona guest ranch
Location
Baboquivari Mountains southwest of Tucson, Arizona
Airport
Tucson International Airport
Riding Style/ Ability
Western style, beginner to advanced
Season
Winter season, mid-November through April
Capacity
Twenty cabins, with average capacity of 32 guests

Corporate Groups, Retreats, Meetings are welcome with the ideal number being 20 people or less during the winter quieter months in December between Thanksgiving and Christmas or when space available. Please inquire.
Rates
2018/2019 season weekly rate of $1778 plus tax and gratuity per person per week, single or double cabin.
Discounted rates for 2 or 3+ week long visits and for children ages 6 - 18. Kids must be 6 or older to ride, and there's no charge for kids 5 and younger.
Nightly rate $345 per person plus tax and gratuity, with four night minimum.
Payment by check, cash or VISA/MC.