Elk Mountain Ranch- Colorado Guest Ranch
Colorado
Search by:
Activities »
Region »
In Depth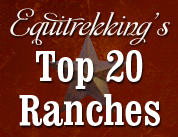 High and remote in the San Isabel National Forest and adjacent to the Browns Canyon National Monument with off-the-beaten path charm. Weekly package for 30 pampered guests. Unique for spectacular scenery, quality horses, variety of activities & superb menu. Here you will savor hospitality second to none - warm, friendly and sincere.
Families are encouraged to spend time together at this Colorado guest ranch. Adult weeks offered in September.
Elk Mountain Ranch is a pleasant 2 1/2 hour drive from the Denver Airport. Ranch transfer service is available.
Nearby Buena Vista is home to the largest collection of peaks over 14,000 feet and the "White Water Capital of Colorado."
Week includes horseback riding through unspoiled wilderness, thrilling white water raft trips, trapshooting, marksmanship, archery, van trip to Aspen, hiking, fishing, mountain biking and excursions to the Browns Canyon Ropes and Adventure Park. Hayrides, square-dancing and musical entertainment take place in the evenings.
Elk Mountain Ranch is very family-oriented ranch. In concert with our regular ranch program, we offer a full kids' program for ages 3-7 years. Two children's counselors will offer a well-supervised, fun-filled day of activities. Each day at this Colorado guest ranch includes riding in the arena and activities that revolve around the theme of the day. Cowboy day includes roping, panning for gold, and making sheriff badges. On Indian Day children will make Indian headbands and necklaces, paint faces, hike to a tepee and hunt for arrowheads. Spend a day at the Mount Princeton Hot Springs pools and enjoy the water slide on Water Day.
Children 8 and older are usually able to participate in our regular ranch activities, but are always welcome to join the children's counselors.
Child care is also offered to children too young to participate in the above program. Children 2 and under are offered a rate of $200 per week plus $18 per hour child care.
September is for adults only. Enjoy the peak of the fall colors with an emphasis on riding and relaxing. Limited to 20 guests.
Elk Mountain Ranch has been the Murphy family's home and passion since 1985.
Travel Deals

Adults Only Dude Ranch Weeks – Weeks of Sept 4 & Sept 11, 2022
Single occupancy fee of 10% is waived for our adult-only weeks.
Enjoy the mountains as we near the peak of the fall colors in the Colorado Rockies. The already spectacular scenery at the Ranch unveils more glory in the Autumn. Aspens crown the mountainside in golden grandeur. Fall is exclusively for adults at our Colorado dude ranch. The tranquility and stillness are uninterrupted, whether you're riding through the aspen forests…or curling up with a favorite book by an crackling fireplace.
Elk Mountain Ranch offers many of the same activities as summer, but takes a maximum 20 guests. With a focus on riding and relaxation…the adult-only weeks have proven to be quite popular.
Please Note: Rafting is not guaranteed during our adult-only weeks as it is dependent upon the water level on the Arkansas River. In lieu of the raft trip, a van trip to Cripple Creek is offered. Cripple Creek is an historic mining town that now allows limited stakes gambling. Let us treat you to a mine tour, which takes you 1,000 feet under ground, and the narrow-gauge train ride. Lunch will be provided with some time to tour the town on your own or try your luck at the casinos.
Learn more! Email Elk Mountain Ranch. Call 800-432-8812. Visit their website.

Dude Ranch Family Reunions & Groups
Have a reunion that your family will remember for a lifetime.
There is no better environment for a family reunion than a dude ranch. All your activities, meals, and accommodations are all located in one place. There are activities for every member of the family. You will build memories for a lifetime as you ride, fish, hike, and sequester yourselves from the distractions of the outside world.
Dude Ranch Family Reunion Specials for 2022
A discount of 10% is offered for groups of 10 or more people for any week in 2022.
Week of Aug 14 & Aug 21 – Bring your family reunion of 15 or more people and enjoy a 15% discount off our posted rates. Never a better time or value!
Group Reservation Policy: For dude ranch family reunions and groups of 10 or more, we require a deposit of $1000 per person to hold space. This deposit is fully refundable if cancellation of your reservation is made by March 15th.
Upon receipt of your deposit, we will send you a confirmation letter and our advance information packet. An invoice for the balance due will also be enclosed for your convenience. Because of the nature of our business and small size of our ranch, we do require a non-refundable prepayment by March 15th.
For your protection, we highly recommend trip or vacation insurance for those "last minute" medical or emergency cancellations. Information on travel insurance can be found at the Travel Guard Web Site or by calling Travel Guard at 1-800-437-6142. Learn more! Email Elk Mountain Ranch. Call 800-432-8812. Visit their website.
Activities
All activities at this Colorado guest ranch are included in the peak season rates for this dude ranch. Horseback riding through unspoiled wilderness. Ranch owns its own horses and you will be matched to suit your riding ability. This guest ranch has two Missouri Foxtrotters for those who want to ride Gaited Horses. Ask about them at the time of booking.
Although horses are our main emphasis, there are plenty of other activities for all to enjoy on this Colorado ranch vacation - thrilling whitewater raft trip, excursion to the Browns Canyon Ropes Adventure Park, trapshooting, marksmanship, archery, van trip to Aspen, fishing, hiking, mountain biking, square-dancing, hayride, evening entertainment, kids' program and more.
Accommodations
The main lodge houses the dining room and gathering area, with fireplace, library, sun deck, piano, board games, dvd's. There are six log cabins and three lodgerooms. Spotlessly clean. A gift basket and fresh flowers await your arrival. Interior and exterior photos of each accommodation can be found on Elk Mountain Ranch's website.
Hot tub & massage available. Small guest laundry room. Internet. Horseshoes, basketball and volleyball court, tetherball, badminton, pool table & air hockey.
Food
Superb, varied, home-cooked meals to delight both the hearty and discerning appetites. Trail ride cookouts, champagne brunch, steak fry, hors d-oeuvres, fabulous desserts, and kid-friendly options. The highlight at week's end at this Colorado dude ranch is the country candlelight dinner. Fresh baked cookies, snacks and fruit bowl always available between meals. Special diets happily accommodated
Area Attractions
Elk Mountain Ranch is located in the "Whiter water capital" of Colorado and adjacent to the Browns Canyon National Monument. We are home to the largest collection of 14,000 plus peaks in the lower 48 states. Spectacular van trip over the Continental Divide to Aspen, CO.
At a Glance
High and remote in the San Isabel National Forest, this Colorado guest ranch offers weekly ranch vacation packages for 30 pampered guests.
Location
Buena Vista, CO
Airport
Denver or Colorado Springs
Riding Style/ Ability
Beginner to Advanced. All Abilities Welcome. Western Riding.
Season
May to September
Capacity
30

Corporate Groups, Retreats, Meetings Welcome
Rates
Weekly Rates: Per Person, 3 pm Sunday to 10 am the following Sunday
June 12 - Aug 21, 2022
Adults $2725
Children 8-12 $2025
Children 3-7 $1525

June 5 - June 12 and Aug 21 - Sept 18, 2022
Adults $2525
Children 8-12 $1825
Children 3-7 $1425
Weekly Package rates are designed to be "all inclusive". They offer guests a complete vacation package with an array of enjoyable activities from which to choose.
Ranch accepts Cash, Checks, Travelers Checks and Visa, MasterCard and Discover

Travel Agents Accepted- This ranch works with travel agents!