Bar W Guest Ranch- Montana Dude Ranch
Montana
Search by:
Activities »
Region »
In Depth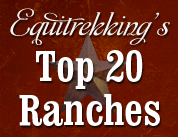 A great western vacation for all ages is what the Bar W Guest Ranch on Spencer Lake in Whitefish is all about. The Bar W is open year-round and ready to treat you with true Western Montana hospitality - from the moment you arrive to long after you have left. Beautiful vistas and rolling ridges adorn the Montana countryside of this cozy dude ranch.
Located on Spencer Lake, there are 3,000 acres available for horseback riding and all kinds of outdoor activities at this Montana dude ranch. Almost all of our guests - families, adults, singles and groups alike - have a tendency to think they are miles away from civilization here. But just 3.5 miles down the road from this serene wilderness is the vibrant resort town of Whitefish, offering up the finest in shopping, dining, theater, and nightlife.

The Bar W is nestled at the base of Spencer Mountain, between two pine-covered ridges, a beautiful setting for Montana ranch vacations. The ranch consists of a 6,200-square-foot lodge, cabin suites, indoor and outdoor horseback-riding arenas, stables, a barn, play meadow, an entertainment area and a gazebo on the lake - all helping to make the Bar W an idyllic piece of paradise for our guests to soak in all year long.

This Montana guest ranch's horse riding program is the ranch's main attraction. The Bar W Ranch's experienced staff, trained horses, and the assorted terrain our guests traverse make for an incredible horseback riding experience. The Bar W's riding programs include hundreds of thousands of acres to explore. You'll ride in the mountains, over the foothills and across the open prairies of Montana Big Sky country.

You can also enjoy the riding events that take place in our indoor and outdoor arenas, such as barrel racing, egg races, pole bending and more. We offer cowpoke lessons for beginners, and for those more experienced cowboys and cowgirls, advanced lessons that include roping, team penning and sorting cattle.

In addition to horseback riding, there is plenty for all ages to do and discover at the Bar W Guest Ranch. Guests are invited to explore the entire property - watch our trainers work the horses, help with the chores (if you like, of course), fish for big pike on Spencer Lake, hike the miles and miles of trails, mountain bike, swim in the lake, throw horseshoes, or play badminton, volleyball, or a leisurely game of pool. You can even test your archery skills or try your hand at breaking some clay pigeons.

During the winter, this Montana guest ranch offers a bed and breakfast stay which includes lodging and a hearty breakfast in the morning. Find yourself dashing through the snow with our horse drawn sleigh rides. The Flathead Valley is truly a year round playground. We are located just 12 miles from Whitefish Mountain Resort where you'll find world class skiing and snowboarding. Just 2 miles from the ranch is Glacier Nordic Center which offers 5 km of impeccably groomed trails for skate and classic cross country skiing. In the evening, 3 km of trails are lit for night skiing. Dog sledding is just up the road and is not to be missed!

Or, you can just sit back, relax and observe the beauty of Montana's wildlife, such as whitetail and mule deer, moose, bears, eagles, coyotes, wolves and mountain lions.
Activities
Cattle Drives, Cowgirl Up Weeks, Adults Only Weeks, Ecotourism, Fishing, Ranch Work, Hiking

Additional ranch summer activities include team penning and sorting of cattle, archery, clay pigeon shooting, fishing, rifle shooting, square dances, camp fires with sing alongs, Cowgirl-Up weeks, and more in the local area like whitewater rafting, waling in the trees, water parks, beaches, boating and fishing, Glacier Park, golf and more. Winter activities include riding in the indoor arena, skiing back country and at Whitefish Mountain Resort, dog sledding, snow shoeing, snowmobiling and so much more.
Accommodations
The Bar W accommodations are western informality blended with elegance. You can choose from the lodge or the cabin suites - either way you will love the decor and the views are wonderful. The ranch cabin has two suites overlooking the south pasture and surrounding forest, an outdoor arena and with views of horses. These are beautiful suites that together could sleep up to 16 utilizing the common areas! The cabin is equipped with kitchenettes with microwave, refrigerator and coffee maker.

The Bar W offers two luxurious canvas tents decorated Bar W style – simple elegance blended with western informality, otherwise known as "glamping" or glamorous camping. Each tent is decked out with a queen size bed, full sized futon, private porch, kitchenette and chic Western décor. Both tents have a private bath located just a couple of feet away.
Food
Wait until you sit down and taste some of the best down-home cooking this side of the Mississippi - Montana style! Meals are prepared with love and care and are always served in hearty portions - no one leaves hungry. Have a unique food requirement? Just let our cooks know and we'll accommodate your request.
Area Attractions
Our guests enjoy the best of both worlds - on the ranch they feel secluded in the wilderness and yet they have the ability to take in the local flavor - meet the local folks and shop, play and just explore.

The Flathead Valley is a year-round playground for families, singles, and groups of all ages with whitewater rafting, stream and lake fishing, nine world-class golf courses, boating, hot air ballooning, skiing, back-country skiing, four other cross-country trail systems, snowmobiling, dog sledding, and more. Glacier National Park is 23 miles from the ranch, and the drive there is almost as pretty as the park itself. (almost!)
At a Glance
The year-round Bar W Guest Ranch on Spencer Lake in Whitefish, Montana has it all - great accommodations, friendly staff, wonderful horses, and scrumptious food. Ranch and area activites are boundless. Come vist and let us treat you with Montana western hospitality from the moment you arrive until long after you have left. Let Montana Surround You!
Rates
Rates vary depending on room choice and season. During the spring, summer and fall our ranch vacation packages are all inclusive. Please visit our website or contact us and we can put together a complete quote. We accept all major credit/debit cards, checks and cash.
Location
Located in Northwest Montana with Glacier National Park 23 miles away, Whitefish Moutain Ski Resort 12 miles away, the very cool town of Whitefish with great shopping - fine dining - fun nightlife just 3.5 miles away, 15 miles from the airport, golf - 1.5 miles away from world class 36 hole course and whitewater rafting just down the road.
Airport
Glacier Park International (FCA) - 15 miles away
Riding Style/Ability
Western
Beginner- Advanced
Season
Year Round with plenty to do all year round.
Capacity
50
Wheelchair Accessible: Yes

Corporate Groups, Retreats, Meetings Welcome