Working Ranch Vacation for Solo Men and Women Travelers in Kansas
Many solo travelers, including dads, moms, single gals and good friends of the Equitrekking team, visit Moore Ranch, a Southwest Kansas working ranch.
by Darley Newman
Since Moore Ranch only takes around 1-5 guests at a time, your vacation will be customized and personalized for you and you'll enjoy more one-on-one time with guests.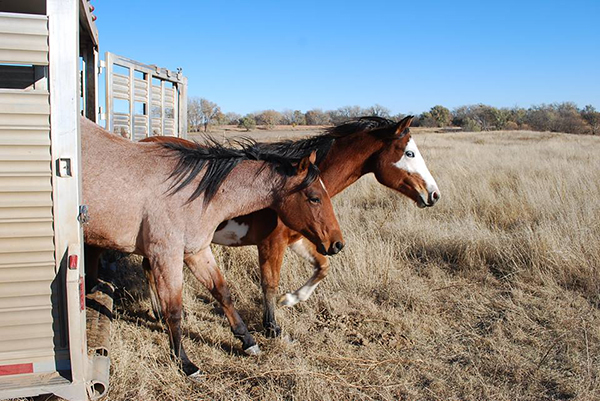 We love this blue roan filly from Moore Ranch, where there is always something going on. This Kansas ranch has around 300 Texas Longhorn cattle at the ranch and 50 horses, depending on the season.
"All guests at the ranch are welcomed into our family. They eat breakfast at our family dining room and then are off with us to catch their own horse and saddle it," writes Nancy Moore, the ranch's owner. "Beginning riders soon find that one-on-one instruction of saddling a horse and riding in a round pen is helpful, but that instruction continues on throughout the day whether we are out checking cattle, moving the longhorns or doctoring a sick calf. One single traveler, who was a beginning rider, told my husband Joe that his goal was to be able to gallop a horse before he finished his vacation. He accomplished that goal the first day as we gathered some sick yearlings in from the far pasture."

Women are encouraged to travel solo to this ranch, either on a Cowgirl Getaway or for a regular ranch vacation to realize the thrill of riding horseback over the prairie. Solo women guests find themselves not just in the company of cowboys, but experienced cowgirls like Nancy or her niece while at the ranch. Because of the small number of guests, Moore Ranch can be flexible.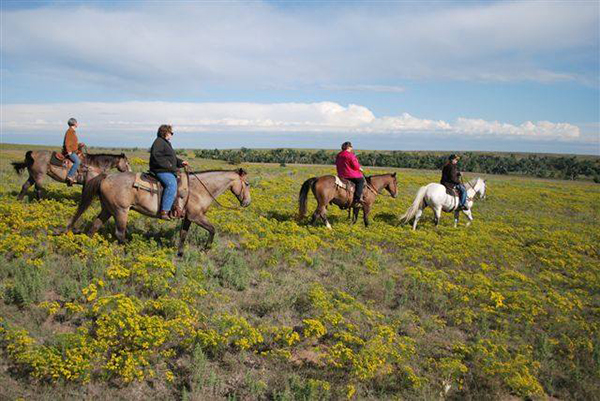 Moore Ranch encompasses about 1,400 acres, but runs on up to 6,000 acres of rolling hills, trees, creeks, and rocky hillsides.
"If it looks as though a gal would enjoy riding with me for the day and watching me rope, help me put in stray cows and fix the fence, or try barrel racing, we are flexible enough to make that happen," writes Nancy. "We try to read the desires and personalities of our guests as well as their level of riding expertise and accommodate them with the best 'Bucket List' experience we can give."

Single Supplement Lowdown:
No single supplement. Guests stay in individual cabins.
When to go:
Guests are welcomed to this ranch from April to October. Check their website or Vacation Guide page to attend during cattle drives or branding weeks.

Learn about Moore Ranch on their website and on their page in the Equitrekking Vacation Guide.