Women's Leadership Conference and Going Home to Myrtle Beach
My adventures visiting my home area of Myrtle Beach and getting inspired by Women in Philanthropy and Leadership.
Having not visited my home area of Myrtle Beach, South Carolina in quite some time, I forgot how many people I know there and how nice it is to visit home. I was traveling to the beach to speak to over 400 women at Women in Philanthropy & Leadership (WIPL) hosted by Coastal Carolina University and receive an award for being an inspiring South Carolina woman. The conference and time at the beach were both invigorating and motivating.
I arrived to the beach and picked up a 2012 Chevrolet Volt which GM let me test drive. I'm not sure how many of these eco-friendly vehicles are on the road yet, but everywhere I parked, I had people remark on my car and ask me about the new Volt that they'd obviously been hearing about.
The Chevy Volt is super sporty, quiet and smooth to drive—perfect for zipping around the beach. Once I figured out the navigation system (having not been home to an area that's always building something new- including roads- the nav was essential), I was off.
I tooled around town to visit childhood friends who I hadn't seen in years and family. With only a few days and a busy conference, I missed seeing lots of people, but was also pleasantly surprised to simply run into people that I knew everywhere, including a friends from preschool.
Women's Leadership Conference
My good friend, Ellen Schmidt, who worked with me at CBS in New York and now writes a popular blog Baby Meets City about her life raising kids in the Big Apple, flew down to the beach to introduce me for the Inspiring Woman Award that'd I received. It was so nice to have such a good friend with me for the conference and so that I could share with her more of my past.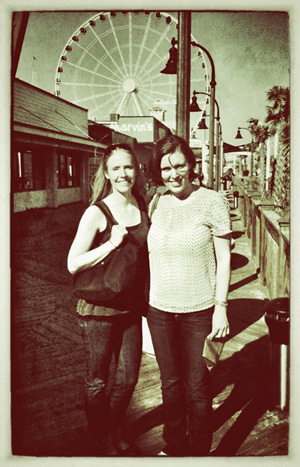 I frequently speak at events, mainly talking about my life of adventures horse riding and traveling with the locals around the world and some of the challenges and rewards of being a female entrepreneur. At the Women in Philanthropy and Leadership Conference, I was asked to speak about how I got my dream job and found fulfillment and how other people can too.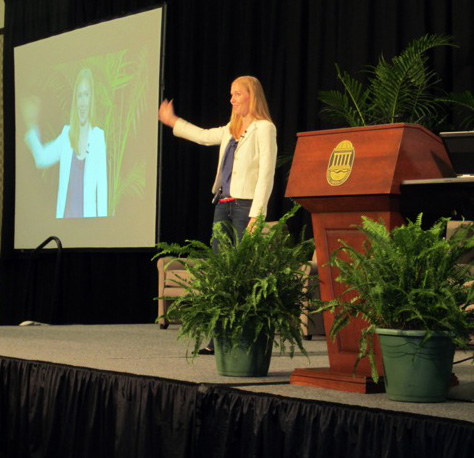 I spoke after the wonderful Anita Singleton-Prather, who had the audience rolling with laughter. Anita is a native of the Sea Islands of Beaufort and the curriculum coordinator for the Education of the Gullah Culture through the Arts. Then Inez Tenenbaum, the head of the U.S. Consumer Product Safety Commission, who was appointed by President Obama spoke about her work in improving education in South Carolina and helping women and children, her lifelong mission. Both were inspiring!
I felt like the audience was really engaged with my presentation on how I created my own dream job by taking a risk, stepping out of my comfort zone and using my confidence and creativity to create a totally new genre for mass market television and a mini-media empire. I hope my talk inspired women, girls and everyone to follow their dreams and find their passions, no matter what stage of life they are in, as life is truly short. You have to take advantage.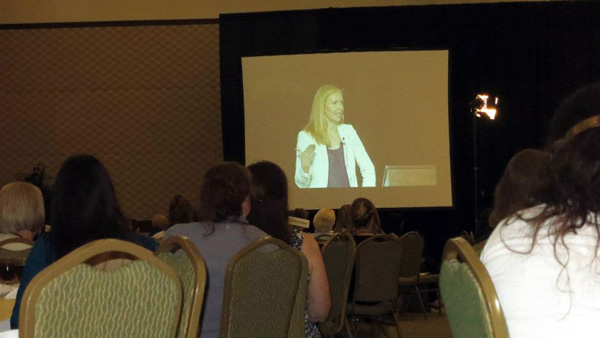 After my talk, I was able to speak to many people while I signed my book, Equitrekking Travel Adventures on Horseback, published by Chronicle Books. Again, I met old friends and new during the signing. Many of you had new destination suggestions, so thank you!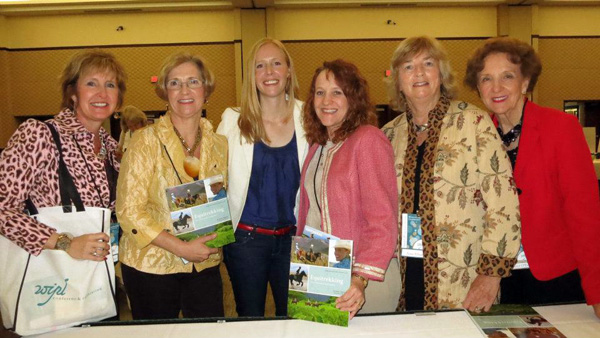 Conference Gala and Awards
At the end of the two-day Conference, WIPL hosted its annual Celebration of Inspiring Women which honors individuals for their outstanding contributions to the state of South Carolina and the world. There was a reception prior to the awards ceremony in the South Carolina Hall of Fame. Again, I saw people who knew me from my childhood and also knew my mother, an "out of the box kind of women," as one Myrtle Beach native, who has known me my entire life and was friends with my mother, stated. I definitely know where I got my spunk.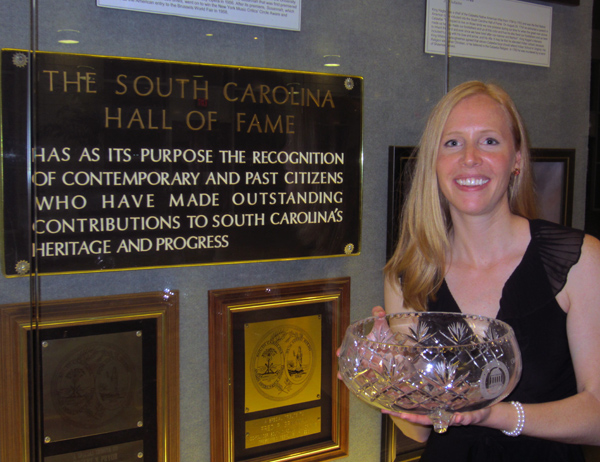 I felt very special to be honored alongside Dr. Jeanne Fourrier, dentist, philanthropist, humanitarian; Patricia Harris, global chief diversity officer, McDonald's Corporation LLC; Anne Worsham Richardson, artist, naturalist, lecturer; Brig. Gen. Velma Richardson, U.S. Army retired, business development principal of Information Systems and Global Services; and Inez Tenenbaum, chairman of the U.S. Consumer Product Safety Commission.
Terri DeCenzo, executive director for WIPL, and the rest of WIPL did a great job in picking a diverse group of women to be honored. Just hearing their stories was motivating and special and made me proud to have grown up in the Palmetto State.
Beach Food and Fun
Sea Captains Restaurant is a beach institution. It's been around forever and does have great seafood. I used to visit Sea Captains with my grandmother, who loved to eat while looking out at the ocean. I went there with several old friends and enjoyed shrimp and grits and their famous hush puppies.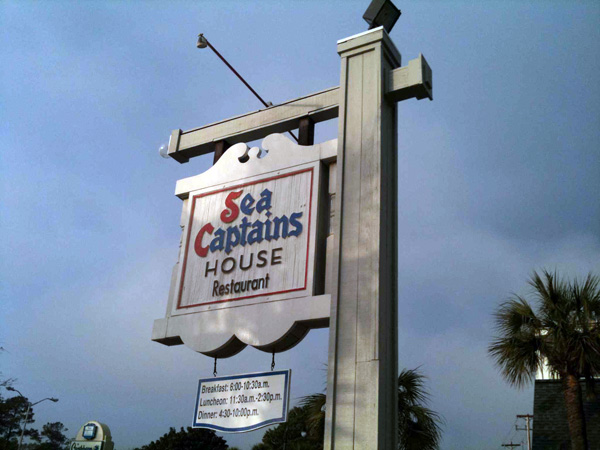 I went to the bagel place I used to frequent in the mornings, taking my bagel and hazelnut coffee down to the beach to sit by the ocean for breakfast. You can't beat that.
Having been in touch with Aiken Standard Newspaper writer Ben Baugh for years, I was excited to finally meet him in person. We went to another old beach favorite, River City Café, where it turned out I knew my waitor and realized that as much Myrtle Beach has changed, it's still got a small town feel to me–– at least it does in the off season.
Of course, I had to see the new boardwalk, which is really great. I didn't ride the sky wheel, but I did play skee ball. As a child, every year around Christmas, my family would head down to the pavilion arcade and shop for funny gifts and play games, including always skee ball. It was nice to see that my old arcade really hadn't changed that much.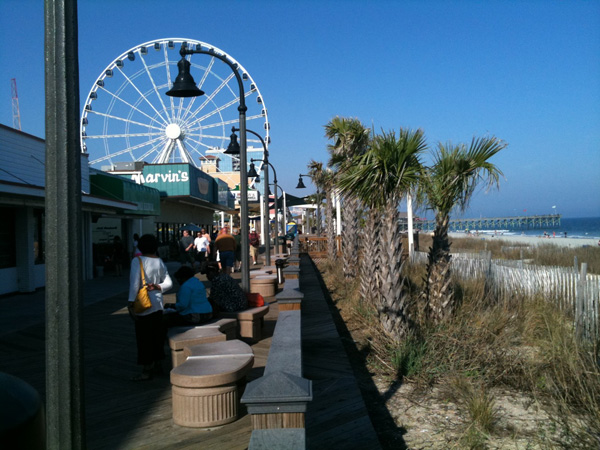 All in all I had a wonderful visit to the beach. While some meetings with old friends of my mom, who passed away suddenly a few years ago, were hard for me, I know she'd want me to keep up with her friends because she would have been sharing with them just how proud she was of me for living life to the fullest and attempting to treat each day as an adventure.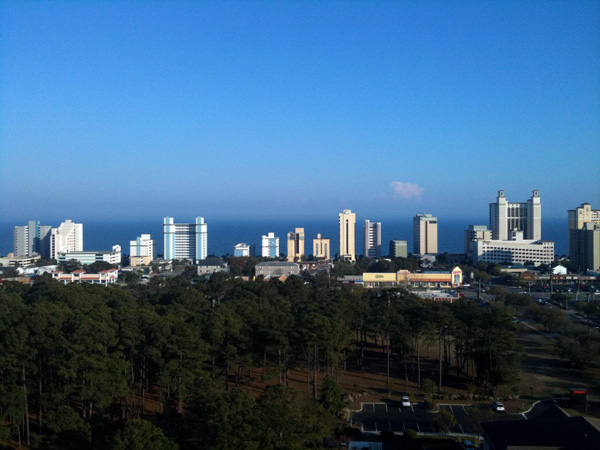 Stay tuned for my continuing Southern Road Trip adventures. Next stop Columbia and then Tryon, NC.