Where to Ride in 2019: Droolworthy Riding Vacations
Let's face it. There are lots of great places to horseback ride around the world, so as we look to 2019, we had a hard time picking just a few to steer you towards. So this year, we're working to inspire you with bucket list destinations and fabulous photos so you can dream, plan and learn more about where you might want to ride. From the wilds of Wyoming to the lava fields of Iceland, check out photos from amazing places to ride in the new year.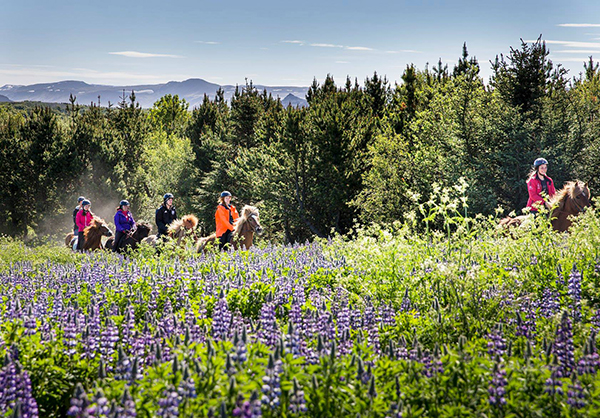 Riding by flowers in Iceland with Íslandshestar.
#1 The Hideout Lodge & Guest Ranch, Wyoming
Pack your bags and head West to ride with The Hideout Lodge & Guest Ranch, a popular pick for solo female travelers, as well as families. We know they hire great wranglers at The Hideout, as the lovely Anna LoPinto worked there for a while and shared her story. This close to 650,000 acre working cattle guest ranch is located Shell, WY just east of Cody and Yellowstone National Park.
Travelers get dramatic photographs at this ranch and do not ride nose-to-tail. There's much room to wander and much big sky to enjoy in this part of Wyoming. Travelers also enjoy working cattle, archery, hiking, biking, fly-fishing, trapshooting, and scenic 4x4 vehicle tours. If you've never ridden horses in Wyoming, it's a must and this ranch is a great pick.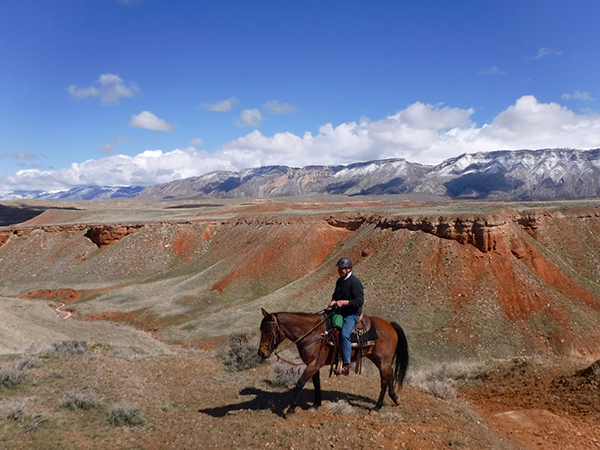 #2 Íslandshestar, Iceland
Riding Icelandic horses in Iceland, the land of fire and ice, is a once in a lifetime experience that we at Equitrekking have been able to enjoy a few times for you! We've got to test out the trips... right!?!?! Icelandic horses are not intimadating at all and are super fun to ride with their smooth gaits and thick manes. The landscapes in Icleand are also just magical. You'll tolt across lava fields, to waterfalls, by glaciers and may even get to herd horses on a traditional horse drive. We like Íslandshestar, too, because they offer such diverse trips year-round. Whether you want to view the Northern Lights on horseback or take the traditional Golden Circle tour, they have great choices for equestrian vacations in Iceland.
#3 Kindred Spirits, Costa Rica
Why not ride a horse on the beach in 2019 and combine it with a bit of yoga in Costa Rica. Kindred Spirits offers wellness retreats from their jungle farm in Limón on the Caribbean side of Costa Rica. Founder Terry Newton created Kindred Spirits combining her love for horses and passion for learning and sharing knowledge of meditation, yoga, mindfulness and the satisfaction that horseback riding in Costa Rica's lush rainforests and beautiful beaches can bring. Their Yoga in Harmony with Horses is a popular vacation for those who want to unplug and recharge in 2019... something we all need to do more of in general.
You can't get much better than riding in the ocean bareback in Costa Rica.
#4 Mountain Lodges of Peru, Peru
Visiting Machu Picchu is a dream for many. Mountain Lodges of Peru ups that dream further by taking travelers on inn to inn treks on horseback to Machu Picchu. Travelers stay at luxury lodges along the Salkantay Trail and spend days trekking through eleven eco-zones, from high Andean passes to cloud forests. This is a riding vacation where you can truly soak in authentic local culture, visiting remote villages and trying traditional Andean food. For those who like to ride Western, you're in luck. The horses have been trained Western-style and are fitted with American endurance saddles. The trip is capped off with a visit to Machu Picchu, a UNESCO World Heritage Site in the middle of a tropical mountain forest.
Trekking up high in Peru.
#5 Rendola and Castellare di Tonda, Tuscany
If "Under the Tuscan Sun" had you dreaming of Italy, make it happen in 2019. There are two great riding operators in Tuscany that lead travelers through vineyards to castles and serve outstanding local Italian food. We like Rendola and also Castellare di Tonda Resort & Spa, both of which base you in a Tuscany Farmhouse with daily riding and also excursions to villages. With Castellare di Tonda, you'll ride Western style on Quarter horses and Paint horses and Rendola takes you out English style on various breeds including Arabs, half-thoroughbreds, one Morgan and several Sicilians. With both, the food and wine are big attractions with Rendola offering pasta, rice and meat dishes and typical Italian sweets with the olives for the olive oil picked on the premises and eggs, turkeys and ducks are all home produced. It's bellisimo!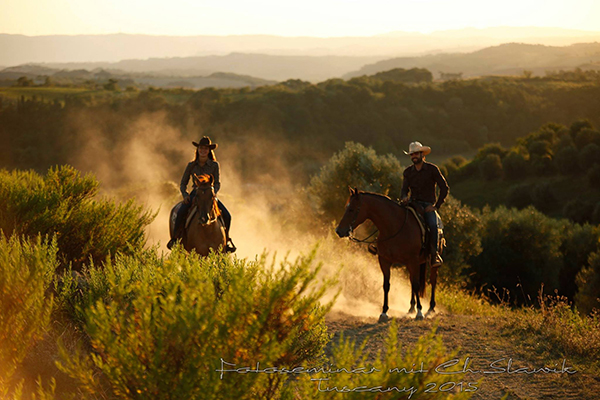 Riding Western style in Italy.
There are lots of other fabulous chocies for saddling up around the world in 2019. Check out more on TopRidingVacations.com, EquitrekkingTravel.com, Top20Ranches.com and in the Equitrekking Vacation Guide and enjoy.