Where to Ride in 2016- Up and Coming Equestrian Destinations
Your equestrian vacation bucket list for 2016 just got a whole lot more exotic! From classic stand-bys in Ireland and wildlife in Wyoming to unusual and remote escapes in Africa and Romania, take a look at these five great up and coming destinations for 2016 riding vacations.
by Darley Newman
Vacation planning for 2016? The good news is that you have a lot of choices, including in the equestrian world. January is one of the busiest times for travel planning and since many riding destinations are run by families and are small businesses, their inventory does seem to sell out from season to season. This is good news for us all, especially the ranches and riding outfitters. It means that these ranch owners and riding experts can continue to hold fast to their traditional lifestyle and traditions, which is a big part of American and global horse culture.
If "travel more" is one of your New Years resolutions, consider the below trips and get started on your planning.
#1 Get Exotic in Romania
From Bran Castle (linked to Bram Stoker's Count Dracula) in Romania's Transylvania region to the expansive Carpathian Mountains, Romania, while in Western Europe, is a more exotic place to saddle up. Touted by Lonely Planet as a top place in general to travel in 2016, we think it's also a great place to saddle up to combine authentic culture with wildlife viewing and beautiful scenery. Pack trips with Hipparion take travelers through rural farming villages to meet the Székely, a Hungarian-speaking ethnic group from eastern Transylvania. Riding in small groups of four to twelve, you'll be entering areas where horses are still the primary means of transportation, taking a true step back in time.

When to go: April-May and August-October.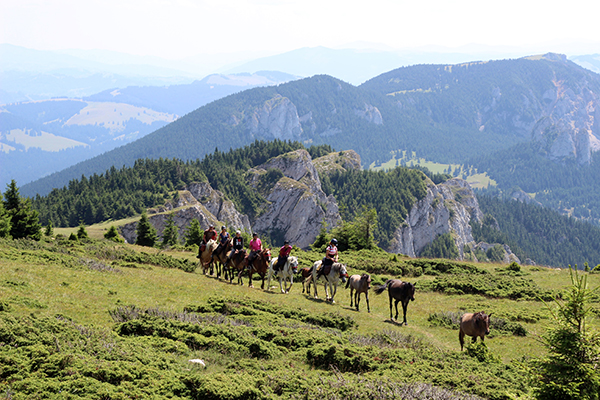 #2 Ride with a Legend in Ireland
Willie Leahy is a legendary Irish horseman and we're so glad that into his 70's, he is still leading travelers on riding vacations along the Connemara Trail. Equitrekking Travel's Julie Snyder and I were able to ride with him several years ago, and it was an amazing experience. We've also previously interviewed Willie for Equitrekking on PBS, as he's the largest breeder of Connemara ponies in the world and a rural Irish icon. Willie has led the popular Connemara Coast riding holidays for over 40 years and was Field Master of the Galway Blazers Hunt for 30 years. He is a hoot to saddle up with and don't think you'll be riding slow. You'll gallop along Irish beaches. We recommend this trip for 2016, as we're not sure how many more years Willie will be leading tours. Hopefully a lot! He does continue to surprise us.
When to go: April- October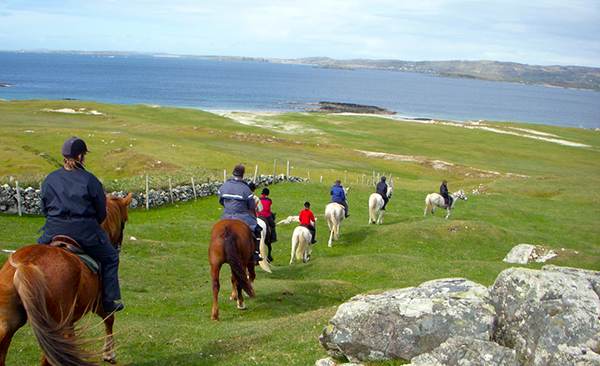 #3 Fall in Love with an Icelandic (horse that is!) in Iceland
I recently got the scoop on what's to come for travel in Iceland, a place we've visited twice now to ride. While many people visit Iceland and simply go to Reykjavik, a big push by tourism folks and Icelandic locals alike is to have travelers visit destinations further afield, where you can find even more amazing landscapes, remote farms and locals living an authentic Icelandic lifestyle. We think this is pretty cool, as when you travel to more remote destinations, especially on horseback, you can usually enjoy a more real, non-touristy adventure. A great destination for this type of experience is the North of Iceland, which is known for its amazing natural sights and unusual landscapes. The Northern Exposure Tour goes to the Lake Mývatn area, famous for its volcanic features and rich birdlife. Riders have good photo opportunities at Europe's largest waterfall and an area of bizarre rock formations- true off the beaten path gems.
When to go: June- August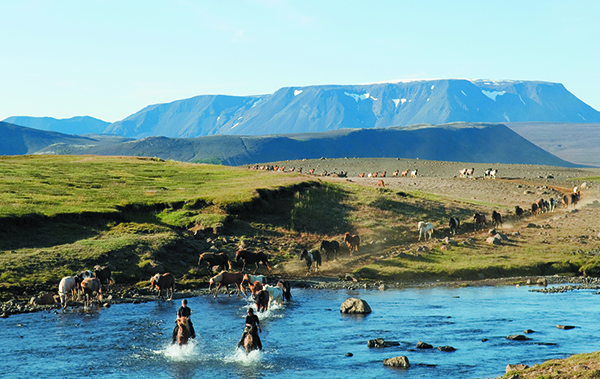 #4 Ride with a Wild Mustang in Wyoming
Wyoming is a fantastic state to visit to ride any year, but riding with Bobbi Wade on a Mustang Adventure is a trip to take advantage of sooner rather than later. We're sad to continue to learn about the wild horse roundups happening across the nation and just don't know how many more years Bobbi will be able to take riders out to see these beautiful horses running free. We hope many more, but... Riders for this adventure do need to be in good shape, as the horses live in a remote area of the desert. This is a true bucket list adventure.
When to go: August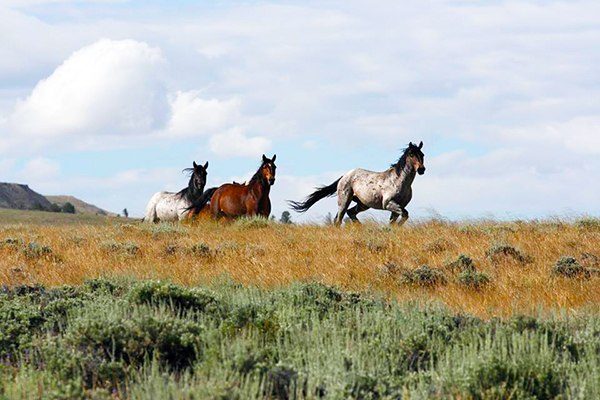 #5 Ride on the Moon in Botswana
Riding in Botswana, Africa was one of the coolest experiences we've had in general, but a lesser visited or known place we loved is Botswana's Makgadikgadi Pans. This is a place to go in 2016 because it will open your eyes to how truly beautiful our world is, making for a deeper sense of the beauty of life, something that's good for us all. Our team experienced the best star gazing we've ever encountered, were able to gallop with a herd of zebra and wildebeest and walk with the San, one of the oldest tribes in the world. As we know many people haven't been nor have they heard of this part of Botswana, we vote this as one of the top places to visit or at least research for 2016.
When to go: November to April is the Wet Season with awesome zebra and wildebeest migration. The dry season with cooler temperatures runs April to October.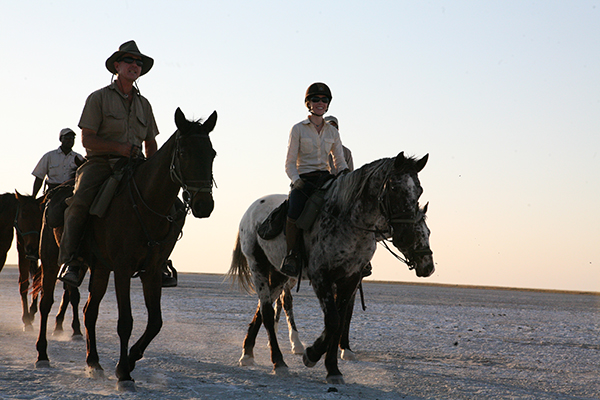 Need more choices, don't fret, because we left out a lot! Check out the Equitrekking Vacation Guide for a variety of options. See our Travel Deals page for exclusive discounts. Go to Top20Ranches for some of the elite dude ranch choices and, if you still can't decide, talk to Julie, who can help you pick the right trip. Bon voyage!