What Not to Wear on a Dude Ranch Vacation
You've successfully booked your stay at a Colorado Dude Ranch. So now you might be asking, what should I wear? or what do I pack?
by Paula Gonzalez
This cowgirl is here to help. One of the things I love most about the western lifestyle is how simple dressing can be. Every day consists of a pair of comfortable jeans ( usually in some rotation of having been washed or due to be washed), a button down shirt, and my work boots. The hardest decision I have to make is usually which shirt I will wear for the day.
That said, if this is your first rodeo, there are a few things you might assume to bring that should probably stay at home.
Leave it at home!
Flip flops
While these might be great for just hanging out around the house or even a dip in the river, you'll never need these out in the Colorado Mountains.
English Riding Boots
I used to ride hunter jumper and believe me, I love my tall boots and lace up paddock boots. However, these can get really hot after a few hours and in a tight spot, having something that you slip off is better for safety out on the trail.
Skinny jeans, cargo pants and shorts
When it comes to your comfort and safety while riding, you'll want to avoid anything too tight or with too many decorations. Cargo pants often have too many pockets and attachments that can easily get caught on the saddle. Shorts will rub on your legs and won't protect your skin from the sun.
Tank Tops
These may be comfortable in the heat but you'll be sorry after a long ride in the sunshine. Consider bringing t-shirts or long sleeve shirts instead.
Large cameras and DSLRs
These are fine for when you're around the ranch, but if you want to take pictures on your ride, it's much easier to pack a smaller camera that can easily fit in a saddle bag.

Bring it with you!!!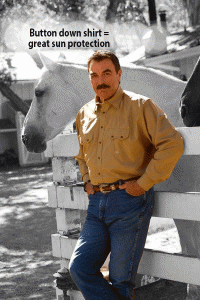 Slip off Cowboy Boots
These are great for the ranch week as they are easy to slip off and slip on. These boots are made for the outdoors and do well rain or shine. Bring your own pair or borrow a pair of ours! We have a whole bunch to choose from!
Comfortable Jeans with a flat inseam
The hours spent in the saddle will be much more comfortable if you pack jeans with a little give and as few things that might get rubbed on as possible. If you're planning on shopping, Wranglers are always a good idea.
Layers
Our Colorado weather can be unpredictable, even in the summer! Luckily, even the most dramatic of rainstorms come and go in the blink of an eye. Our high elevation also means it cools off significantly at night so it's always a good idea to dress in layers an add or remove as the day requires
Something Fancy
We love our dance nights and candlelight dinner here at Tarryall. Bring a fun dress or a slick vest.

About the Author: Paula Gonzalez is the owner of Tarryall River Ranch in Lake George, Colorado. Originally from Albuquerque, New Mexico, Paula has had an interest in horses and riding (both english and western!) since she could talk. She graduated from the Albuquerque Academy and went on to pursue further studies in Italian and Studio Art at Smith College. Involved in the dude ranch industry for quite some time, she's worked as a kids counselor and wrangler and now runs Tarryall. Learn more about Tarryall River Ranch on their website and check out their page in the Equitrekking Vacation Guide.