Twilight Polo at Great Meadow, Virginia
Polo 101 and behind the scenes for tailgating, pro polo players and fashion.
I spent Saturday night this weekend watching polo and learning a great deal about the sport during the opening night of Twilight Polo at Great Meadow in the gently rolling hills of The Plains in Virginia. Justin Powers, National Club Development Coordinator for the United States Polo Association and a third generation polo player, shed light on the sport for me and my friends, who are polo viewing novices.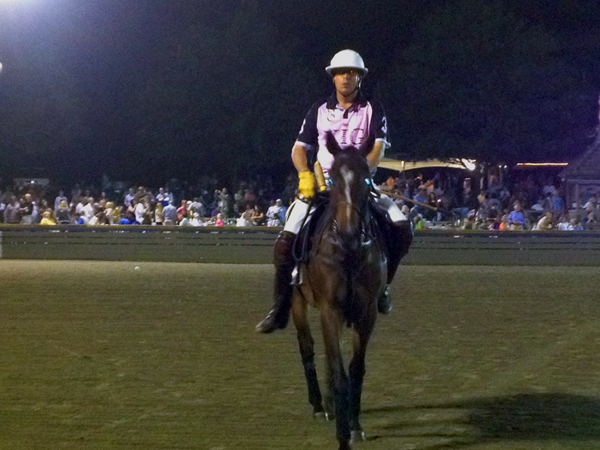 The Great Meadow Polo Club has welcomed fans and top polo players for 18 years. Every Saturday night from May through September over 2,500 spectators descend on Great Meadow for Twilight Polo.

Twilight Polo- Picnics, Fashion and Friends
If you're heading to Twlight Polo, I suggest packing a picnic. Get in on the tailgating theme and fun. My friends and I set out a blanket on the grassy hillside and laid out fresh fruit and vegetables, homeade pasta salad, meats and cheeses, including my favorite manchego with prosciutto and melon, which we picked up with a fresh baguette from my local Italian market. We brought a bottle of 14 Hands Merlot, a sponsor of Equitrekking and a great horsey themed wine for an equestrian event, and various tapenades and spreads... quite a nice little feast.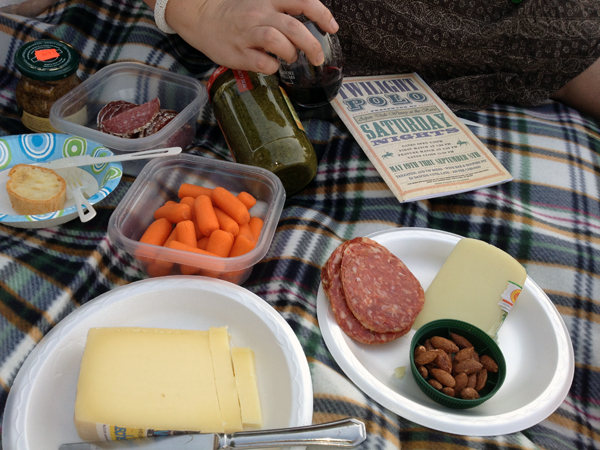 Laying out our picnic at Great Meadow.

I've been to several equestrian events at Great Meadow, a summer polo stop between the Hamptons in New York and Palm Beach in Florida, including the popular Virginia Gold Cup with its tailgating, fashion and Jack Russell races. Great Meadow was founded through the vision of news executive and philanthropist Arthur W. Arundel in 1982 and is an example of open space preservation for equestrians. About an hour from Washington, DC, this 250-acre field is under stewardship of the Great Meadow Foundation, whose mission is to preserve open space for community use.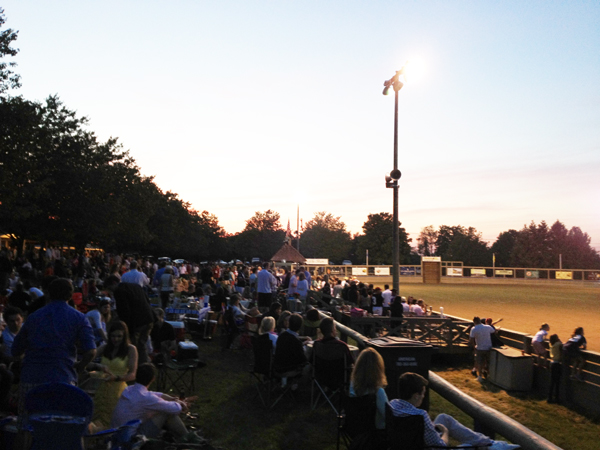 The crowd on the hillside at Great Meadow Saturday night for Twilight Polo.

This kid-friendly setting was well-attended on Saturday night. The night kicked off an amateur arena polo match. Next was a lively fashion show featuring designs from Three Islands, Lilly Pulitzer, Blush and designer Wendy Pepper – a local designer of Project Runway fame- the U.S. Polo Association brand and Jordache.
After the fashion show winded down, Justin Powers led us behind the scenes to meet the professional polo players and get a taste for what life is like for these polo pros.

Behind the Scenes with Justin Powers, John Gobin and the Polo Pros
Justin's story in itself is inspiring. A third generation polo player, Justin explained that he loves the sport so much because it's something that he can do with his whole family. His father, sister and he can get together a team to play.

His family's polo ponies are comprised of a good number of Off the Track Thoroughbreds (OTTBs) and ex-racehorses that they train for polo. While a racehorse may only be useful on the track until the age of four or five, many of Justin's polo ponies play into their late teens, with a few playing into their later twenties–– granting these horses long second careers.
Despite the name, polo ponies are not true ponies and are not any set breed. The term came about because in the early days of polo, there were size restrictions that limited players to riding actual ponies. Today, horses of any size or breed that are fast, fit and agile are ridden, though the average size is around 15 to 15.3 hands tall.

Many polo ponies in use today are Thoroughbreds or Thoroughbred Quarter horse crosses, but the breed chosen is totally the preference of the polo player, with some importing polo ponies from Argentina, the UK and beyond. It takes a lot of training and hard work to make a "green" polo pony (a horse in the early training stages) into a "made pony", but once "made," these horses can fetch a pretty penny.

Justin introduced me to John Gobin, Great Meadow Club Manager and a top professional polo player. Gobin began his polo career at the age of 15 in Rehoboth, Massachusetts and is currently the Captain of the US Polo Team. Formerly a member of the World Cup winning Budweiser team, Gobin played for the USA team in Chile and was also a member of the 1992 US team that defeated England in the Westchester Cup.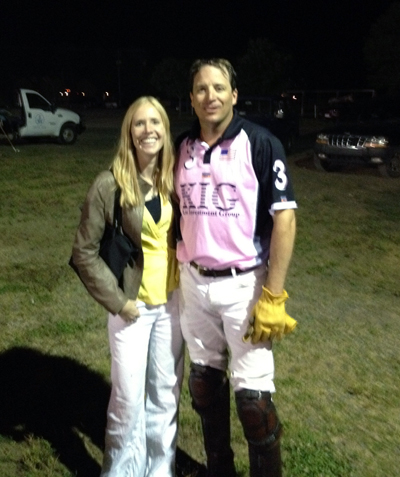 Meeting an American polo icon, John Gobin.

I had been watching Gobin gallop up and down the field before our half-time meeting, astounded by his agility on the field. That's one of the things I like about polo. It's a more raw equestrian sport, where the rules of equitation don't necessarily apply. You aren't being judged by your calm, composed, elevated trots or collection. It's more about function than form. It reminds me of some of the more extreme trail riding I've done, island hopping on horseback in Botswana and jumping logs, ducking spikey tree branches and hanging two point as my horse swims through the water, and is totally opposite from my English riding lessons focused on form and precision. You may see a polo player like Gobin posting the canter or leaning way off center to strike the ball.
Polo players and their horses have to have stamina and flexibility. Here, the pros face off in arena polo.

A sweaty and enthusiastic Gobin explained to me that after his game tonight, he was driving all night to Aiken, South Carolina for another big match tomorrow. That's dedication. This was another trait that Justin explained is vital to make it as a pro polo player.
Justin told me his own story of an all night drive. Upon hearing about an opening to play in an important match, he and his dad had once driven all night too, just to be able to participate. Pro polo players may have crazy schedules, but like all everyone who is into horse sports, it's that passion for it that drives them to continue to compete and make a career out something they love.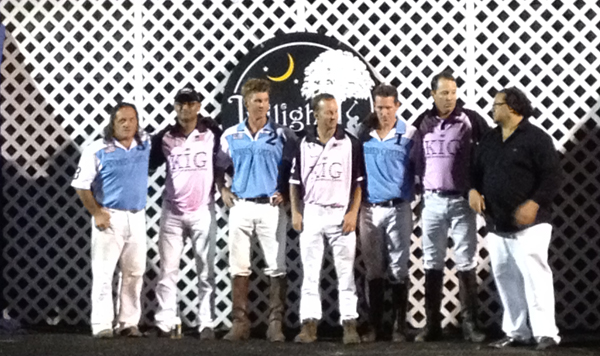 The professional polo players in Saturday night's match included Daniel Tognini, Bash Kazi, Joe Warren, Doug Barnes, Scott Gray and John Gobin.

Arena Polo vs. Grass Polo
The pro game we watched was arena polo with two teams of three people playing in an approximately 300 by 150 foot regulation sized playing field on a dirt surface enclosed by wooden walls. If you've ever seen the movie "Pretty Woman," you may have watched Julia Roberts taking in grass game, which is held with teams of four people on a larger 160 by 300 yard grass field. Arena polo can be played year-round outside or indoors. There are also snow and beach polo games.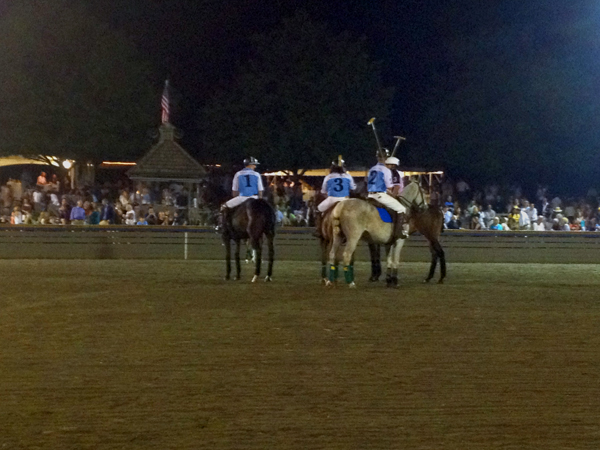 A polo players' equipment usually includes a helmet, a mallet, riding boots, knee guards and white pants for tournament matches.

The matches we watched at Great Meadow lasted roughly 48 minutes and consisted of 4 chukkers, timed periods that are 12 minutes each. Polo generally consists of 4 to 6 chukkers that are 7.5 minutes each. The object of the game is to score on your opponent and teams must move the ball to the opposite side of the field to score goals. Two mounted umpires judge any penalties.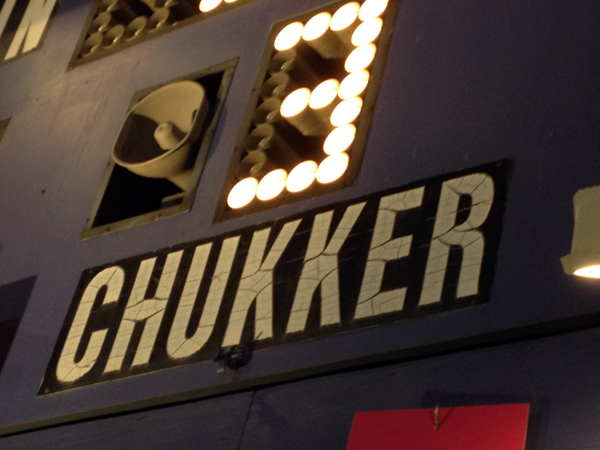 Chukker is polo term that you might want to know. A chukker is a timed period in a polo match. A polo game begins with a Throw-In at midfield at the beginning of each chukker and after each goal.

Matches are fast paced with polo ponies turning quickly and galloping up and down the field at high speeds. As it is in many equestrian sports, polo is a sport where players have longevity. Experienced players and polo ponies are an asset. Men and women can play on equal footing and teams often include mixed genders. In fact, women are thought to have played polo when it originated back in the 5th century in Persia.

Short video from Saturday night arena polo at Great Meadow.
How You Can Play Polo
If you're in the DC area, there are several polo schools that take give lessons to all levels of riders, even complete novices. I've tried Destination Polo and a lesson with Doug Barnes, which you can watch in the Equitrekking Virginia Hunt Country episode. I found it to be quite a challenge to swing my mallet and guide my horse while simply trotting up and down the field, but it was certainly fun!

Another option for polo lessons in the DC area is www.playpoloindc.com.

If you live elsewhere, the US Polo Association is a resource for both polo lessons and to find out where you can watch a polo match in your area or try summer polo clinics and camps.
More Polo Resources

Twlight Polo-- How you can go: Enjoy Twilight Polo every Saturday night from May through September.
Great Meadow Foundation Address: 5089 Old Tavern Road, The Plains, VA 20198

Directions: From Washington/Suburbs: Take I-66 West to The Plains (Exit #31), turn left (South) on Old Tavern Road (Rt. 245). Great Meadow Field Events Center is 1 mile on left
More about Polo can be found on the US Polo Association website.

Picnic Provisions if you're headed to Twlight Polo:
There are often vendors on site. On my visit, wine and BBQ were available or you can bring your own picnic.
Market Salamander in Middleburg offers gourmet tailgating baskets to go.