Travel Like the Locals and learn with my new ulive video series
For years, I've been traveling the world with the most genuine, cool local people. Find out what they taught me and what you can learn to help plan your next vacation and be a wiser traveler with my new ulive series.
Having a local to guide you in a new area is the best way to truly experience what makes a particular destination special, which is why I'm so excited to share new adventures and travel insights in my original series debuting on ulive.com this week, Travel Like the Locals with Darley. Ulive curates videos from all of Scripps' brands–– HGTV, DIY Network, Food Network, Cooking Channel, Travel Channel and Great American Country–– plus new original video series from Scripps' talent and social media stars and bloggers. What great company!
In this blog post, I'm sharing some of the cool things you can expect to learn from my new series to help you become a better traveler and plan your next vacation. Here are five things I learned while traveling and filming for Travel Like the Locals with Darley.
#1 Surfing in the North Atlantic is cold
I had a blast attempting to learn to surf in Ireland. It helped that I had a super cute teacher (cue the British accent) and we were on the dramatic wide beaches of Bundoran in Donegal. Bundoran is a top European surf spot and you, too, can try surfing there with Bundoran Surf Co. If you're a beginner like me, they'll hook you up with lessons and a wet suit and surf board. You can also choose to make a vacation out of it and stay for a while to participate in their Surf School. After a short lesson, I took to the waters to see if I could actually stand up on the board and ride a wave. Now, granted, the Irish weather was not cooperating during my surf lesson. The waters of the North Atlantic were quite chilly, even with the wetsuit, but I did get up... several times.
Take a lesson with me and meet my guide in this episode of Travel Like the Locals–– Surfing 101 in Unexpected Ireland.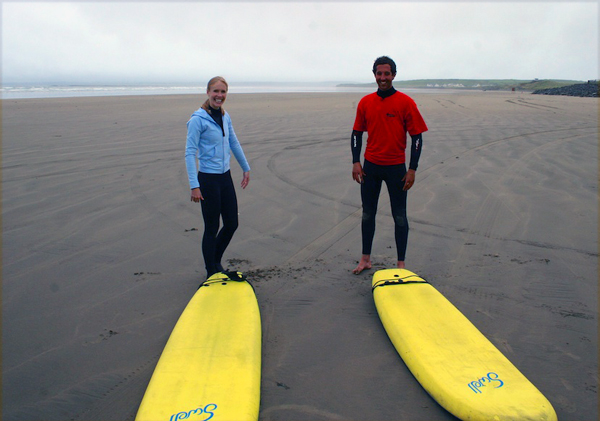 My surfing instructor Tom in Ireland.
#2 You can ride a horse into a volcano
Now this is one that I hadn't even thought about. It's true, but definitely not for the faint of heart. On the island of Maui, you can ride a horse into Haleakala Volcano. In fact, I think it's the best way to travel down into the crater and take in the stunning scenery along the way. You can also hike, but with the changing altitudes, weather and intense sun, riding a fit horse is a whole lot easier and more fun. I also enjoy talking to local guides, who always tell you something you couldn't find in a guidebook and convey their love of what you're seeing. It's the icing on the cake. My guide Doug of Pony Express Tours rides into Haleakala almost daily and never gets tired of the changing colors as the sun sweeps across the sky and lights up the massive crater of Haleakala.
Watch 3 Adventures for Maui Thrill-Seekers and find out other thrill seeking adventures you can experience on Maui.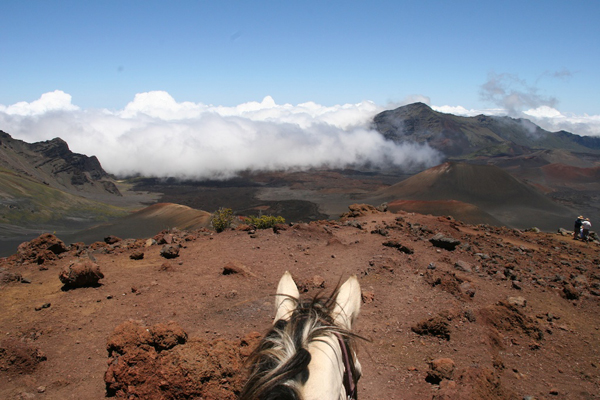 Yep, we're riding down there! The "horse cam" view.
#3 Sled dogs are formidable when adults, but melt-your-heart cute as puppies
Dog sledding was harder than I thought it would be, but a very fun experience. I went out with an expert musher just outside of the Mont Tremblant ski area in Quebec. Before we took off, I was able to meet some of the new puppies. Here's a photo so you can see for yourself the high level of cuteness.
Run with me and the big dogs in this episode–– Dog Sledding in Quebec- Dogs in the Driver's Seat.
Future sled dogs in Quebec.
#4 The Road to Hana is no joke!
You can watch footage from The Road to Hana in our Maui for Thrill Seekers episode. Now, here's a behind the scenes tale from our filming. I was on the Road to Hana early, early in the morning. We were driving out to take a horseback ride in Kipahulu to venture into the rainforest side of Haleakala National Park. As usual, our film crew was running late. This means that we did not have all of the leisurely time I'd suggest to drive those more than 600 curves along the Road to Hana. We stopped a few times to film waterfalls, spectacular coastline and general scenery, but by the time we reached Kipahulu, I was a wee bit car sick. I was definitely happy to be on land and get into the saddle that day. Not so happy for the ride back.
Find out the best way to conquer and enjoy the Road to Hana by watching 3 Adventures for Maui Thrill-Seekers.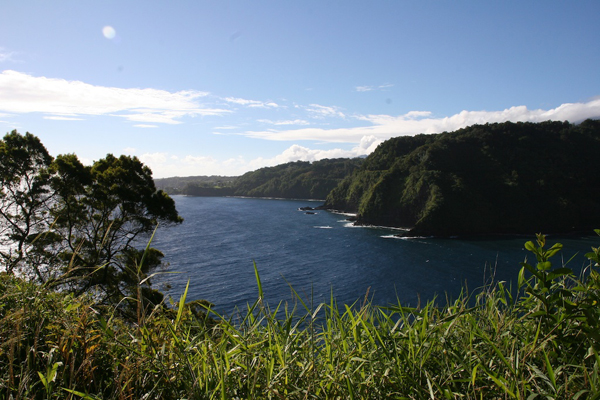 A view from the roadside of Maui's stunning coastline along the Road to Hana.
#5 Be prepared for adventure when you go local
If you take local's suggestions into account when planning or enacting your travel adventures, be prepared for adventure. I've learned so much on my travels–– lighting up taste buds I didn't know existed with poutine in snowy Quebec, driving my first snowmobile on a glacier in Iceland, taking my first hot air balloon ride floating above the Costa Rican rainforest, viewing wildlife up close in Alaska and more. This is what makes life so exciting! Had it not been for the locals that I met on my travels, I wouldn't have gotten to try all of these once in a lifetime experiences and I certainly wouldn't have gotten the true understanding and first-hand experience that local's share about their home.
I'll let you roll the dice with another episode choice. There are ten good ones in our ulive series and lots of great local people to smile back at you. Enjoy the travels and get inspired for your next journey!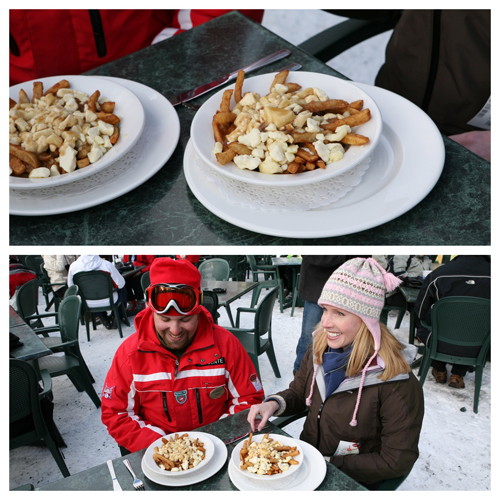 The poutine taste test in Quebec.
Learn more about what I learned and learn something for yourself by watching my new series on ulive, Travel Like the Locals... and get traveling!