Trail Ride Bucket List
Equitrekking contributor and equestrian travel expert Stacey Stearns shares her ultimate trail riding bucket list.
By Stacey Stearns
"Bucket list" is an informal noun defined as "a number of experiences or achievements that a person hopes to have or accomplish during their lifetime." I don't have a regular bucket list, but I do keep a trail riding bucket list.
I try and ride somewhere new every year, whether it's a pleasure ride, endurance ride, or on vacation. In 2017, I rode the Brookfield, New York trail system while on a 30-mile competitive trail ride. I'm not sure yet where 2018 will find me, but hopefully, I'll be crossing one of these off of my list – or at least exploring some new trails locally.
When we travel, we see a small snapshot of a place; it's people, the history, and landscape. Travel takes us out of our comfort zone and introduces us to different cultures and ideas. And in the end, when I travel, it combines two of my favorite things – riding and moments that take your breath away. I love landscapes and scenery, but I think my bucket list gives that away.
The steppes, people, nomadic lifestyle, and horse culture of Mongolia fascinate me. I can't even pinpoint when this started, but I know I need to go ride in Mongolia. And while I'm not quite daring enough to add the Mongol Derby to my bucket list, there are plenty of other adventures and places to explore.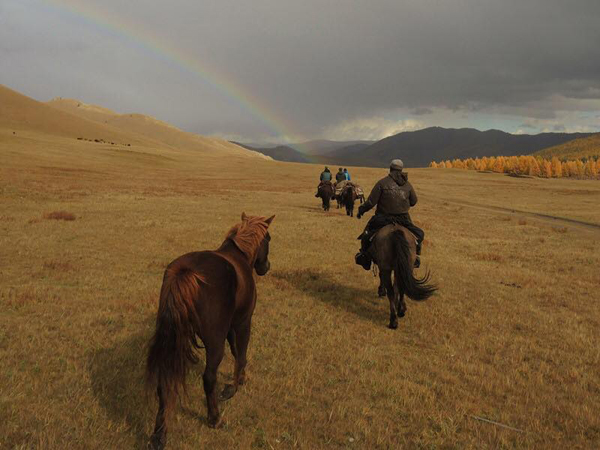 Adventure through Mongolia's mountain steppe wilderness with Stone Horse Expeditions.
The registered name of one of my Morgan horses is Kerry Killarney. He had that name when I bought him, and although the name wasn't one of the reasons for my purchase, it's a nice bonus. I went to Ireland years ago, and love it there. Going back to ride the Ring of Kerry is high on my to-do list, especially when the hills are emerald green and the sea is sparkling in the sun.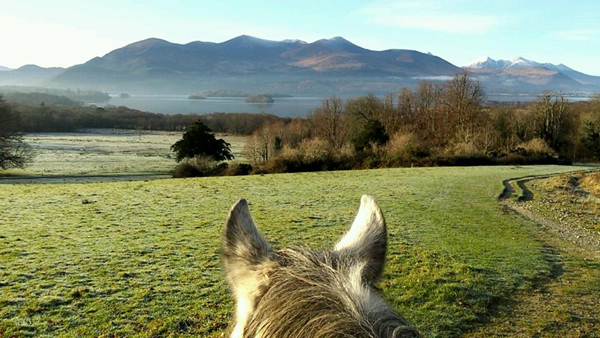 Horseback riding through Ireland's emerald green countryside might be at the top of many an equestrian's bucket list.
This ride is based on the idea Mongol Derby – but shorter and with excellent amenities each evening. The moors and all that Dartmoor offers have long drawn tourists to England. However, few people have the opportunity to enjoy all of that on horseback, riding through the moors, as most tourists are restricted to the roads or what they can cover on foot. I've been meaning to go for the last two years and circumstances have prevented it. Is 2018 the year that I finally ride Dartmoor?
I've already ridden in Patagonia; you can read more about it here. It was one of the prettiest rides I've ever been on, and I want to go back. We were in the northern section of Patagonia, but it's a huge expanse. Far in the southernmost region is Torres del Paine, and while many people dream of hiking here, I want to explore the area between two ears.
The history of Morocco and the varied landscape of the country intrigue me. The country has mountains, desert, lush agricultural lands, ancient walled cities, and Roman ruins. Morocco is also known for its culture, spices, arts, and cuisine. I'm not even sure where I would begin, but I know I could immerse myself in Morocco for quite awhile and not experience it all.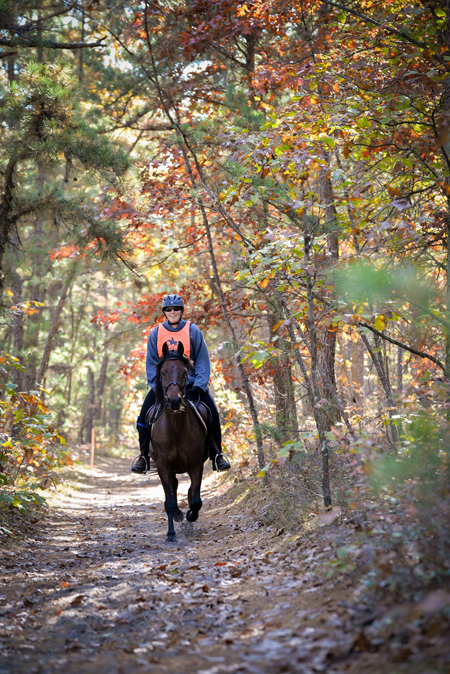 The author riding her Morgan horse, Kerry Killarney, in the New Jersey Pine Barrens. Photo by Melanie Pack.
There might be a theme here. Rugged country, breathtaking beauty. New Zealand is a full of agriculture, specifically dairy and sheep, as well as being an adventure lovers' paradise. Growing up in a dairy farm family, I often read and heard about dairy farms in New Zealand. The country is sub-tropical in the north and sub-arctic in the south. It's an untamed wilderness, but the people are also known to be warm and welcoming. Definitely worth exploring for myself!
I probably don't need to explain this one at all. If you've seen the movie, you understand, and it may even be on your bucket list. The Snowy Mountains is a section of high country in southeastern Australia, and there are over 200,000 acres of wilderness area. The ride across the peaks offers stunning views at elevations of up to 6,000 feet. I was sold when I read there would be 64 river crossings on day four.
8. Wyoming.
I drove across Wyoming in 2006 en route to Nevada and was captivated by the beauty, vast open space, and the tumbleweeds. I always promised myself I would go back. I see Blue Sky Sage every year at Equine Affaire in Massachusetts, and their rides look spectacular. Another option is the Big Horn Endurance rides, with high plains, narrow trails, mountains, and creek crossings. Elevation varies from 4,000 to 10,000 feet throughout the rides, a true test of horse and rider endurance.
I rode an Icelandic horse once at a farm in Massachusetts and must say--their fiery spirits make for a thrilling ride. Again the scenery is stunning, and the horses are beautiful. But, why not? That's what bucket lists are for. The land of fire and ice with horses that tolt is a trail riders dream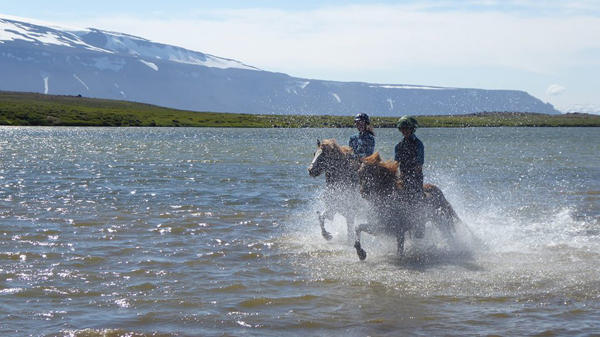 Islandshestar provides a variety of Icelandic horseback riding tours on native Icelandic horses.
Giraffes and elephants are two of my favorite animals, and the idea of going on a horseback safari represents the best of both worlds. A friend that I grew up with lived and worked as a trail guide with Ride Kenya before returning home, and his photos were incredible. It's definitely somewhere to visit.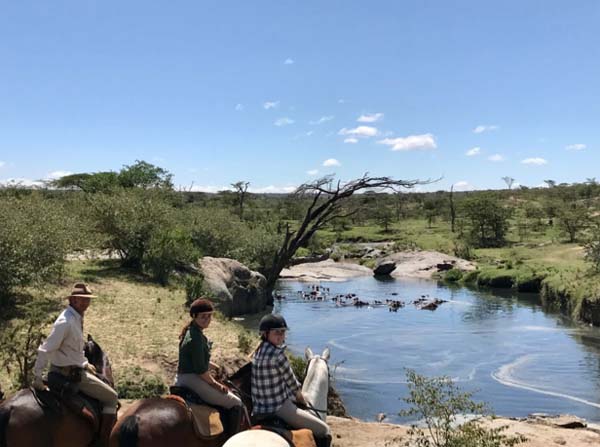 A group riding with Safaris Unlimited gets up close and personal with a herd of hippos. Photo courtesy Caroline Maffry.
My bucket list doesn't end here. The Tahoe Rim Ride in Nevada and California, foxhunting in Virginia, riding in Ecuador, Canada's national parks, and many others are also on my list. There are so many wonderful places to ride; it's impossible to list them all. Which trails are on your bucket list?
About the Author: Stacey Stearns is a lifelong equestrian from Connecticut. She lives on Mountain Dairy in Mansfield, her family's dairy farm, and enjoys trail riding and endurance with her Morgan horses