Three Magical Days at World Equestrian Games in Tryon
They say that Walt Disney World is the happiest place on earth. For equestrians, I think the answer may really be the World Equestrian Games (WEG). Where else can you see world class horses and competition, and be surrounded by a group of horse people as crazy as you are?
photos and article by Stacey Stearns
Tryon became the host of WEG a mere 18 months ago when the original host cancelled. Most venues have five years to plan for this undertaking. I'm sure Tryon would have appreciated five years, but they made the best of it.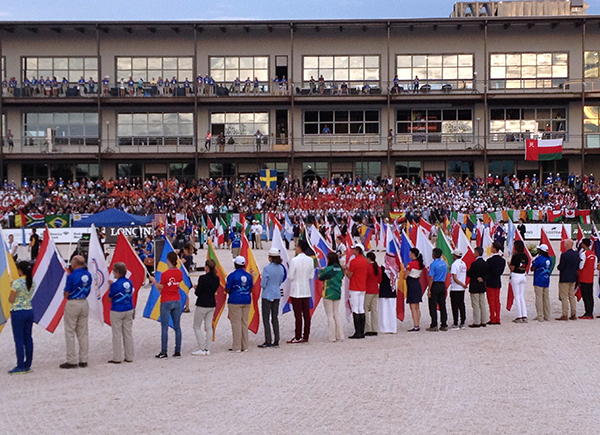 Flags at the WEG 2018 opening ceremonies.
Prior to the games, the venue was expecting 40,000 people per day. In the tiny town of Mill Spring, North Carolina (population around 2,000), this means massive disruption of life. But the locals seemed to take it all in stride. I'm not sure if there were really 40,000 other people on the grounds when I was there, but on a 1,600-acre facility, it's hard to be sure.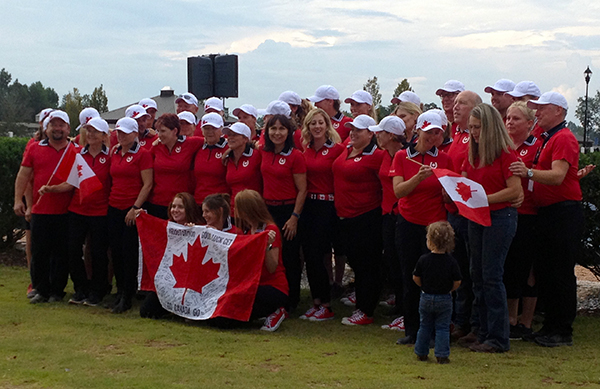 Team Canada at WEG.
I signed up as a volunteer for WEG, knowing that it would be a more economical way to experience the games, and provide me with an insider's view. I flew down to Charlotte on Tuesday, September 11th(with solemn remembrance of others who attempted to fly on this date 17 years ago), picked up my rental car, and drove the 1 hour and 15 minutes to Tryon Equestrian Center. I checked in at the volunteer center, received my uniform, changed, and hopped on a shuttle over to the grounds.
When I got off the shuttle at the drop off point, the first people I ran into were trail riding friends from Connecticut. I knew they were also down there, but didn't expect to run into them that quickly! Even in a massive place like that, it's a small world.
My first shift was supposed to be conducting brief surveys of spectators, but the survey wasn't ready. I had already missed the endurance volunteer orientation, so headed over to the vet in area to catch up with my lead volunteer. On my way there I walked past Steffen Peters in the vendor area and exchanged a smile, my day was already made.
The opening ceremonies at WEG were packed.
I found the endurance venue, and a group of volunteers was watching horses vet in so I joined them on the fence line. Vetting in by country, and we were down to the last few. Finally, the United States horses came forward, as the host country went last. I was excited to see Hoover the Mover, the mount of Cheryl Van Deusen from Florida, and one of my personal favorite horses, in the lineup as two of our other team USA horses were unable to compete at the last minute.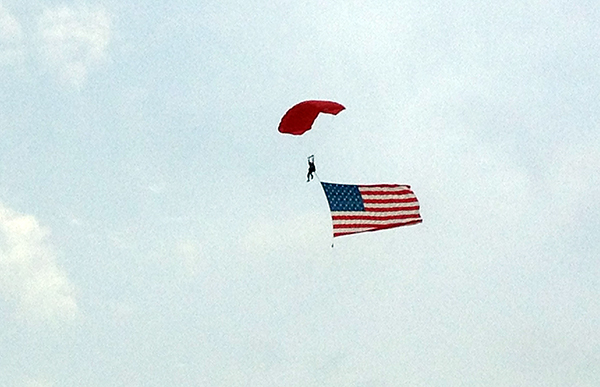 Sky divers at WEG.
After meeting with the volunteer lead, I found my friends Sue and Karen, also volunteers, and we finished up a few tasks before finding our seats at Opening Ceremonies. Seeing all of the athletes come in carrying their flag was a special moment, as the announcer stated their discipline and recent accomplishments. There were many equestrian greats carrying the flags, including Ingrid Klimke (Germany), Edward Gal (Netherlands), and Laura Graves (USA). I also saw Marvin Brangman, and endurance rider and friend, carrying the flag for Bermuda, and was excited to experience this moment in person. A trio of sky divers descended on the stadium, the final one was flying with an American flag, and remembering 9/11, it was a special moment for all of us from USA.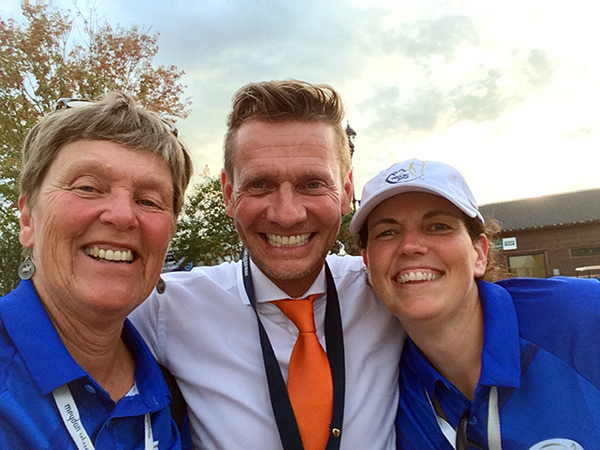 Meeting Edward Gal at WEG 2018- a highlight!
Instead of staying for the concert I headed back over to volunteer headquarters because Fred had stated they were short handed on golf cart drivers. On the way there, we saw Edward Gal, and took our picture with him. My day (and trip) was made. Despite the fact that he's a dressage superstar, he seemed genuinely happy to meet us and take a photo.
At the golf carts, I met Jim, who gave me a golf cart and hopped in a second one to show me the route. On such a large grounds, and with a shortage of golf cart drivers, I didn't stay with Jim for long, as we had too many people in different locations. I just started picking people up, and told them, if you can tell me where to go, I'll take you there. I drove members of the USA eventing team (or their grooms, not sure which), the reserve dressage rider from USA, reiners from Austria, the head of night security for the grounds, Portugese grooms, the Zoetis blood testing group, photographers, spectators, and probably a few other people I'm forgetting.
I made it back to headquarters at 9:45 PM and hopped on the last shuttle back to volunteer parking. Unfortunately I never found the volunteer housing (45 minutes away in Shelby) and after two failed attempts with the two addresses we were given for GPS, and a half hour of random driving, got the last room at a Days Inn motel for four hours sleep before needing to be back on the grounds to volunteer at the endurance competition.
Endurance at WEG was a series of heartbreaks this year, and even now, days later, I'm unsure of quite how to explain it. A large group of horses went the wrong way on the trail (I'm told about 40). To keep it fair, officials decided to cancel the 160-km race (100 miles) and run a 120-km race instead (about 80 miles). When I heard that I knew that no matter what happened next, there were going to be unhappy people with how all of this ended.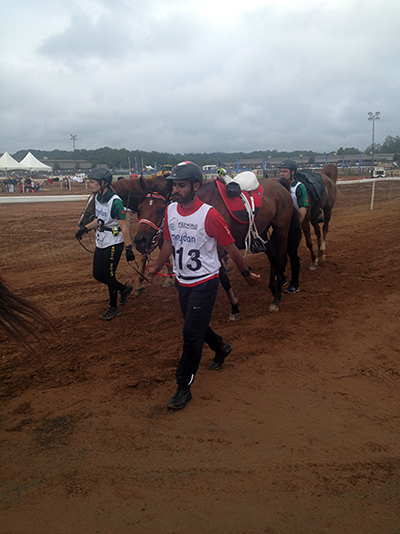 Endurance Riders at WEG in Tryon, NC.
The ride re-started at 11:15 AM, horses were out on trail, and we kept up with our volunteer assignments. During a brief break we went over to the dressage ring and watched Steffen Peters and a few others ride. The caliber of the horses is incredible, and the dressage riders at WEG make it look effortless.
Karen and I were in the ring handing out dinner to the veterinarians and their scribes at around 5:45 PM when a voice came over the loudspeaker that wasn't the announcer. It was the president of the ground jury saying that they were cancelling the rest of the ride. The reasons were high heat and humidity, combined with heavy rain at the end of the first loop of the re-ride that had made trail conditions extremely challenging.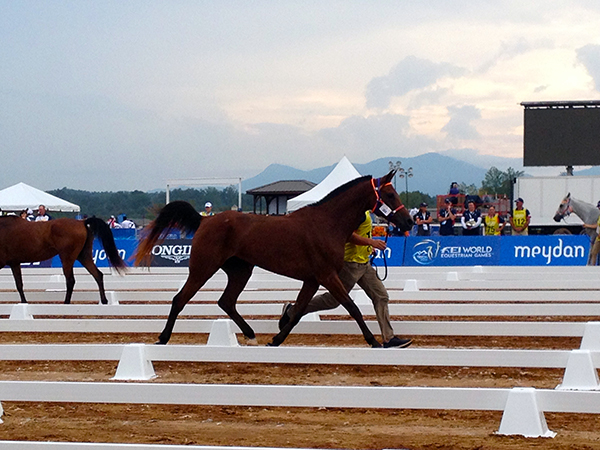 Vetting in at WEG.
For the welfare of the horse, the ride was cancelled. In the end, the welfare of the horse is the most important thing to all of us. In the next few minutes following that announcement there was a lot of unhappy riders and crew. Looking back, I think all of those that were unhappy know that it was the right decision, but combined with the other mishaps of the event, and the amount of time, money and effort that go into preparing for and traveling to a world championship ride, there were some frustrations aired. Soon it quieted down, and we noticed a rainbow over the venue.
A rainbow over the endurance venue at WEG in Tryon.
Tired, dirty, and emotionally drained, my friends and I headed to a restaurant in Tryon for some famous North Carolina barbecue. The next morning, I wandered around the vendor fair with Sue, before watching some dressage. This time we got to see Carl Hester ride (among many other talented riders), and again, I was in awe of the harmony between horse and rider. I've read Carl's book, and follow him on social media, seeing him ride in person was really cool.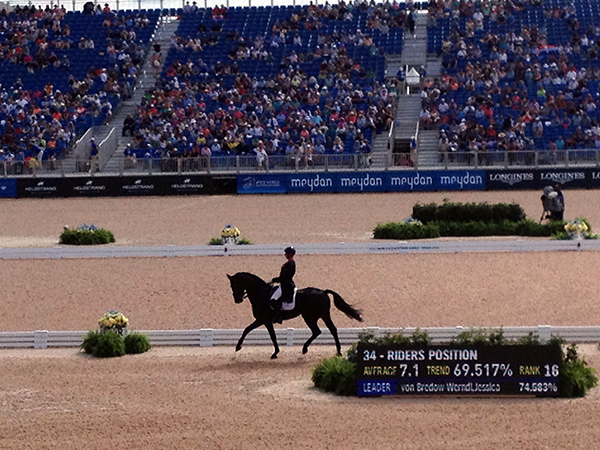 Carl Hester riding at WEG.
I headed home and back to work, as WEG continues and makes scheduling changes around Tropical Storm Florence. The memories of those three fun filled and emotional days will stay with me, and inspire me to continue improving my own horsemanship. Tryon was my first trip to the World Equestrian Games, but it certainly won't be my last.
About the Author: Stacey Stearns is a lifelong equestrian from Connecticut. She lives on Mountain Dairy in Mansfield, her family's dairy farm, and enjoys trail riding and endurance with her Morgan horses.