Thingvellir Viking Trail Riding Vacation in Iceland
Want to gain confidence in the saddle and in life? Equitrekking Travel's Julie Snyder did on the Thingvellir Viking Trail Riding Vacation in Iceland. Read about her adventure and journey!
by Julie Snyder
Iceland stretched me as a rider and made me a stronger person. Although the Icelandic Horses are pony-sized, good natured and adorable with their wild uncontrollable manes, the riding I experienced on my trip was most decidedly "out of the box" for me. It was very fast paced; we trotted, tolted, cantered and galloped over every type of terrain, moving fast uphill and downhill alike, over volcanic rock and soft beach. The pace was such that I just had to forge on, no matter how sore or tentative I might be. The Thingvellir Viking Trail was beautiful, over mountains, across streams, beside lakes, through meadows, you name it. Each bend revealed another jaw dropping scene.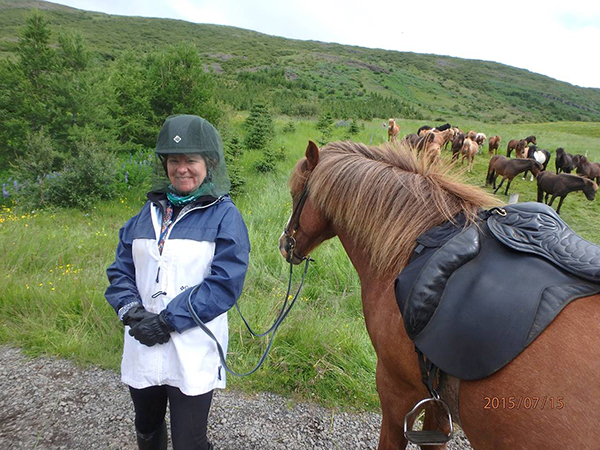 The author, Julie Snyder, riding Iceland.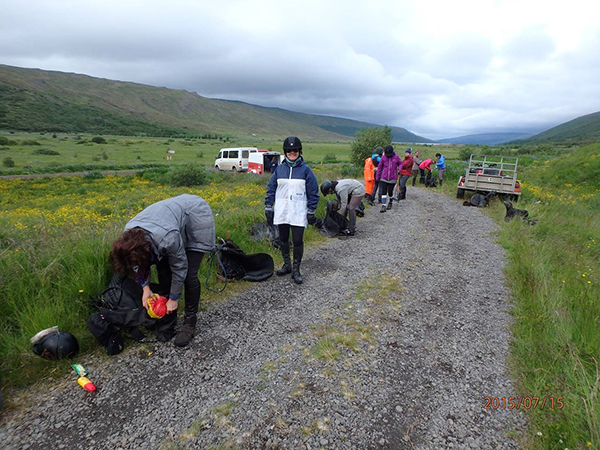 This riding tour is a great combination of fun riding trails, Viking history and relaxation at the Fontana Spa.
There were tense moments, like the time my horse wanted to do a Butch Cassidy & the Sundance Kid cliff drop (I didn't let him), but they were balanced by amusing ones. We had three renegade horses in our herd; they were the rebellious teenagers, a white, bay and, the loveliest yet naughtiest of all: the dun. This little dun mare was quite possibly the most stunning horse I have ever seen, but stirring up trouble at all times. She led the other two away from the herd, taking her own route at a fork in the trail, biting horses as she passed, rearing when humans got near. She was the classic untamable beauty, and kept us all laughing.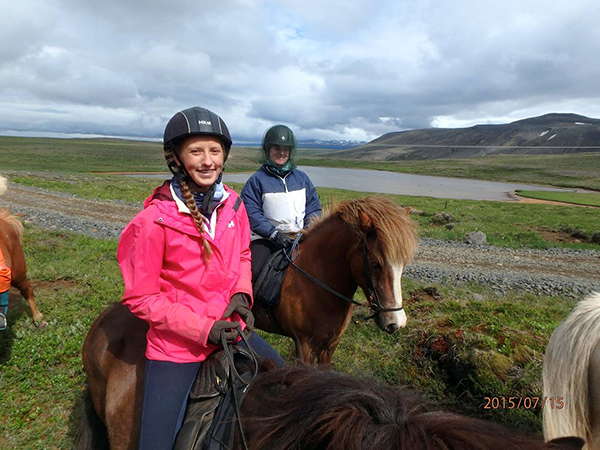 Travelers get to ride Thingvellir National Park, where Iceland's national assembly was established around 930, and the geologic dividing live between Europe and the Americas, the Mid-Atlantic Ridge.
Our accommodations were a lovely summer cabin next to a gorgeous lake, and then a hotel right in the massive, historic and gorgeous Thingvellir Park. We had three Icelandic Cowboys leading the group, herding the 30 loose horses that moved with us at all times, and cooking a fabulous dinner for us each evening. Picture three guys with chaps, bandanas, and a strong appreciation for the group Abba. When I had trouble getting my horse to tolt the first day, Gunnar gave me a quick lesson, and that was all it took. Most of the horses automatically go in to the tolt, but some have to be coaxed, and once you know how (more leg and tighter rein) it's easy. And once you get used to tolting, that is all you want to do, because it such a smooth, comfortable ride.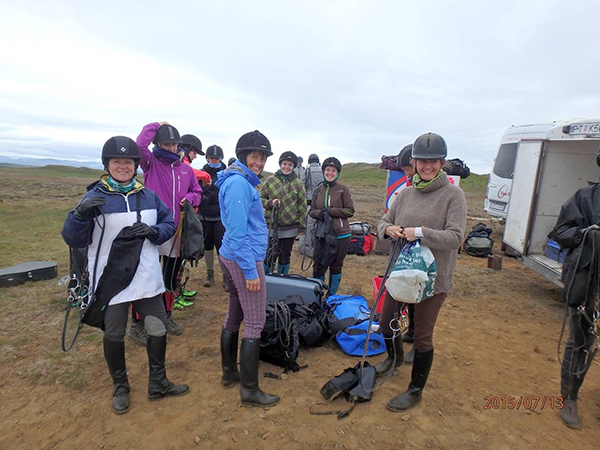 Riders from around the globe take these Iceland riding vacations.
The pre-riding trip stay in Reykjavik was memorable. It is a charming European City – reminded me of a mix between Seattle and Edinburgh, Scotland. It is full of revelers in the summer; fun people, great restaurants and exceptional souvenir shopping.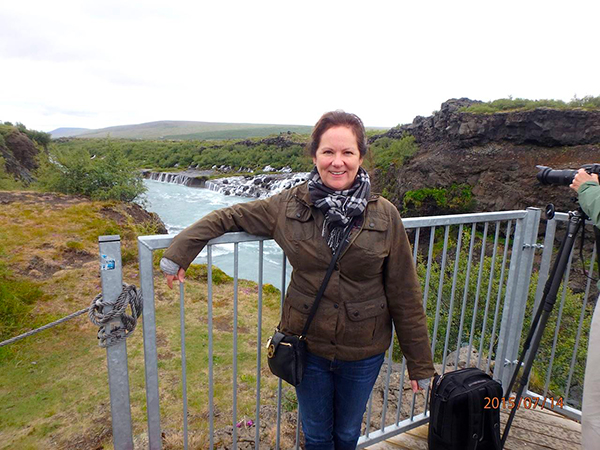 Waterfalls, glaciers, hot springs and rivers are just some of the scenery travelers expeience.
It wasn't easy, but I managed to keep up with the pace, learned to love the tolt, and fell in love with Iceland and the famous horses that they are so very proud of. Stretching oneself is part of traveling, and I have become a stronger person because of my riding trip in Iceland.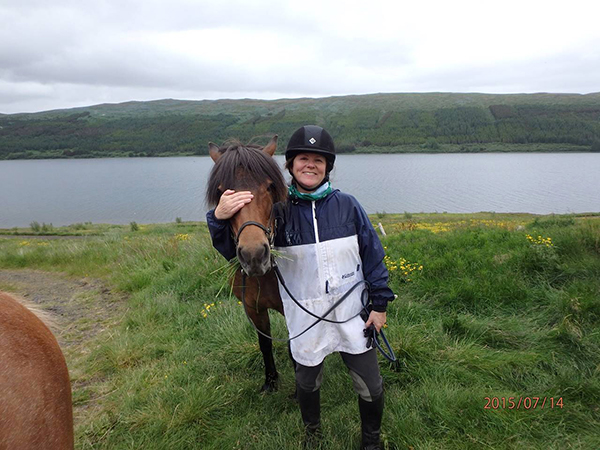 Julie Snyder loving the ride... in Iceland!

How you can go: Learn about Iceland riding vacations, including the Thingvellir Viking Trail, at EquitrekkingTravel.com. Need to know more about riding in Iceland? Ask the author of this article, Julie Snyder, Equitrekking Travel's preferred travel agent.
About the author: Julie Snyder rides and competes hunter jumper at home in Wisconsin and is having a ball testing out riding vacations in Iceland, Ireland, Costa Rica and beyond, as Equitrekking Travel's provider of travel services. You may often find her down at the barn, spending time with her horse Pomegranate, or volunteering with a local special needs rider program "Horsesense." Contact Julie to learn more or get matched with a trip.