The Theme Park Redesigned to be a Horse Park- Part 2
A vision for the ultimate horse community.
by Juliette Ober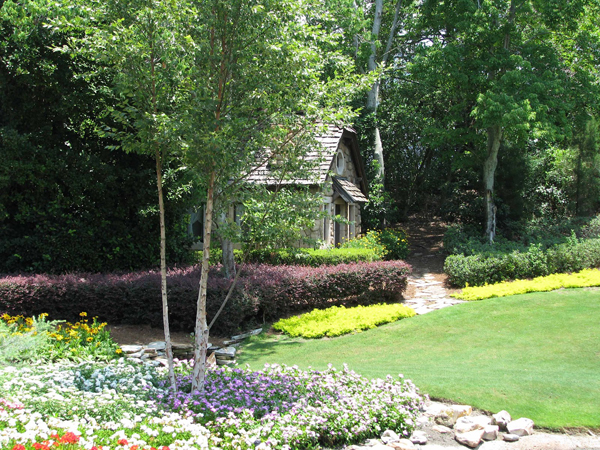 Quaint gardens in a Disney park beg for real (as opposed to carousel) horses and riders. Photo Credit www.OnlyWDWorld.com.
Walt Disney visited Tivoli Gardens in Denmark to get ideas for his original (160 acre) Disneyland concept. Tivoli holds many secrets to the pattern of a horse friendly garden/equestrian park. Specifically, Tivoli and the Pleasure Garden model, primarily a European concept, is almost exactly what my ideal riding park would offer.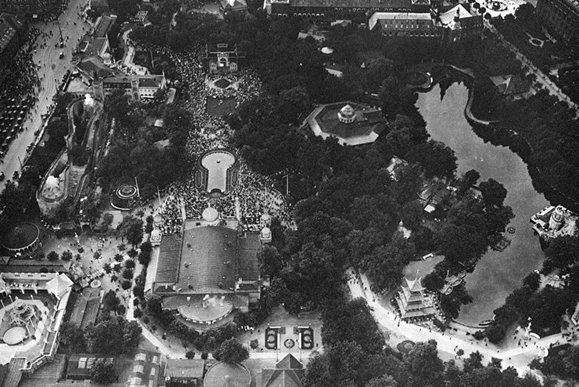 The Tivoli gardens at Copenhagen, photographed from a balloon in 1922 by Eduard Spelterini (1852 - 1931). Ignore the "rides" - it is the paths, gardens, and bistros that are important.
I am not advocating riding a horse around an amusement park! The design, the paths, the bistros, the gardens (albeit much less tidy) are just another pattern that works as the skeleton, the backbone of an ideal equestrian park.
I don't know about you, but I rarely do anything without thinking about riding. As I go about my day, in suburban areas, country, or urban, I often see interesting places to ride or run. I do not picture myself riding in a ring. I do not think about riding in an indoor arena. Ever. Neither place comes to my mind as in "I wish I was riding right now...in a ring" - it just doesn't make my heart race with anticipation. When I think about riding a horse, I think of riding... through a garden or down a tree-lined sidewalk. When I am at an amusement park, or golf course, or cemetery, city park, or any open place that is well designed with paths and flowering trees, I imagine riding there or running there or cross-country skiing there. Landscaping can be tight and neat or wild and prairie-like, but the time and design ideas that are concentrated on beautifying these types of spaces demand that running and riding and skiing take place there. I get all adrenaline-y just thinking about it!
That said, I am totally NOT interested in riding in any of these spaces that are not designated for horses or animals. I do not like when people bring animals into non-animal safe venues to be showy. Hellishly hot street fairs where people bring dogs or boa constrictors(!) to get attention drive me insane. Beaches where pets are not permitted and therefore do not have proper watering stations makes me worry and fret - (oh, they don't have shade, oh, it is too hot, oh, poor puppy only has salt water). Riding through our local cemetery is sub-par, even though I have permission, because I do not enjoy being showy. If I knew no one was around, I would love it. So I would not enjoy riding in an amusement park or other public place if it was not specifically not set up for horses.
Lovely landscaped areas and bridle paths with après-venues are everywhere I look except in an "equestrian center" or in an "equestrian park" - why?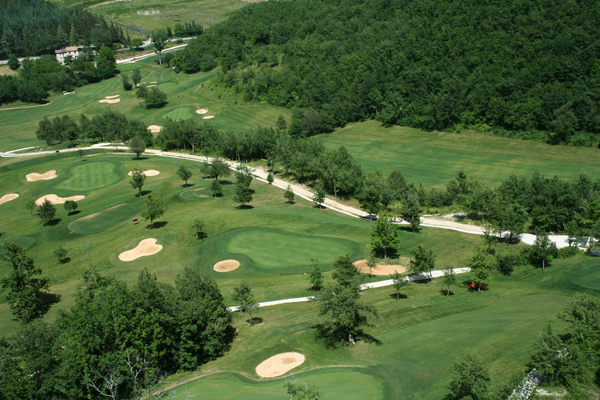 Golf course switchback that beckons equestrians. An aerial view of a golf course in Italy by Andrea Pacelli.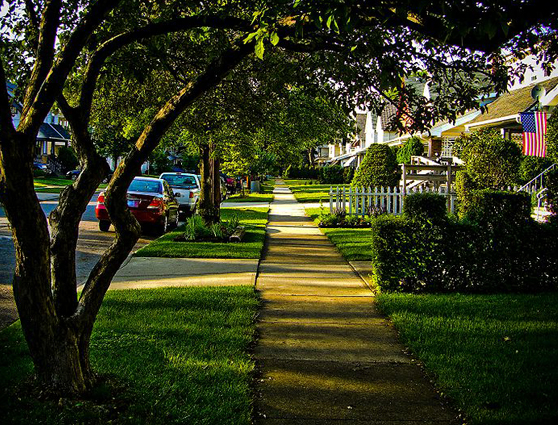 Tree-lined sidewalks are another design that would fit perfectly in a horse-friendly equestrian park setting. Photo by Joshua Rothhaas.

A Near Perfect Equestrian Park

A previous Equitrekking article "Pinellas Park - St. Petersburg Florida's Hidden Equestrian Community" describes a magical horse park that is close to perfect in its fit for the style of riding I am doing now. Pinellas County is teeming with equestrians and the park is the center of the action.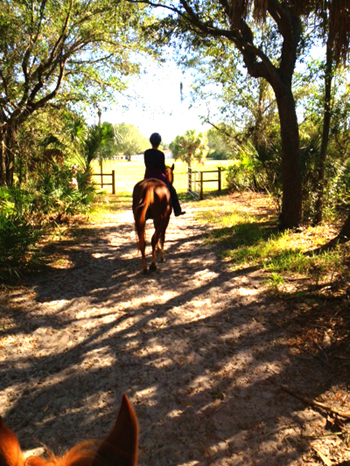 Me on Appendix gelding, Chaunson, with my friend Barb on Titan (ears). Photo by Barbara Vishio
Every morning, a group of about six women and three men gather at the barn and together head out to ride to the Helen Howarth Park and to another equestrian friendly park that is adjacent. The group, which I join when visiting, is made up of riders who are age 16 - 76. The municipality supports and promotes equestrian activities by providing horse crossing zones, signs, flashing lights and manure pick-up.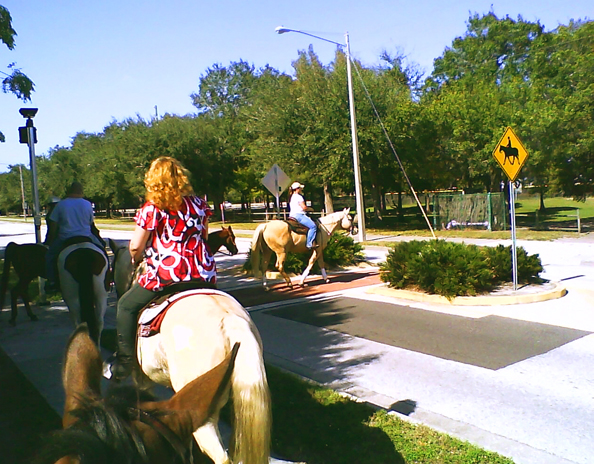 Typical group ride to park using horse crossing, Black Friday, 2011. Photo by Juliette Ober
Real estate in the vicinity draws in horse people and the tack shops and boarding barns naturally prosper around the park's perimeter. This park is close to ideal. It is a little small (60 acres) but by adding the second park and the distance riding on horse-friendly sidewalks getting to the park, our riding time is just about right - one to two hours for the entire loop.
The only thing lacking in this little equestrian hamlet are amenities that promote an après-riding experience. Mid morning we arrive, groom, tack up and ride for an hour or so, and then scramble to finish up because we are starving. Often, after post-ride grazing and barn work, the horses get put away and we drive far from the barn to meet for lunch at a local restaurant. What if the restaurant was on the equestrian park perimeter and welcomed us to eat outside with our horses safely munching nearby?


About the Author: Juliette Ober retrains off-track-Thoroughbreds (OTTB) to be safe riding horses on her Pennsylvania farm. She rides her three rescued Thoroughbred geldings daily in a bitless bridle and usually bareback. When not at the barn, Juliette enjoys long distance running with husband, Brian, and daughter, Maizie. Her Thoroughbred retraining blog www.honeysucklefaire.com chronicles her bitless adventures. More stories about Juliette's style of riding can be read at www.foundinthefog.com.