The Best Horse Trails in Iowa
by Kerrie Tischer
I was recently asked to write a guest post for Equitrekking.com about the best horseback riding trails in Iowa. Equitrekking.com is conducting a 50 State Trail Riding Project, and needed a post for good horseback riding trails in Iowa.

I set out on a mission to complete a descriptive guide to my favorite horse riding trails around the state. I have been to most of these trails, and the others are trails that I have heard about from my trail riding friends and would love to make a trip to ride them this summer.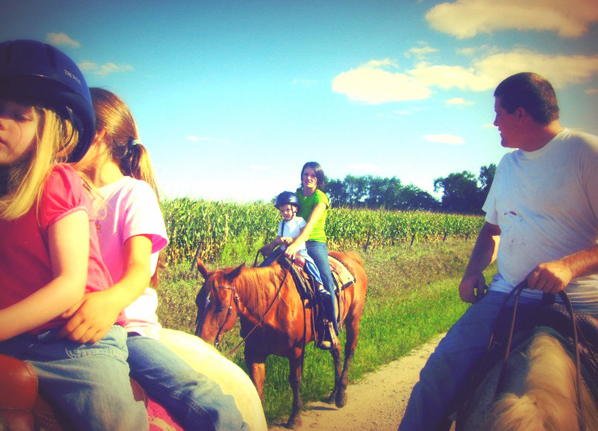 Pierce Creek Equestrian Trails
The trail riding experience at Pierce Creek Recreation Area is one of my absolute favorites. Located in the southwest corner of the state of Iowa, four miles north of Shenandoah, Pierce Creek has relatively easy trails that are wide enough for a group of riders to enjoy riding side by side and visit with each other while riding. It features over 10 miles of trails, mostly laid out around a 40 acre lake surrounded by wildflowers, butterflies, birds, deer, and other beauties of nature.

A group of horseback riders have recently raised money to upgrade the facilities, put in electric campsites and water on the equestrian side of the park, and build stalls, a round pen, a competitive trail obstacle course, and maintain the trails for better riding conditions. I have taken my seven-year-old daughter riding on these trails, and she had a wonderful time. To check trail conditions, call 712-542-3864.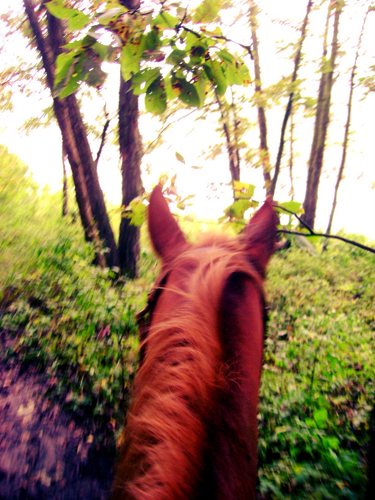 Elk Rock State Park
It's been a few years since I've been to Elk Rock, but it's on my list to ride there again soon. It is located in central Iowa southeast of Des Moines, seven miles north of Knoxville on Highway 14, on Iowa's largest body of water, Lake Red Rock. There are 13 miles of multi-use trails; some heavily wooded, some lakeside and rough, and some through flat, grassy, prairie-type areas.

A non-profit group called Friends of Elk Rock recently completed a new all-weather trail and challenge course. The equestrian campground features water, hitch rails, stalls, corrals, electric hookups, a 100′ X 200′ riding arena, equestrian wash station, and modern showers and restrooms. It's the perfect spot for a weekend getaway with horses. For park information and reservations, call 641-842-6008.

Rock Creek State Park
The Rock Creek campground is a smaller, off-the-beaten-path park you might say, but that makes it more appealing to horseback riders who want to see some new territory. Located in central Iowa, you can get there by going seven miles west on Highway 6 out of Grinnell. Turn north on County Road T38 for two miles, then west on County Road F27 for two or three miles, and then south on Rock Creek E Street.

The park features 13 miles of single track trail through dense oak timber with bridges over creeks and streams, skirting around a 600 acre lake through some hills with lots of wildlife and beautiful terrain. There is a stretch of trail where it seems like you're riding through people's back yards, because they mow their lawns right down to the lake, but it is park property that you are allowed to ride on. Really good ride for families, not too hard, but don't go when it's wet. Call 641-236-3722 to check conditions.
County road F27 and its bridge over Rock Creek State Park in Iowa. Photo by Colin M.L. Burnett.
Shimek State Forest Equestrian Trails
Located in the southeast corner of Iowa, Shimek State Forest boasts two public equestrian campgrounds and over 25 miles of riding. There is no fee for riding or using horse shelters in the day use unit of Lick Creek, but there is a small fee for camping.

The horseback trails have undergone major improvements, including a rocked and lime chip trail that can be ridden even in wet weather. There are horse shelters for shade and stalls, and 37 non-electric campsites. A volunteer group called Friends of Shimek help maintain the trails for horseback riding. The park is located one mile east of Farmington, Iowa on Highway 2. Call 319-878-3811 for trail conditions. Check out this
 map of equestrian trails at Shimek State Forest.

Brushy Creek State Recreation Area
Brushy Creek has over 6,000 acres of land, located in north central Iowa and 15 miles southeast of Fort Dodge on Highway 20. Take Lehigh County Road four miles south of Highway 20. There are 45 miles of multi-use trails, including a rocked all-weather trail that rarely closes during wet weather. Modern camp facilities at the campsites include showers, restrooms, water hydrants, grills, and a playground. There is no charge to use the Equestrian Day Use Staging Areas, which have shade, hitch rails, and porta potties. There is also a 100′ X 200′ arena.
Trails include beautiful scenery, wildlife, and lots of distance where you can ride all day and still not see it all. Maps of the trails can be picked up at kiosks around the campground. Call ahead for trail closures due to mud. The number is 515-543-8298.

Waubonsie State Park
Located in southwest Iowa near Interstate 29, this is a great place for people with horses traveling through Iowa needing an overnight place to stop. Waubonsie State Park is located 7 miles southwest of Sidney, Iowa. From Sidney, take Highway 275 south four miles, then 2 miles west on Highway 2.

This park features a spacious campground, non-modern restrooms, drinkable water from hydrants, corrals, and hitching posts. The fee is $12 per night. The park includes 12 miles of some of the more difficult trails in the state—up ridges, down ravines, through rugged country, but the trails are wide, well-marked, and maintained.

Breast collars and cruppers are highly recommended, or you'll be stopping frequently to re-set your saddles. These trails are not safe to ride if it has rained recently, as they can be steep, slick, and muddy. Call for trail conditions before you travel at 712-382-2786.
The above list includes trails I have personally ridden or trails that were recommended to me by my friends who ride. If you're new to Iowa and looking for a group of trail riders to join, here are some helpful links:
Iowa Horse Council –Includes tips for trail etiquette, groups you can join, ways you can promote trail riding.

Iowa Trail Riders Association — A list of resources for trail riders, events calendar, and trail safety tips.

Iowa Department of Natural Resources Equestrian Guidelines –Good information for camping with horses in Iowa.

DNR Equestrian Trails in Iowa –A six page color brochure with horseback riding trails around the state.

HorseAndMuleTrails.com –A great list of horseback riding trails in Iowa and information from riders on each.

About the Author:
 Kerrie Tischer was born on a cattle ranch in the middle of the Sandhills of Nebraska. On horseback by the age of five and helping with the daily cattle work, she had a hunger to learn about training horses and an all-encompassing desire to have her own horse some day. On her horse blog, Cowgirl Diary, she shares her stories of growing up on a horse ranch, the horse training knowledge she acquired, the individual horses she has known and loved, and the work and progress she's making with the ones she owns now. "While I have never worn a cowboy hat, and my first pair of spurs have been hanging in a dusty tack room for the last fifteen years, I have made it my life goal to get to know horses, and the hours I've spent riding are the most well-invested moments of my life. I am a cowgirl."