Texas- Horsey Adventures in Fort Worth
Forth Worth for Horse Lovers, including the National Cowgirl Museum and Hall of Fame, Fort Worth Stock Show, shopping and brisket at the Stockyards Hotel.
by Darley Newman. Originally published in True West Magazine.

Billed as the oldest stock show in America, the Fort Worth Stock Show dates to 1896, when it was first held as a one-day event on the banks of Marine Creek. Located along the Chisholm Trail, Fort Worth, Texas, became a railroad stop when the Texas & Pacific Railroad arrived in 1876, spurring promoters to build stockyards to help cement Fort Worth as a center for the cattle trade.
When trail cowboys reached Fort Worth, they took advantage of civilization, buying provisions and reveling at saloons. As a woman who spends long days, but not usually months, in the saddle, I can only imagine the excitement those cowboys would have taking advantage of their time in Fort Worth.

Starting in 1867, the Chisholm Trail stretched from ranches in south Texas to Kansas railheads. Drovers spent two months on the trail with long days in the saddle, breathing dust, crossing rivers, keeping watch over their herd at night and hoping for a good meal, all the while driving wily cattle with big horns. Today, travelers who may have endured a delayed flight or two can carouse on a more tame scale in the Stockyards Historic District.

On my way to the Stock Show, I got sidetracked by the cattle drive, which happens twice daily along Exchange Avenue. I had just seen some longhorn cattle up close at Wildcatter Ranch in Graham, but seeing 15 in the herd, hoofing down the cobblestone streets, is quite a scene. They ambled like laid-back models, showing off their curvaceous horns. The cowboys wore authentic frontier garb to complete the scene, giving onlookers a view of what the city might have looked like when the markets were open for trade. The last live auction at the Stockyards took place in 1992, but virtual auctions in the Exchange Building still continue the tradition.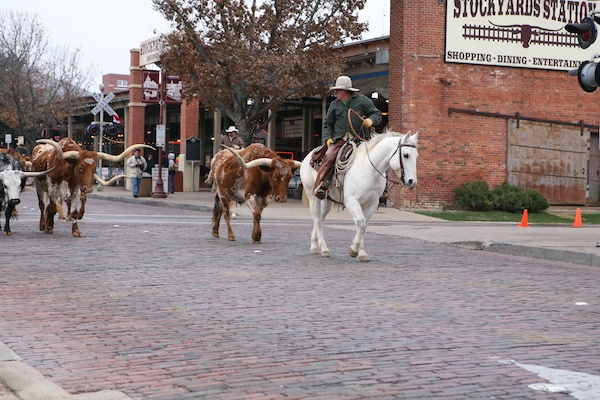 I ducked inside the 1907 Stockyards Hotel for a meal of its mean brisket. Inside, I talked to the trail boss, the woman in charge of the cattle and cowboys, who told me stories of traveling to showcase these famous longhorns, including an adventurous trip to New York City. She, like many Texans, takes great pride in these hardy animals. As I heard more about the breed, they reminded me of Connemara Pony, a resilient Irish breed that is able to live out all year round and survive on scrubs and small vegetation. The longhorns also subsist off of whatever they can find on the land, be it cactus or weeds, and survive in all sorts of climates.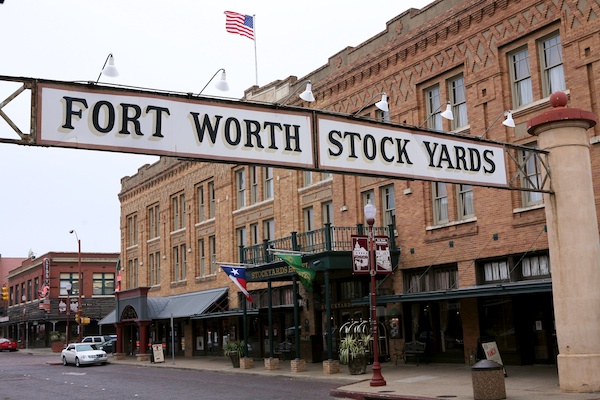 While in the Stockyards National Historic District, I also took some time to do some shopping, picking up a warm jean jacket and Western jewelry for myself and as gifts for others at Fincher's White Front Western, which has been in operation since 1902. There are a variety of shops featuring Texas inspired gifts and Western wear.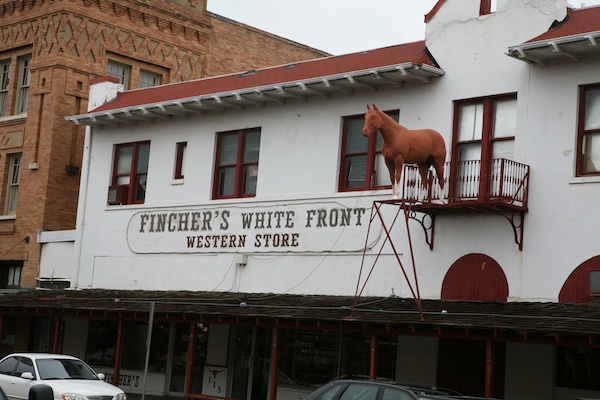 My next stop was the Will Rogers Coliseum for my first event at the Stock Show, the Pony of the Americas Club demonstration. Here, young girls dressed in glitzy Western shirts led ponies of all coat colors. What struck me about the scene was witnessing that the Stock Show really still is a family affair; it is a tradition to show your stock at the Stock Show.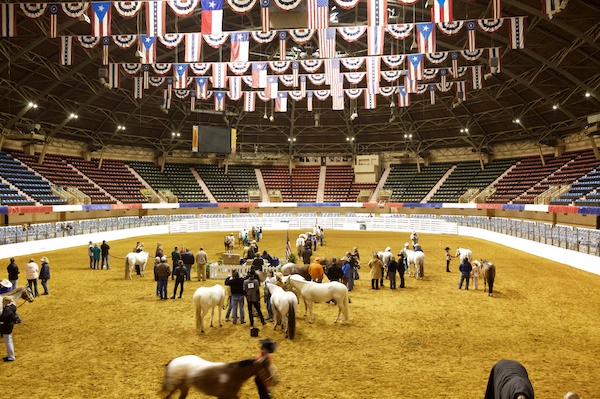 Though the Stockyards markets are not open, the ponies are for sale at the arena, as well as other livestock such as cattle, horses, goats, llamas and sheep. The Coliseum is a good place to grab a program and meander from event to event, whether it's cutting horses, the rodeo or a goat milking competition.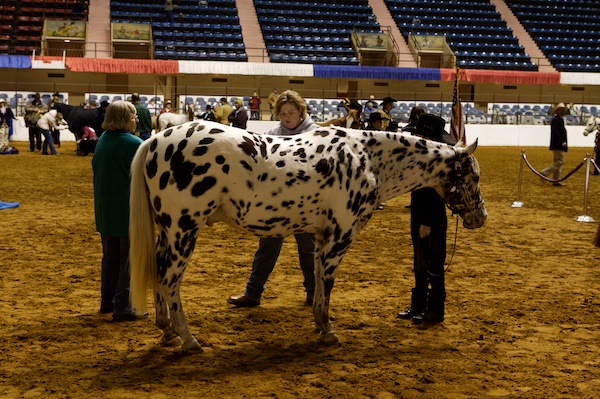 At the National Cowgirl Museum and Hall of Fame, I took my chance to ride a bucking bronc. Well, not a real one, but the mechanical kind, and I was able to watch my ride later over the Internet. I'm not sure if I was very graceful, but the ride sure was fun. The museum might be my favorite site in Fort Worth; I love learning about courageous cowgirls of the past, such as Tillie Baldwin, the first woman to try bulldogging, Texas Rose, who could trick rope her way out of any situation, and Kathryn Binford, a female rancher who grew strong raising Hereford cattle and mending fences in Texas.


Nestled in the Cultural District, the Museum and Hall of Fame uses interactive exhibits to relay information, like the rodeo circuit exhibit, where you can hear firsthand what it's like for a woman rider on the road. At one point, I turned a corner and was almost blinded by a pair of bedazzled chaps, worn by a rodeo queen of years past. Modern bling pales in comparison to her adornments.

I had only scratched the surface of Western Heritage in Fort Worth, but it was time for me to get back in the saddle and do some more riding at ranches in Texas. Like many of my adventures, my time in the city was cut short by my adventures riding far beyond.
How you can go:
Fort Worth Convention & Visitors Bureau - This website catalogs events and things to do in Fort Worth.
National Cowgirl Museum and Hall of Fame - Open year round except major holidays.
Fort Worth Stock Show and Rodeo - Runs in Jan and Feb each year. In 2013, the dates are January 18 – February 9.
Fort Worth Stockyards - This National Historic District features shops, restaurants, night clubs, rodeos, stock shows, historical landmarks and events.