Tanque Verde Ranch Chuckwagon Breakfast Ride
A horseback ride at an Arizona dude ranch makes a chuckwagon breakfast even yummier.
by Darley Newman, as published in her Trail Rider column in True West magazine.
Tanque Verde Ranch's history of bandits and cattlemen, mixed with Apache warriors, Spanish explorers and gold prospectors, makes for interesting legends, but that's not why I originally picked the ranch for a vacation.
I'd been to ranches almost everywhere else, and I wanted to see what a ranch in the rugged desert terrain of Tucson had to offer by the way of horses and history, so we saddled up at Tanque Verde Ranch.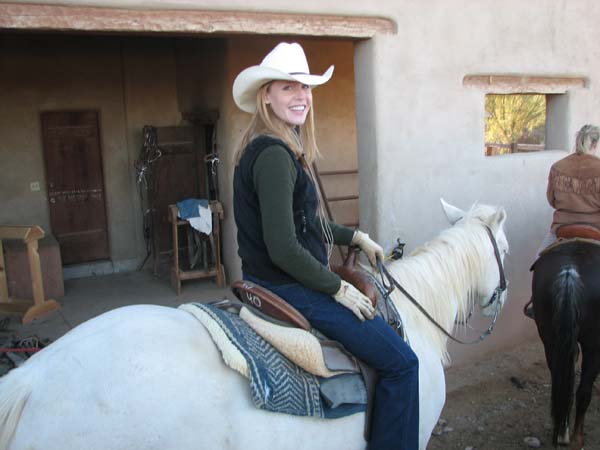 An old-time cattle ranch, Tanque Verde rests on more than 60,000 acres beside Saguaro National Park and Coronado National Forest, granting lots of room to ride. The vibrant, salmon, adobe-styled ranch buildings brought a smile on my face when we arrived. I looked over to see horses basking in the corral, and I knew I had made a good decision to head to sunny Arizona. Tanque Verde is like an oasis amid the harsh terrain of the Sonoran Desert, with birds singing over the green grass, wildflowers and the various cacti.
People have seen the area as a lush respite from the surrounding desert for quite some time. Tanque Verde means "green tank." Water on the property drew cavalrymen from the 1873 outpost Fort Lowell so they could water their horses. Most men probably watched their backs as they let their steeds rest for a drink. The men had to constantly be on guard as they protected area settlers and their cattle from Apache raids. Before them, the Pima Indians sought water here.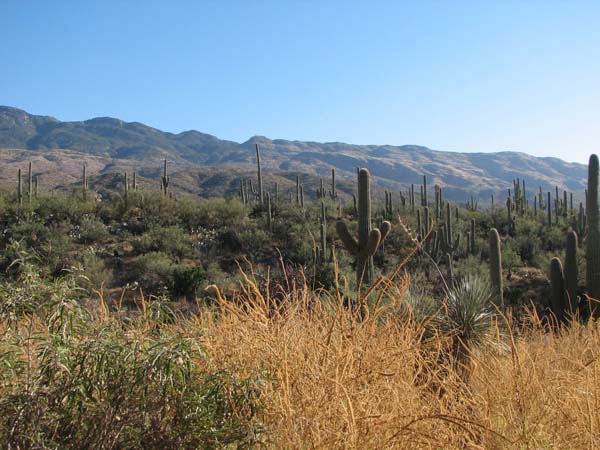 For our early morning ride, I wore layers under my jacket and a cowboy hat to take on the chilly air. Our ride was leisurely and scenic, and took about an hour to reach the Old Homestead—just long enough to get me hungry. I watched my legs as my horse wound me through a labyrinth of prickly pear, cholla and giant saguaro. My Quarter Horse Powder was a bit of a slow mover but sturdy on the rocky trails. It's better to be careful than not around those large cacti! We traversed a few steeper inclines as we trekked on desert trails frequented by deer, antelope, jackrabbits, javelinas and coyotes.
A ranch has been on the grounds where Tanque Verde still rests since 1868, when Don Emilio Carrillo built his Buena Vista Ranch. He would later change the name to La Cebadilla, after the wild barley growing along the ranch's creek. Carrillo had been living in the Tucson area since the age of 12, and, with some hard work, he built his ranch into a successful cattle operation.
In 1904, bandits seeking to cash in on some of Carrillo's wealth ransacked the ranch in search of gold that they believed was buried on the property. The robbers hanged Carrillo by the neck from the rafters and tortured him—almost to death. Carrillo lasted another few years before passing away from complications from the attack. Today, you can hang out by those deadly rafters in the ranch's present-day card room.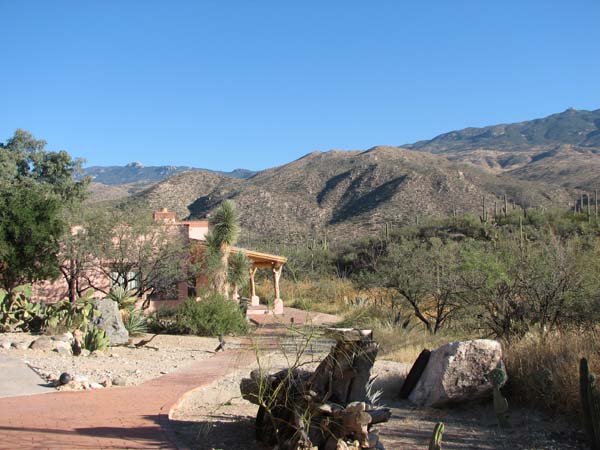 Cattleman Jim Converse later took over the ranch and called it Tanque Verde, thinking the name would attract more visitors. At a time when many people were starting to charge guests to visit the original dude ranches, Converse too got into the game. He ran the place as a cattle ranch, with guests on the side, before he had some trouble with the law. Legend has it that Converse was joking around and trying to shoot an apple that was precariously positioned on top of a man's head. Converse missed and ended up in jail.
The ranch was auctioned off in 1957 to the present owners, the Cote Family. The Cotes owned a kid's summer camp in Minnesota and started the ranch so their summer employees had a place to work in the winter.
Under the good guidance of those employees, I felt worlds away from Tucson, even though I was only 15 miles east of it, as we rode up to the breakfast spot at the homestead. Converse supposedly built the stone building for him and his new wife to live in, but she didn't like the location, so he was forced to build another. A few other original buildings remain, which Tanque Verde's owners work to preserve as symbols of the ranch's colorful past.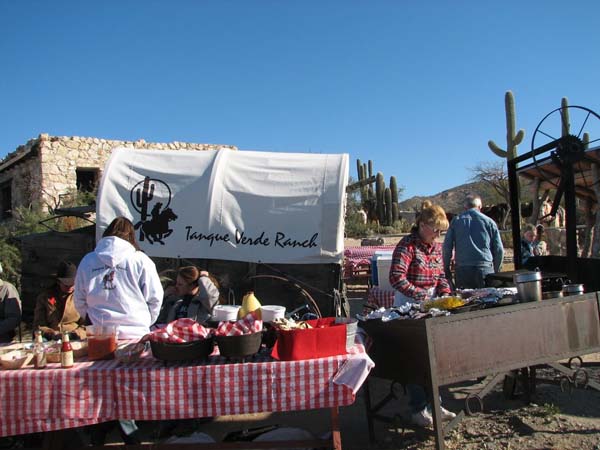 Out of a chuckwagon, I served myself a plate of blueberry pancakes, eggs and sausage, and a cup of hot cider. It all tasted good in the crisp morning air as I looked over the vast desert's rolling hills, but I enjoyed breakfast even more because we had reached it on horseback.

How you can go: Visit Tanque Verde Ranch's website for more information on this Arizona family ranch vacation destination.

Visit Tanque Verde Ranch in the Equitrekking.com Vacation Guide to great dude ranches, guest ranches and global equestrian travel destinations.