Horseback Riding on the Beach - Ring of Kerry
I cantered and galloped along some of the widest beaches I've ever seen along the Ring of Kerry's Rossbeigh Beach on my Ireland horse vacation. In this designated natural heritage area, mountains meet the shore of the powerful Atlantic Ocean.
My mount for the trip, Aladdin, who local guide Aoife O'Sullivan rode in Equitrekking's Irish Countryside episode, listened well, picking up the pace with a slight squeeze and slowing down with a gentle whoa. A strong, Irish Cob cross, Aladdin gave me confidence on the sand and at higher altitudes.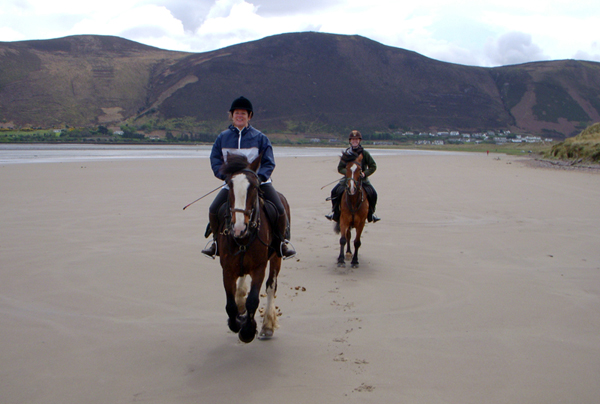 We'd already ridden through Kerry's lakes and mountains, where splendid panoramas of bright blue Dingle Bay pop against the lush green patchwork countryside. Down on the shore, Aladdin and I cantered sandwiched between high sand dunes and dramatic waters with mountains on the horizon. We passed over an area of small, smooth emerald green, purple and deep grey rocks. I wanted to take some home and fill the bottom of a vase, but thought better of it. Neither Aladdin nor I wanted to canter holding a bunch of rocks.
We rode to a tiny bay with a big story. It was here that mythical characters Oisín and Niamh are thought to have ridden a white horse across to The Land of Eternal Youth or Tír na nÓg. There are lots and myths and legends in this part of Ireland, an added plus for history buffs and Irish dreamers.

Learn more about Killarney Riding Stables, which offers this riding vacation in Ireland.