Riding Tips for All Levels from Expert Equestrian Trainer Jackie Harris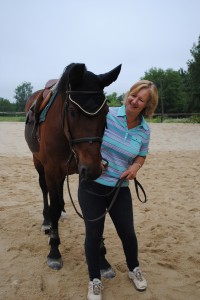 A fun and motivating instructor with over 30 years experience teaching riders of all levels, Jackie Harris welcomes riders the stunning Bordeaux wine region of South-West France for equestrian training vacations with Harris Horses. These riding holidays help equestrians improve – both in dressage and over jumps–– all the while enjoying the beauty, history, food and wine for which this part of France is so well known.

When she's not teaching riders, Jackie writes the advice section for 'Horse and Country TV' and 'Ask the Experts' in the 'Horse and Rider' Magazine. Below she shares helpful tips for equestrians of all levels.

Equestrian Tips for the beginner/novice rider.
Mount the horse thoughtfully - land gently! Learn how to adjust stirrups/check girth while mounted.
Regularly slip feet out of stirrups and find them again - without looking down. All riders lose a stirrup from time to time - getting it back quickly helps your confidence and your balance!
When establishing your rising trot, follow a more experienced rider and copy the rhythm, use a neck strap for balance - not the horse's mouth! - & try not to rise too high out of the saddle.
Equestrian Tips for the intermediate rider.
Teach yourself to feel which diagonal you are on - you don't need to lean over & look!
For the trot/canter transition, which can be tricky, have an energetic trot. Ask on a corner. Don't try to do sitting trot for more than three steps (balance problems!) and give a clear outside leg aid. Hold onto a neckstrap with your inside hand for the strike off to avoid catching the horse's mouth and stopping him as he tries to canter.
When you start learning to jump, practice changing from two- point (forward) seat and back to full seat without moving your lower leg. Keep your heels down and avoid rotating onto your toes, which gets you in front of the movement. It feels similar to jumping.
Equestrian Tips for the experienced rider.
Always allow time to loosen up - both you and your horse feel stiff when it's cold. Always stretch your horse and ride forward before collecting /shortening.
Open and close the stride in all paces. Use your legs, seat and upper body before your hands. Keep it smooth and fluid. Try to keep a light seat to help stay in balance with your horse and allow him to work.
Check and correct your position constantly. Try think ahead and look ahead.
Successful showjumping is largely about how you get from fence to fence - don't neglect your flatwork!
Get more tips from Jackie in person on a dreamy riding holiday in France. Learn more about Harris Horses on their website and check out great riding vacations in France and beyond on EquitrekkingTravel.com and in Equitrekking's Vacation Guide.