Riding the Apache Trail in Lincoln County, New Mexico
Caroline McCoy, who rides almost every week of the year on her Quarter Horse mare, shares photos from Apache Trail in Lincoln County, New Mexico.
photos and story by Caroline Ames McCoy
The Bonito River has quieted its rapid flow from the spring. Saturday, some Back Country Horsemen decided to go play in it. We started down the Apache Trail's North end. Deborah's paint, Kiowa, eyed the sign.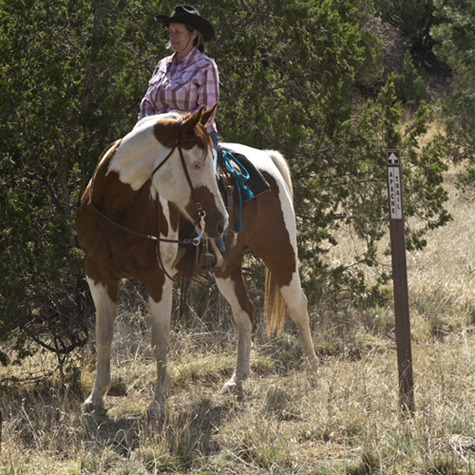 Six riders and two dogs took an hour twisting down the rocky eco-trail, scaring elk, seeing cleaned bones amongst vivid cactus flowers - life and death. Peach watched the two molly mules; wonderful trail animals and happy to be amongst horses.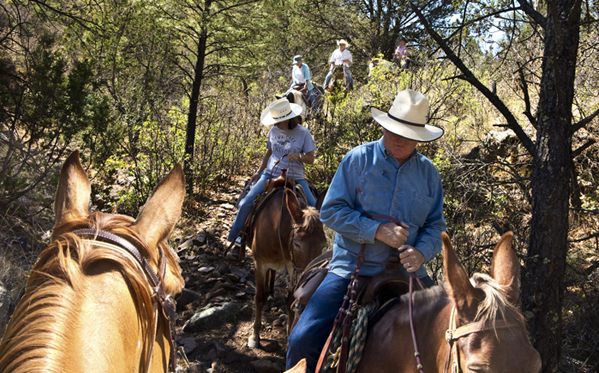 Here and there patchy sunlight spiked the coral color of Indian Paint Brush. You cannot transplant these beautiful small flowers. It always excites me to see them sparsely here and there, decorating dry high-desert grasses like so many birthday candles sprinkled around.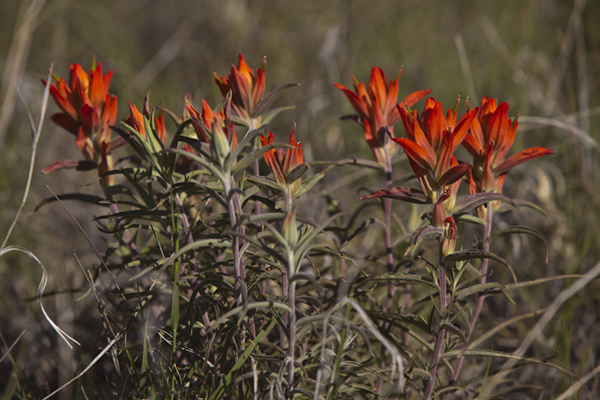 After bushwhacking through the scrub forest and wide washes, we hit the Bonito as it is now, seeing a washed up footbridge from more vigorous flows.
Suddenly we came across 'INDIAN ROCK"–– ancient. 1000 years ago Jornado Mogollon? Or 2000 yrs. ago Puebloan, Navajo, Anazasi? Anyone know? The marks seem different than the Three Rivers site.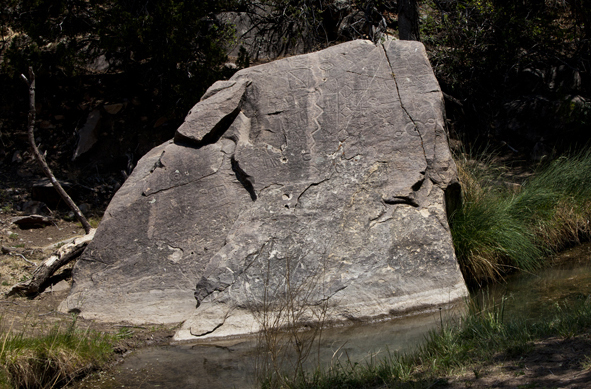 This is what we stopped to study. Deborah Voorhees even found some more petroglyph marks on smaller rocks, higher up the hill. After relaxing around the site, horses grazing, dogs swimming and eating lunch, we skirted around the cottonwoods and back around an eco-trail to the base of Apache Trail north, and climbed the canyon back to our trailers. I never get tired of this ride.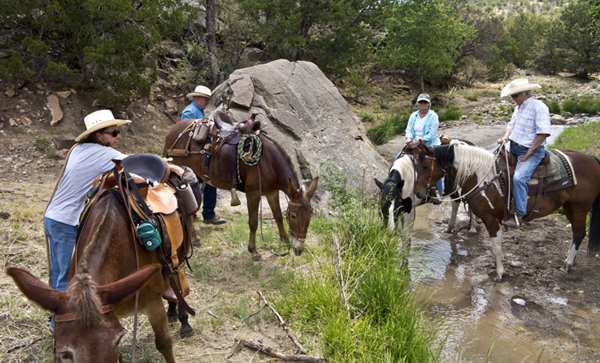 How you can go: This trail is located in Lincoln County, mm 7 off Hwy 220 (Airport Road). There's a wide parking area on the BLM land 1/4 mi. north of Hwy 220. An unlocked gate leads into the Apache Trail North.

About the Author: Caroline McCoy rides the White Mountain Wilderness and the Fort Stanton Trail system almost every week of the year on her Quarter Horse mare, Peach. McCoy is age 74 and Peach is 14. McCoy hopes to ride her partner 'til the end of both of their lives. McCoy makes a photo-journal of many of her rides and is about to publish a book of these rides. Anyone wishing to be on her "My Rides" email list may request to do so via email.