Ranches to Visit for the Holiday Season
Thinking of getting away this Christmas or New Year's? Celebrate in style with these ranches that offer a relaxing getaway from the hustle of the holidays.
by Jocelyn Pierce
Christmas and New Year's weeks are perfect for families looking for a unique way to celebrate the holidays with lots of outdoor activities and holiday fun. Learn more about these destinations, which offer great holiday getaways that truly celebrate the season. Let someone else cook dinner while you spend time with your loved ones--stress free!
Vista Verde Ranch in Colorado

Stay at Vista Verde Ranch December 19-26 for traditional Christmas festivities in luxury accommodations. Spend time outside playing in the snow or relax and curl up in the great room next to the fire. Throughout the week the ranch offers fun Christmas activities in which visitors can take part. Guests can make homemade decorations and then decorate a tree outside their cabin, take a sleigh ride complete with jingling bells, spend an evening caroling, and of course enjoy a huge Christmas feast with all guests and staff.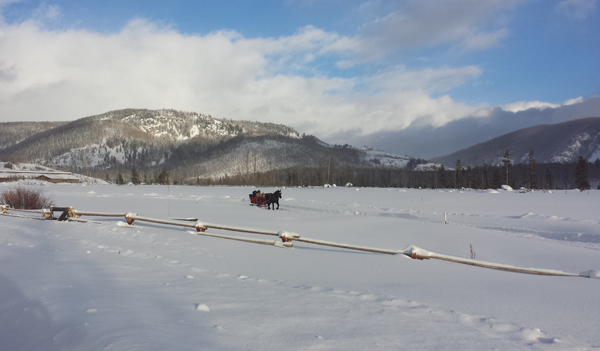 Ring in 2016 at Vista Verde for their New Years week which runs December 26-Jan 2. Like their Christmas week, all regular activities are offered, so guests can ski, snowshoe, horseback ride, tube, dogsled, snowmobile, and more. The New Year's Eve celebration has a barn party with games for kids, while the adults enjoy a wine pairing dinner. After dinner, everyone joins in a barn dance in the great room. The evening ends with a fireworks display, which guests can watch from the great room.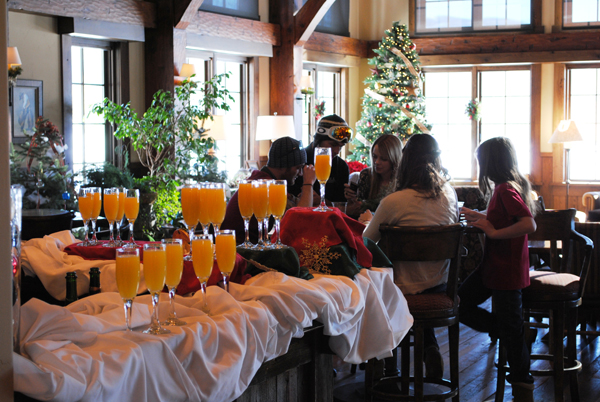 Triple Creek Ranch in Montana

Stay at Triple Creek Ranch for "Christmas in Montana with Western Artist Carol Hagandec" from December 22-27. Guests can enjoy the snow in the Montana Rockies with horseback riding, ice fishing, sledding, skiing, and skijoring.
For the holiday season, the ranch is adorned with elaborate lights and decorations. Each of the cabins has a fireplace and is decorated with its own Christmas tree (real or artificial upon request). Guests will enjoy a Christmas Day dinner prepared by Executive Chef Jacob Leatherman and paired with wines chosen by sommelier Jeremy White.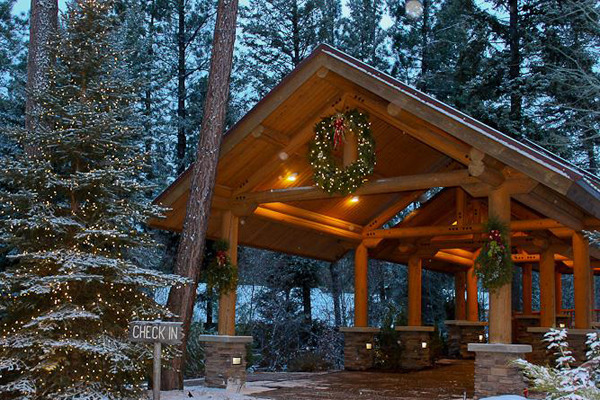 Photo by D. Schara
This year, Triple Creek Ranch is celebrating with artist Carol Hagan, and will be featuring her latest canvas in the series Christmas in Montana. Carol is a longtime friend of the ranch and instructor for the ranch's "Artist Workshop Weekends." In addition to auctioning off her painting for the Michael J. Fox Foundation for Parkinson's Research and the Montana Parkinson's Foundation, Carol will be offering complimentary group lessons for guests.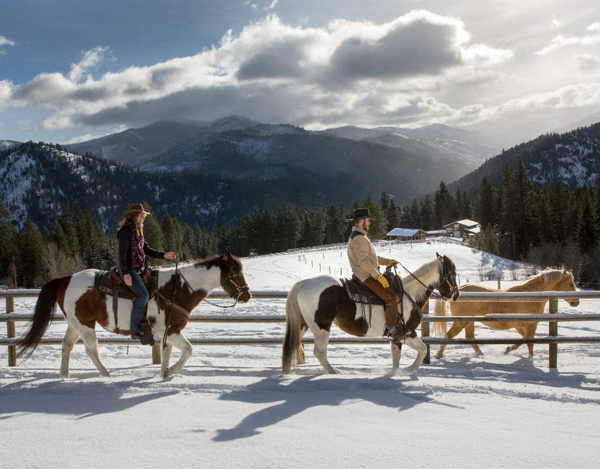 Triple Creek Ranch will also be hosting a Western New Year's Eve Party. Enjoy an elegant five-course, wine-paring dinner followed by an evening of games and entertainment at Elk Meadow. New Year's Eve fireworks and a midnight champagne toast are also part of the festivities.
Tanque Verde Ranch in Arizona

Just because there isn't snow at Tanque Verde, doesn't mean it won't feel like Christmas! This Arizona ranch takes decorating seriously, with four 16-foot Christmas trees, thousands of feet of lights, and poinsettias placed around the ranch, making it feel like Christmas even without the snow.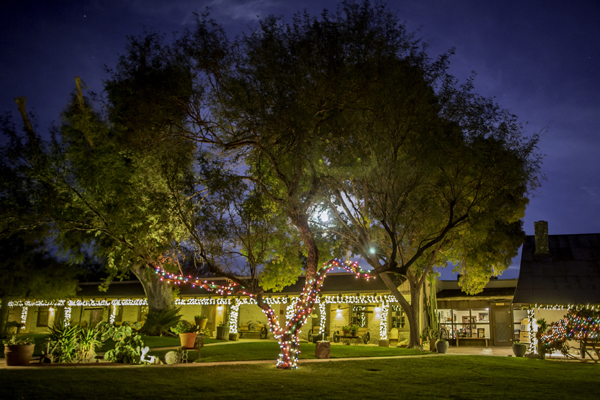 Enjoy Christmas carols, poker games at the Doghouse Saloon, and new this year, a Christmas cactus cookie decorating party. Of course, it wouldn't be Christmas without Santa, who makes an appearance on Christmas Eve. The festivities continue with Tanque Verde's famous New Year's Eve bingo night, which is fun for guests of all ages.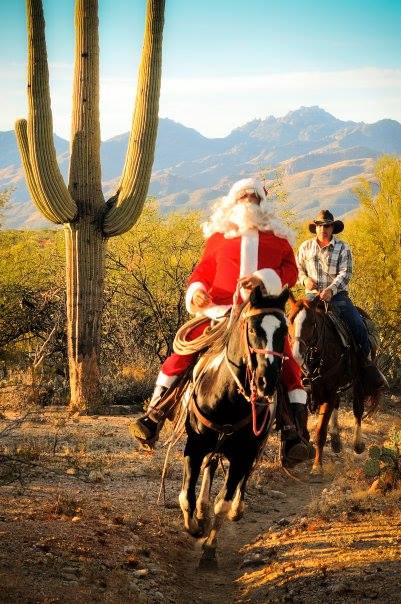 C Lazy U Ranch in Colorado

Enjoy the holidays December 22-27 at luxury guest ranch, C Lazy U, where you will enjoy your own Christmas tree in upscale accommodations, gourmet meals, caroling, and tree trimming. On Christmas Eve, Santa pays a visit via horse-drawn sleigh with presents for everyone under the tree in the lodge. A traditional Christmas dinner is served the dining room, complete with a turkey on every table.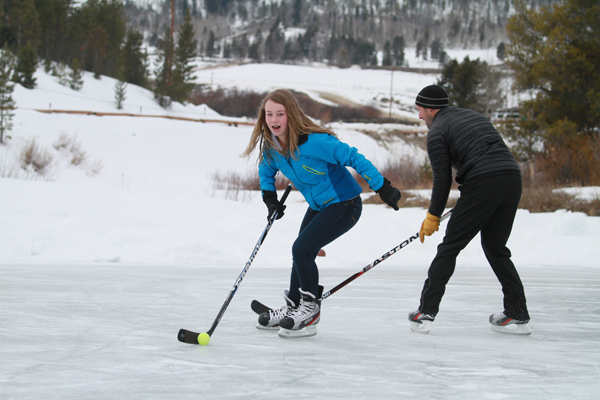 C Lazy U's New Year's celebration is December 27-Jan 1, and guests can relax in the spa or lodge or enjoy winter activities. The band Buckstein will headline the traditional western New Year's Eve party. Guests will also enjoy complimentary sparking wine (and sparkling cider for the kids) in souvenir C Lazy U champagne flutes.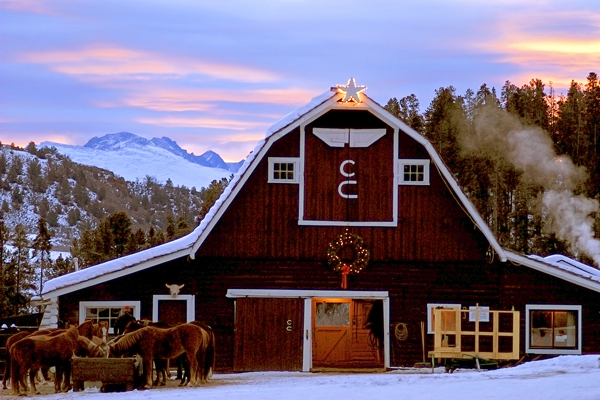 Check out more great ranches and horseback riding vacations for winter travel and year-round vacations in the Equitrekking Vacation Guide and top ranches at Top20Ranches.com. For upcoming travel discounts, including on winter vacations, check out Equitrekking Travel Deals.