Pinon Crusted Chicken with Cherry Chipotle - Southwestern Ranch Recipe
Get a Southwestern ranch recipe that celebrates Arizona's culinary history!
Our friends at Rancho De La Osa, where we filmed part of the Equitrekking Arizona episode on PBS, have shared a special recipe with us that we wanted to share with you. Rancho de la Osa is located outside of Tucson along the Mexico border in Sasabe, Arizona. When we visited, we enjoyed the great Southwestern cuisine, which is made from a combination of Spanish, Mexican, Native American and Southwestern United States ingredients, in their fun, historic hacienda dining room.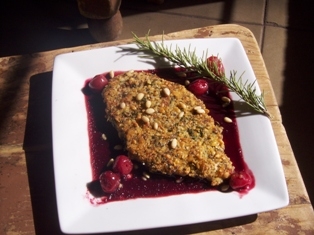 One of the ranch's signature dishes, Pinon-Crusted Chicken with Cherry Chipotle Sauce, has been selected by the Arizona Centennial Commission as the Entree for the Official Arizona Centennial Menu!
There are events now through February 14, 2012 for Arizona's Centennial Celebration, the state's 100th birthday. You can celebrate Arizona history too with this tasty chicken dish.
Pinon-Crusted Chicken with Cherry Chipotle Sauce Recipe
(Serves 8)
Chicken
1 ½ cups pine nuts, toasted and coarsely chopped
2/3 cup bread crumbs
6 garlic cloves, minced
6 tablespoons finely chopped fresh parsley
3 tablespoons dried basil
1 teaspoon salt
½ teaspoon white pepper
8 boneless skinless chicken breasts, lightly pounded
1 cup all-purpose flour
4 eggs, beaten
½ cup olive oil
Preheat the oven to 200 degrees. Mix the pine nuts, bread crumbs, garlic, parsley, basil, salt and white pepper in a small bowl. Dip the chicken into the flour, the beaten eggs, and the bread crumb mixture in the order listed to coat. Saute the coated chicken in the olive oil in a large skillet over medium-high heat for 4 to 5 minutes per side or until cooked through and golden brown. Remove to an ovenproof platter. Cover with foil and place in the preheated oven to keep warm.
Cherry Chipotle Sauce
3 cups canned or frozen Bing cherries, drained and rinsed
¼ cup sugar
¾ cup Ruby Port
1 canned whole chipotle chile in adobo sauce, rinsed – or to taste
Combine the cherries, sugar, wine and whole chipotle chile in a small saucepan and bring to a simmer. Simmer until the sugar is dissolved, stirring occasionally. Process in a blender or food processor until pureed. Strain through a fine sieve into a bowl. Serve warm over the chicken.