Pinellas Park - St. Petersburg, Florida's Hidden Equestrian Community
My annual travel to an unsung "Magic Kingdom" of exceptional riding deep in the heart of suburbia.
by Juliette Ober
Have you ever been part of something so wonderful and unique that you are afraid to talk about it because the act of trying to describe it with words might make it vanish altogether? That is how I feel about the local equestrian community in and around Pinellas Park, St. Petersburg, Florida. It is magical and happy and hilarious at times, but like a mirage, I get the sense that its magic is fleeting - kindly sharing its treasures with us only for a small sliver of time. Blink and you might miss it.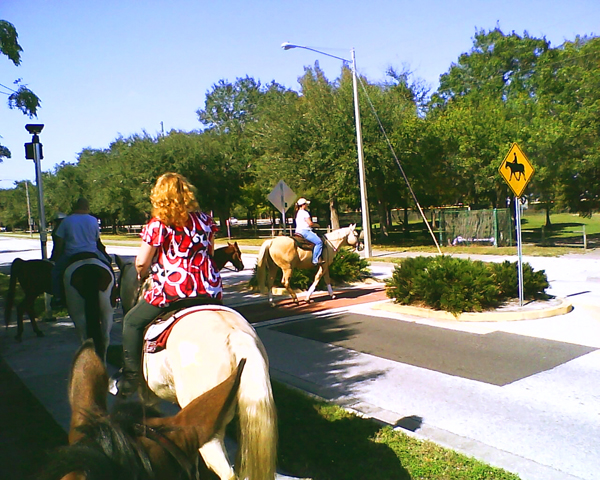 Our group crosses the street in a designated Horse Crossing Zone on Black Friday, November 2011. The lead rider pushes the safety button, positioned at rider level on pole at left, activating flashing lights to warn and stop motorists.
Photo by: Juliette Ober
In 2010, I found this unsung equestrian paradise completely by accident when looking for a horse to ride on our annual holiday getaway to the gulf beaches of Florida. I rescue and retrain off the track Thoroughbreds (OTTB) on our Pennsylvania farm, but I try to always groom and ride horses when on vacation with my husband and daughter. I worried that finding horses and horse barns in St. Petersburg might be impossible because, although warm and picturesque, the beaches not only prohibit horses but are bordered by miles of sprawling suburbia. Pavement, highways, little pink houses, strip malls, and fast food restaurants stretch out in all directions without a pasture or horse in sight.
Or so I thought! Hidden deep in the heart of all that concrete is a small, but bustling equestrian community, complete with a public equestrian park, multiple boarding barns, three tack shops, an old-time feed store, horse friendly neighborhoods, designated horse crosswalks, municipal employees whose job it is remove manure from sidewalks, and a ton of riders. This is truly heaven on earth for a horse lover!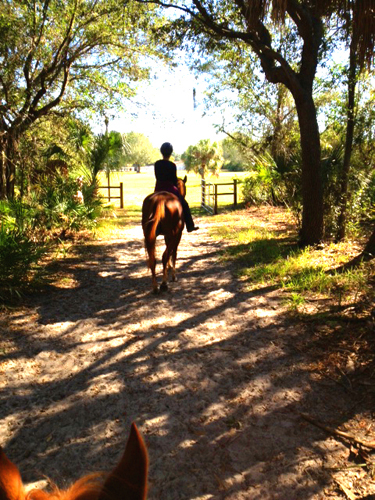 Me on Chaunson with Titan's ear in foreground, riding from the trail into the open space of a public horse park,
Pinellas Park, Florida, November 2012.
Photo by: Barbara Vishio
The most amazing part of this story is that this equestrian community isn't upscale by any measure. In fact, it is quite the opposite. Riders here live to ride their healthy, content horses daily and think of little else. Employment and the money that comes from it appears to be non-existent; it seems like these folks live on fumes, literally scraping together enough nickels and dimes to pay for the gas just to drive to the barn. But, those dilapidated barns and the sidewalks that connect them are teeming with horses and riders!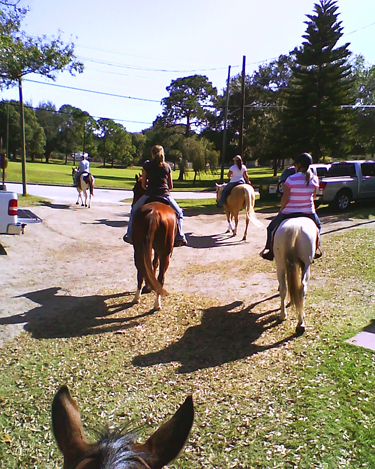 Here, on off-track-Thoroughbred Max (ears), I join a typical unplanned morning ride, November 2011.
Photo: Juliette Ober
One evening this past December as I was assembling my apples and carrots for the next morning's ride, my husband asked me who would be there. I knew Judy and Mandy were definitely riding, but Barb, Niki, Kristen, Tom#1, Tom#2, Jolayne, and probably a handful of other people I now call my friends, easily could be coming too. Morning rides there reminded me of a pick-up game on a local basketball court because nothing is arranged in advanced. People just show up around 8:30 am like they are going to work. As they groom and tack up, others arrive and they all head out for an hour or two riding together through the streets and parks.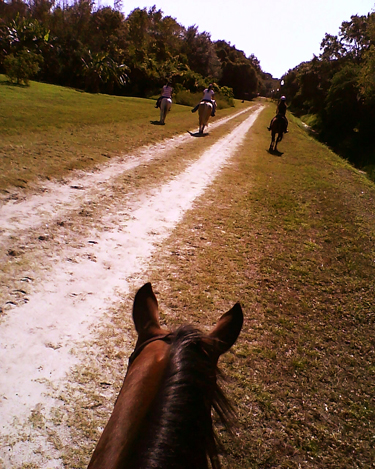 Riding OTTB Max on a sandy alley that connects two parks.
Photo by: Juliette Ober
None of this would seem unusual or ephemeral at all if the boarding barns and parks were in a wealthy, equestrian zip code with many amenities that pulled in an active clientele. One could easily imagine a large group of horse lovers assembling in state of the art facilities to exercise their horses and take part in group rides each morning. But this barn and the others in the area are not state of the art. In fact, if I take off my rose-colored glasses for a brief glimpse, I would have to say the barns are all architecturally and structurally not much more than long, dilapidated cardboard boxes.
This section of Pinellas Park was home to many citrus groves in the 1930's and 40's before the suburban boom gobbled up all the land and erected mid-century tract houses. The remaining stables are piecemeal structures from a bygone era. Some older riders talk of riding their backyard ponies all over the groves and sandy streets before they were paved. But because this has historically been an equestrian area, the zoning ordinance, thankfully, still reflects those pre-existing uses and right of ways.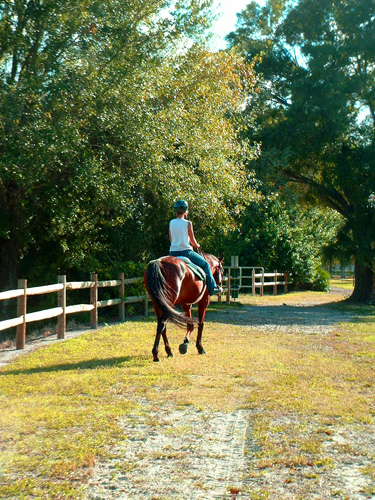 Off-track-Thoroughbred Max and I stroll through Helen Howarth Equestrian Trail on a warm December day, 2011.
Photo by: Maizie Ober
The hub of the activity is the public Helen Howarth Park and Equestrian Trail. This park boasts 60 acres with tree-lined grass areas, two large show rings, cross ties and a holding stall attached to restrooms. There is a horse watering station and a lovely perimeter trail that sneaks in and out of a palm trees and live oaks. Another nearby park has a lake and a bridge over a canal made specifically for horse traffic.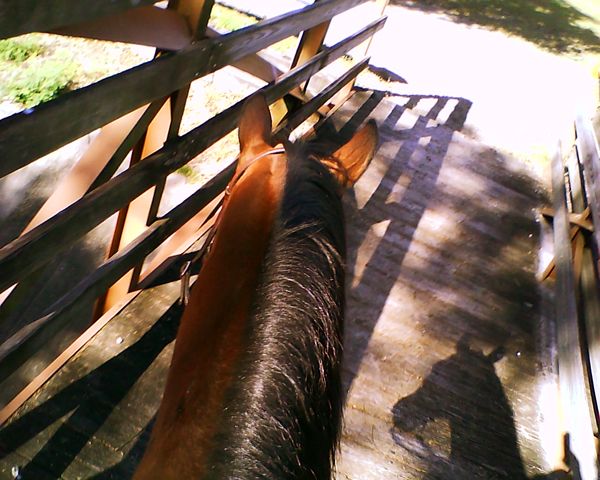 Off track Thoroughbred, Max, kindly takes me over the horse bridge.
Photo by: Juliette Ober

Florida's Secret Magic Horse Kingdom
But, there is something more happening than just a busy equestrian park with many riders and it is here I find myself grasping for words to explain the experience. There are surprising and charming little events that seem ordinary to everyone but me, an out of state visitor.
When I returned to the barn this year for the first time, I was welcomed by a fat, white duck. He followed me everywhere as I hugged and greeted my old friends. Everyone was kind to him but nobody thought his surprise arrival earlier that year or ubiquitous presence was unusual. No one questioned why he was there or where he came from. They gave him food and fresh water and a baby pool to swim in and then they went on with their horse chores. Each day, as I picked out back hooves, "Donald" positioned himself behind the horse and my head and told me long and enthusiastic tales complete with head cocking and inflection. He'd get very close and touch my knee with his beak when I knelt down, like he was making sure that I was still listening.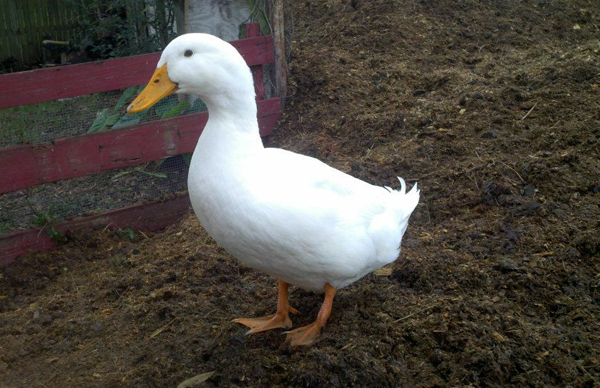 Sweet and loquacious Donald at the barn, December 2012.
Photo by: Judy Kupersmith
Floridians are accustomed to the transplants to their state. Brightly colored groups of abandoned pet parrots squawk and fly over our heads as we ride. The horse bridge that we ride over funnels us onto a sandy track I like to call "Alpaca Road" because the street is bordered by a herd of adorable cantering, lively alpacas. And, even more enchanting, a real zebra lives across the alley!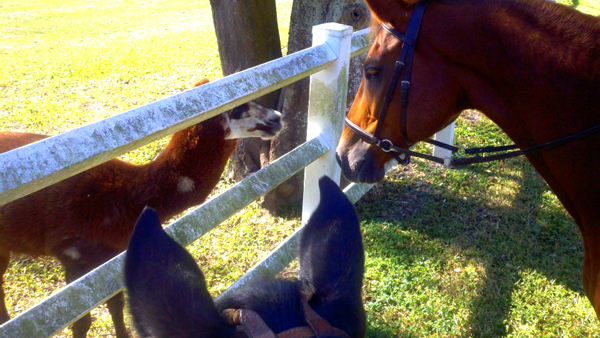 Chaunson, the chestnut Appendix gelding I was riding meets an alpaca friend.
Photo by: Judy Kupersmith
The sidewalks on the way to the park are tight up against busy surface streets. No worry, in this magical kingdom you are allowed to ride your horse right through the yards. The firehouse is close but the fire trucks turn off their sirens when they pass us on our rides. There are mounting blocks (and handy fire hydrants for too-short bareback riders like me!) kindly spaced every so often. The church across the street from the barn has an empty six acre grass area and invites all horse owners to graze there.
On one ride, I came upon a man who was sweeping up a pile of manure left from an earlier rider. His truck and equipment had the municipality seal and I promised to come back and clean up if my horse dropped manure. He just smiled and told me never to fret - it was his job to do that. Silly me. Of course it is! We are in the promised land!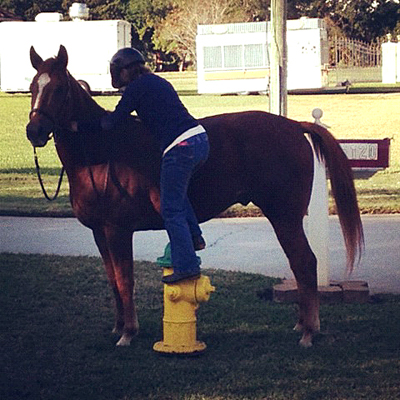 Me using the fire hydrant to mount sweet Chaunson. The plentiful mounting blocks were a little low for my bitless, bareback rides, December 2012.
Photo by: Barbara Vishio
Local riders are men and women of all ages and a smattering of snowbirds like me who were lucky enough to discover such a treasure. The common thread that unites everyone is genuine horse love and lack of pretense. Surely, no "serious" equestrian would ever give this community a second glance. From the street you might not realize that shantytown sheds and falling down fencing on these small suburban corners are actually boarding stables. Yet, just like a secret brown paper package tied up with string (in this case, held together with recycled hay bale binder twine) inside is a precious gift–– a priceless gem. Inside is a group of people and horses with hearts of pure gold.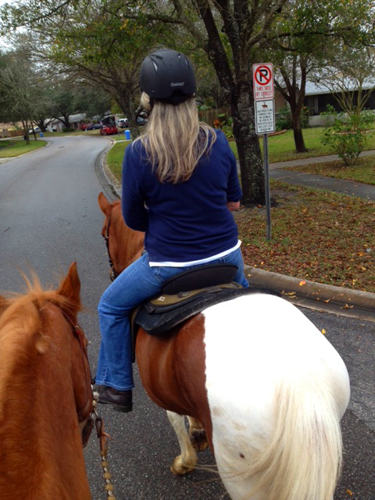 A December 2012 ride through a neighborhood, Barb on Titan in front of Kristen's horse, Koda. A small sign on the right tells that this is a designated equestrian neighborhood. Photo by: Kristen Hubler
On last year's visit one rider in the group suffered a heartbreaking loss and the boarders and barn operator sponsored a benefit picnic and pony rides on her behalf. Another boarder sadly passed away unexpectedly this summer. The barn group again stretched their safety nets out and saved that rider's horse from being sold and sent to an unknown fate. The gelding resides in the same, comfortable stall and is loved and ridden by a familiar friend.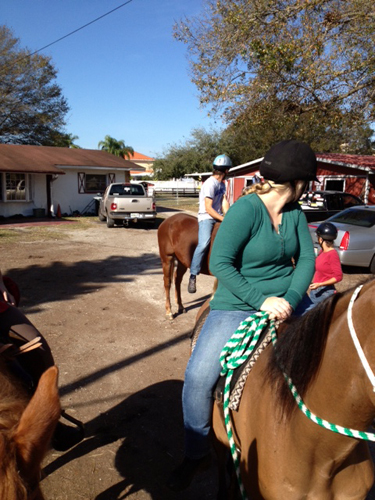 Morning group ride from barn parking area, December 2012.
Photo: Barbara Vishio
The people here remind me of the stereotypical group of surfers who live in tiny beach bungalows and cobble together enough so that they can pursue their surfing passion. In the same way, these horse lovers are obsessed with their horses and do whatever it takes to spend the best hours of the day riding. They slowly groom and graze and clean stalls and ride with little worry about the clock. They have nowhere else to go and besides, this is where they want to be.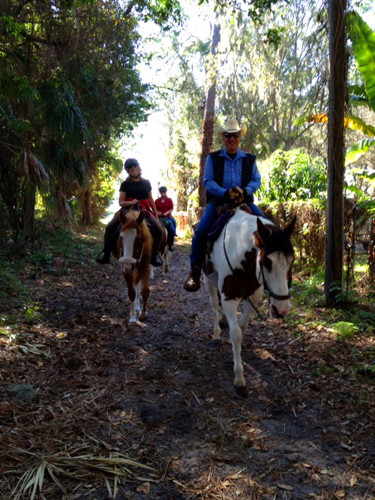 Another ride on "Alpaca Road" December 2012.
Photo by: Juliette Ober
Devoid of any equestrian airs, this little hamlet of horse love steals my heart for a few weeks each year. I try to drink it all in, aware that I am experiencing something very special and ephemeral. My friend Carol and I have a saying that all successful equestrian pursuits require meticulous planning with a little pixie dust and magic sprinkled in for good measure. This community is delightfully heavy on the pixie dust and magic!

About the Author: Juliette Ober retrains off-track-Thoroughbreds (OTTB) to be safe riding horses on her Pennsylvania farm. She rides her three rescued Thoroughbred geldings daily in a bitless bridle and usually bareback. When not at the barn, Juliette enjoys long distance running with husband, Brian, and daughter, Maizie. Her Thoroughbred retraining blog www.honeysucklefaire.com chronicles her bitless adventures. More stories about Juliette's style of riding can be read at www.foundinthefog.com.