New Zealand's Most Incredible Horse Rides
Get the inside word from a Kiwi rider on her favorite horse trekking experiences.
New Zealand is well known for the amazing scenery and the incomparable natural beauty of our beaches and wild spots. As riders, we know that pretty much every view looks better between two furry ears, and New Zealand is no exception to that rule!

Travelling in New Zealand is simply full of opportunities to get in the saddle and experience the best that we can offer from horseback, from mountains to rivers and golden beaches. There are ways to go horse trekking in our famous Southern Alps with businesses like this and this, and tourist mecca Queenstown has lovely horse rides. Just out of Auckland is a gorgeous horse trekking business with rides that take you up to views over the Hauraki Gulf and volcanic islands. Further North is 90 Mile Beach, with a great local riding business right on the beach. The whole of New Zealand is dotted with riding stables and horse trekking businesses – just ask a local and they will point you in the right direction!

Riders at Ti Tree Hills near Auckland ride through native bush.
Why do New Zealanders love horse riding so much?
Horse riding has a strong place in New Zealand culture. We're a young country, with Máori arriving around 1000 years ago and Europeans (and horses!) arriving much more recently in the early 1800's. Horses were an integral part of life for Kiwi families in colonial times, and it wasn't long ago that every farmer had a stockhorse ready to ride up and get the hill mob in for shearing. Many children growing up in the country have a pony, and in any coastal community you'll see locals riding bareback down the beach with rope bridles.

Beach races take place all over New Zealand with fiercely contested heats and a special class for the 'outside racehorses' that are brought in to compete on the sand. This year a beach race from a very remote settlement in the Far North went viral – take a look at how wild the race was from the winner's viewpoint. I love all the bareback competitors and how she calls "Aww yerright bro?" as she gallops past a rider fallen on the steep hillside!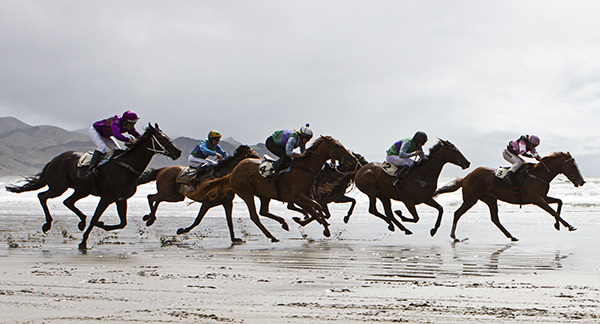 Beach races at Castlepoint Beach Races, an annual Wairarapa Event. Image Destination Wairarapa.
My 3 best experiences with horses in New Zealand
1. My horse riding childhood
I was given my first horse at 11 by a kind neighbor, and started her myself at 14. My teenaged years were a blur of riding – we galloped 90 Mile Beach, chased wild horses in the coastal hills, rode across every local farm - and jumped every gate! We often rode bareback, and trained our horses to ride tackless. We kids camped out alone with our horses staked nearby, and swam them in the sea. We left at 5am and got home at night, sometimes slipping out at midnight to ride under a full moon. The wildness and wonder of this time helped shape me, and taught me self-reliance and responsibility for other creatures.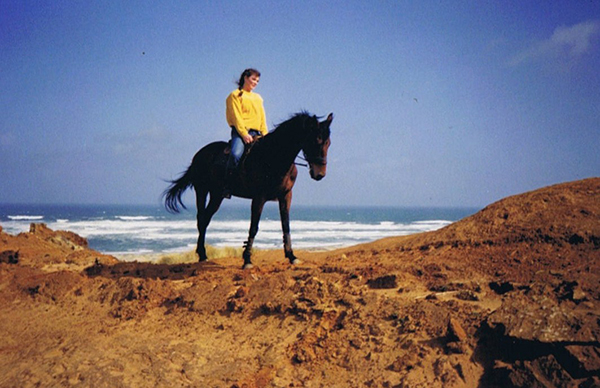 My lovely 16hh thoroughbred mare Serenada. I had her from when she was 6 until she died in my arms at 26yrs old.
At 14, I started pony club – it was a 30km ride each way, so we stayed on site the weekend! It was a tiny club but had great facilities and a lake to swim the horses in – and we were coached by Mrs West, who had coached Equestrian and dual Olympian Andrew Bennie. At 15 I bought a thoroughbred for $300, and we began eventing some fabulous cross country courses. She taught me a lot about the size of a horse's heart.
2. The Dromgool Riding Holiday
Open to graduates of the Dromgool Horsemanship clinics, this 5 day experience begins on the Dromgool farm at Paihia and moves to the Far North where participants get to do moonlight rides on the beach at Henderson Bay, a full day trek through the forestry, sand dunes and along 90 Mile Beach.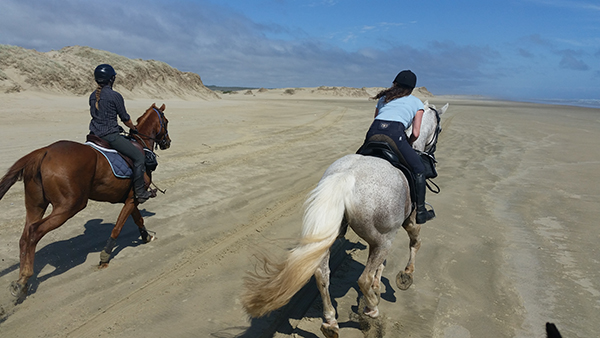 Riding along the beach with the Dromgool Horsemanship Clinic in New Zealand.
I took my young quarterhorse Juno and we had the most incredible time riding with like-minded horse riders and learning new skills from Ken and Jane Dromgool through the days. We slid down 25m high sand dunes, stalked wild horses, and galloped side by side with friends on the open beach. I had only started Juno 10 months before this trip but she was incredibly brave and willing and learned so much. This is the kind of experience you never forget.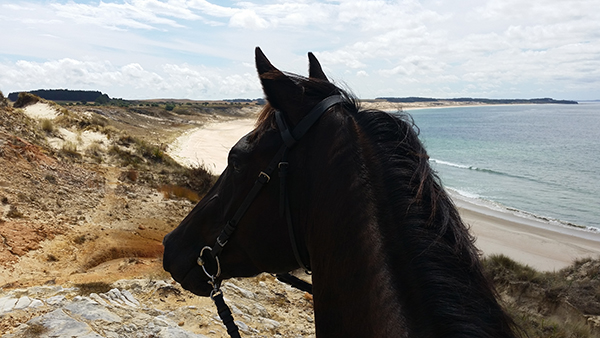 Juno, my 4 year old quarterhorse, admiring the outlook at Henderson Bay in the Far North of New Zealand.
3. A foal being born into my arms
My throughbred mare Summer is an ex-racer by Chianti, by Danehill, by Danzig, so she has huge heart and power. I bred her to film star Friesian stallion Trienko van Noordwijk by Beart 411 (World Champion) who is by Jasper 366 (World Champion). The result was Trijntje, a registered Friesian Sporthorse who combines the presence of her sire with the athleticism of her mother.

She was born into my arms as Summer needed a hand. What an amazing experience hearing her take her first breath and Summer's nicker to her new baby!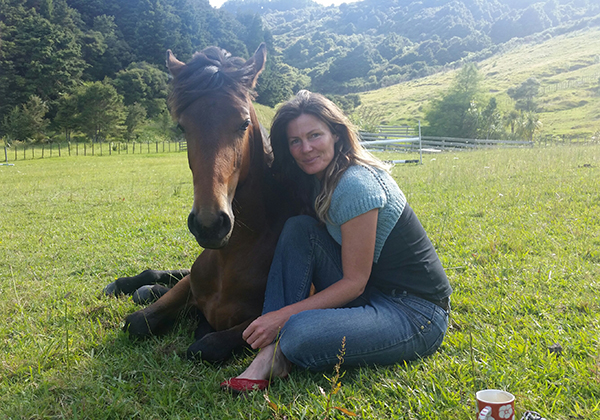 Trijntje at one – calm and trusting, but a dynamo when she runs about!
My top picks for horse riding in New Zealand
1. Go to the Far North and ride along 90 Mile Beach with Ahipara Horse Treks. Their horses are very well trained and you can safely enjoy a good beach gallop. Afterwards grab fish and chips for lunch on the beach and enjoy a swim in the waves!
2. Go horse trekking at Ti Tree Hills just out of Auckland. Take your camera for the amazing hill-top views over the Pacific ocean. Ti Tree Hills have good well trained horses and you will get a chance to canter along the pretty bush tracks.
3. Book in for a horse riding experience in the South Island. If you don't have much time, jump on a horse at Moonlight Stables in Queenstown to enjoy some of the best scenery in New Zealand between two ears. If you have a few days, take a ride through the Southern Alps staying in alpine huts at night; you will never forget the experience – it's on my bucket list!
I hope you get to experience New Zealand on horseback. It's simply wonderful!

About the Author: Huia shares her small farm with three mares – Summer (Thoroughbred), Juno (Quarterhorse) and Trijntje (Friesian Sporthorse). She taught herself to ride at 11 and has come full circle - through pony club, eventing, motherhood, and natural horsemanship, she has come to see that the techniques she used as a child still hold true – that trust is central to everything with horses, and for them to trust you, you first need to trust yourself. Read more on her website, Three Mares.
SaveSaveSaveSave