My Favorite Horseback Rides in New York
I've planned and taken two New York riding vacations, one at the Brookfield Trail System, and another at the Mohonk Preserve. Both featured ground-based facilities that served to make our stays most enjoyable. Learn more about these great NY horse trails in my article for Equitrekking's 50 State Trail Riding Project.
by Mary Everhart

The Brookfield Trail System

The Brookfield Trail System and the Endless Trails Guesthouse, where we stayed, offer great riding and outstanding accommodations for riders and horses. Dave and Pam Williams go out of their way to make your stay enjoyable. The trails are well marked and the footing on the logging roads is excellent for riders who like a fast pace. The scenery is lovely.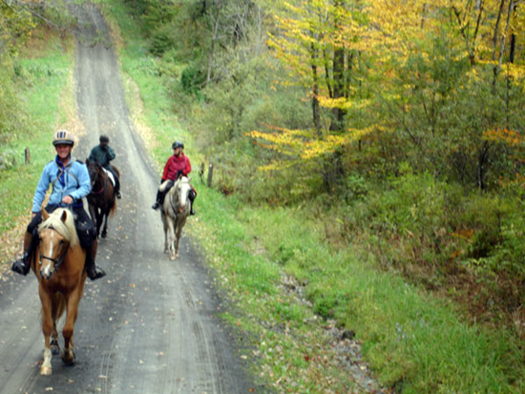 Mary Everhart trail riding with friends in New York State.

The Mohonk Preserve

The Mohonk Preserve is located in the Shawanjunk Ridge, a portion of the Appalachian Mountains. Just 90 miles north of New York City in Ulster County, the Mohonk Preserve is five miles west of the Village of New Paltz. With 7,000 acres of cliffs, forests, streams and ponds, as well as 30 miles of carriage roads and 40 miles of trails for hiking, biking, cross-country skiing, snowshoeing, and horseback riding, there are great chances for outdoor adventures.
Friends and I first vacationed there in 2009. It was so delightful, we returned again in 2011. Now I am planning our third visit! Outstanding accommodations can be found at Mohonk Mountain House. We hauled our horses from Delaware and Pennsylvania and were luxuriously accommodated at Mohonk Mountain House in their stables and in a housekeeping cottage on the grounds of the resort.
From left to right, Nancy on Ruby, Jeri on Taylor Made, Mary on Suzy Q, Caroline on Gracie and Bev on Braveheart.
I had originally researched this trip and found a farm in Kerhonkson, New York about eight miles from Mohonk. That would have meant trailering in each day. In the end, those accommodations fell through and in desperation I called the barn manager, Nikki Thompson, at Mohonk Mountain House and asked if they could accommodate guests traveling with horses. They could and did. Nikki and her staff took excellent care of us. They did our morning feeding each day and cleaned our stalls. They helped us load and unload all the necessary paraphernalia one has when traveling with horses.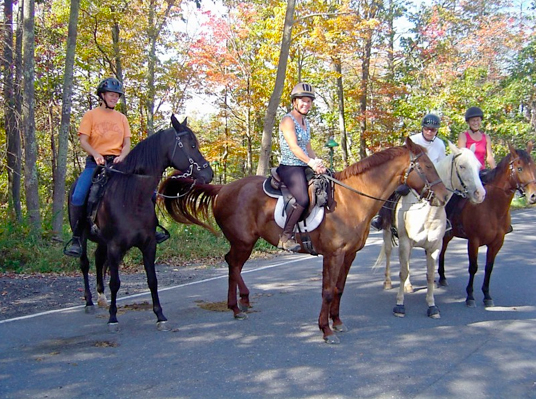 Trail riders pictured from left to right include Kim, Nancy, Mary and Bev.
Space for guest horses is limited so your first call or contact should be with Nikki Thompson at the barn. Once you know she can accommodate your horses, you can work on places for the humans! Our groups give a great big thumbs up to Mohonk, Nikki Thompson and her staff.

About the author: Mary Everhart is Chairman of the Delaware Equine Council Trails Committee and sits on other councils as an open space and horseback riding advocate. She grew up in Pennsylvania near the Brandywine Valley. She enjoys planning horse vacations with friends. She has completed rides in Maine, New Hampshire, New York, Pennsylvania, Ohio, Virginia, West Virginia, and North and South Carolina trailering her own horses. Email Mary for advice about riding in Delaware.