Meet Your Ranch Host- Chezacut Wilderness & Ranch Adventures
Learn about an organic, working guest ranch in British Columbia and get a simple, but delicious summer dessert recipe!
Chezacut Wilderness & Ranch Adventures is a 4,000-acre organically certified and certified biodynamic working cattle ranch set along British Columbia's Chilcotin River. Owned by the Schellenberg family, the ranch offers activities and experiences in addition to the usual guest ranch experiences.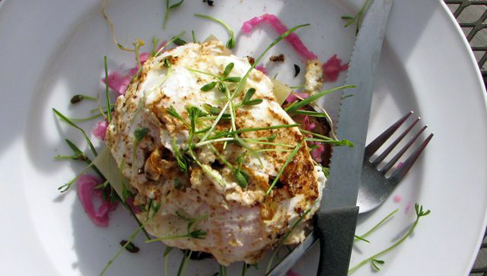 In addition to horseback riding and cattle work, the ranch's workshops and activities include yoga, cooking with grass-fed meats, household cheese-making, sourdough bread making, a cowgirls' getaway and even a multi-sport adventure combining horse riding with canoeing.
We reached out to Dominique Schellenberg to find out more about her family ranch.
Equitrekking: What's your favorite aspect of running an organic working ranch?

Dominique: Being able to enjoy the "fruits of our labor", so to speak, at the end of a day. It's just so nice to have such diversity on the ranch where we produce / grow most of our own food and are able to have our family working together.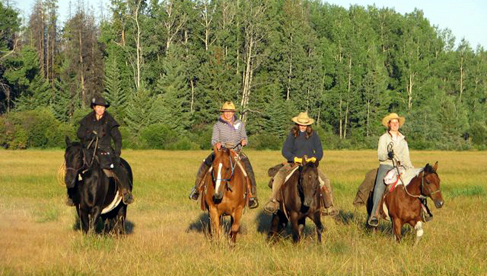 Equitrekking: What inspired you to welcome guests to your ranch home?

Dominique: We were inspired to host guests so that they could experience life the way we live everyday and to learn about how we practice agriculture in a sustainable manner. Being able to share what we love with guests from around the world in such a way that brings gratefulness and gratitude is very fulfilling.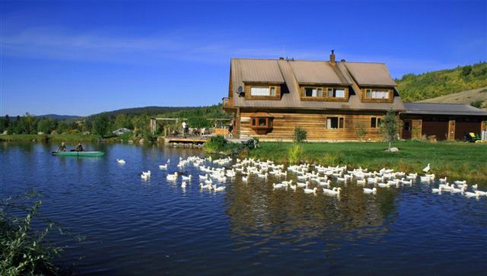 We ensure, that as hosts to the traveler, we make it possible for them to get to know us on a personal level and that means that there are not many people here at one time.

Equitrekking: With are some special meals that guests can experience or learn to make while at the ranch?

Dominique: It seems that our home-cooked meals are the most popular subject on the ranch. We take such care in producing and then preparing meals that it is hard not to enjoy them. Our grass-fed steak with fresh greens from the garden and delicious French style fries made in our own beef lard, is a typical meal here on the ranch.
One of my favorite recipes, a very simple but truly delightful treat, is a dessert, which is what I most often personally make after a meal for our guests.
All the ingredients are local to our ranch as I have my own milk cows, we grow our own berries and we also have honeybees. Often you may not even need the honey because the fruit and cream mixture is already sweet enough!
Summer Fruit Ice-Cream Recipe
3 cups heavy cream
2 – 2.5 cups fresh / frozen fruit (raspberries or strawberries are great)
3 tblsp. Liquid honey

Place in a blender and blend all until completely smooth and thick. Serve quickly in nice glass or white dishes and add a fresh peppermint or basil leaf to decorate.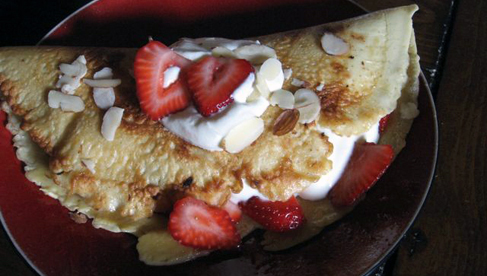 Equitrekking: For our readers who enjoy riding out, what is some terrain that they can look forward to horse riding through on the ranch?

Dominique: Our ranch has plenty to offer. Being situated along the Chilcotin River and nestled into a long valley bordered with rolling hills and lots of trees, there is certainly variety here to see.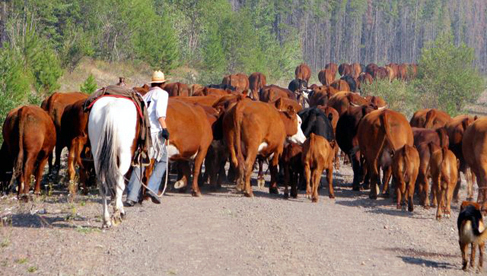 There are animals grazing in the fields and wildlife nearby and the grand views of the distant mountains to the south and the west.
On hot summer days it is always nice to ride down to the river for a refreshing swim or, for those who do not dare, they can also ride under the irrigation on the field and have a lighter sprinkling refresher.

Equitrekking: What do travelers find most surprising when they visit you?

Dominique: The comment section of our guest book is filled with compliments about the great food they experienced during their ranch holiday.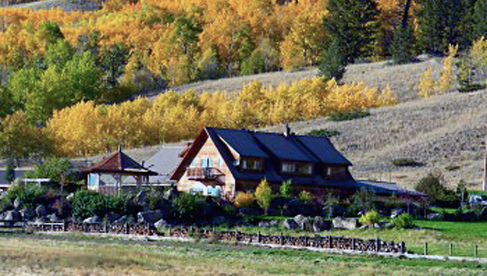 Food certainly is what brings people together, and I believe that when folks see how and where it all comes from, so pure and natural, they enjoy it even more!
Equitrekking: What is most special about your location?

Dominique: Our ranch is in a remote setting, yet easily accessible to any traveler wishing to make the drive out west. Over the years the closely surrounding population, most of who contribute
to the ranch functioning as a whole, has grown and has created a small but country-like community tucked away in the middle of nowhere.
Learn more about great British Columbia dude and guest ranches in Equitrekking's Vacation Guide, a searchable online guide to great horseback riding vacations, including working cattle ranches, guest ranches and international horse riding holidays.