Meet Your Host - Rancho Las Cascadas
Meet Ursula Wiprächtiger, owner of Rancho Las Cascades in San Augustin Buenavista, Mexico. She shares with us the things that make Rancho Las Cascadas a true paradise - from the miles of beautiful horseback riding trails to nearby famous historical sites to just relaxing in the hot tub or spa - Rancho Las Cascadas will make anyone think twice about ever leaving. In addition, Ursula shares with us a recipe that is so easy she makes it for guests while out on the trail and so good it is a guest favorite.

Equitrekking: You were born in Switzerland. What inspired you to move to Mexico and welcome guests to Rancho Las Cascadas?
Ursula Wiprächtiger: I began my career in tourism by working all over the world as a tour guide. My last job brought me to Cancun and Playa del Carmen, where I stayed for 8 years organizing cultural tours by airplane to many interesting places in the Mayan world.
However, I found the climate too hot and humid, and decided to move to Mexico City, in the high plains of Mexico. There I worked in publicity making announcements with aircrafts over the city. I found, as many of us do, that city life was too busy and crazy for me. I began to look for a weekend house in the countryside and found the perfect place in San Agustin Buenavista. Here I enjoy the wonderful sun of Mexico without the humidity of the coast, as the ranch is situated in the high plains on an altitude of 2300 mt / 7500 ft.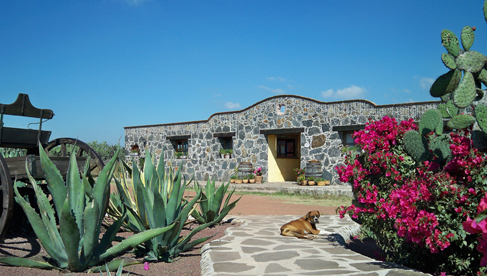 I started building my house and it got bigger and bigger, as I love houses with patios (courtyards). It became too big for me and I thought of starting a business with people from Mexico City coming out to the countryside. I thought of offering horse rides for a day or two. When I started riding, I found out that there were many more rides through different regions with different vegetations, canyons, valleys, climbs and descents. The rides are so varied that you can ride for more than two weeks and discover new scenery every day. I then decided that I should share the beauty of this land with friends from all over the world.
So it was not the idea of a guest ranch that sent me looking for the ideal place. The ideal place asked to be shown to all those who are open to experience a small wonder every day. From this vision Rancho Las Cascadas was born. I have found the perfect place with a climate which truly makes it a paradise with 333 days of sunshine a year.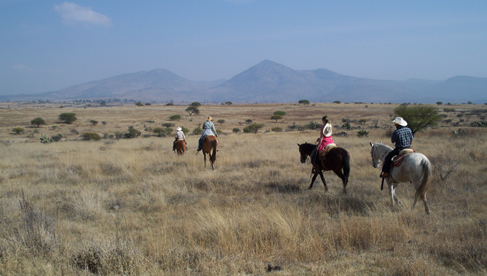 Equitrekking: Food is a big part of any vacation. What is a favorite dish that travelers can enjoy at Rancho Las Cascadas?
Ursula Wiprächtiger: Among many famous authentic Mexican dishes, one of our guest's favorite is a picnic dish served at lunch during one of the rides. We top it off with a great view of beautiful waterfalls.
Chicken - Pineapple Salad with Chili Piquin: (4 servings)
500 g chicken breast (roughly 1 pound) - Cook in chicken broth, when cooked let cool and shred with your fingers. Put in big bowl.
250 g (8 oz.) of sliced, drained pineapples - Cut into cubes, add to chicken.
250 g (8 oz.) of sweet corn drained - Add to chicken. Mix well.
2 spoons of mayonnaise
2 spoons of white vinegar
2 spoons of pineapple juice
Pinch of salt - Mix together mayonnaise, white vinegar, pineapple juice and salt. Pour over salad and mix again well with the salad. Refrigerate before serving.
Serve with: Tostadas and Chili Piquin (Mix of chili, salt and lemon powder)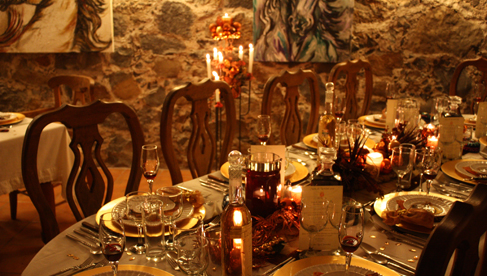 Equitrekking: What is most special about your location?
Ursula Wiprächtiger: For many years our place has been an open secret among airline crews like Lufthansa, British Airways, KLM, Air France and others who spend layover in Mexico City, escaping on a regular basis to Rancho Las Cascadas. The crews classify us among the best locations and they sure have many to choose from!
We provide the combination of unsurpassed riding in a great variety of terrains, intriguing cultural tours to famous sites in Mexico and the choice to relax, enjoying the solar heated infinity swimming pool, hot tub and spa.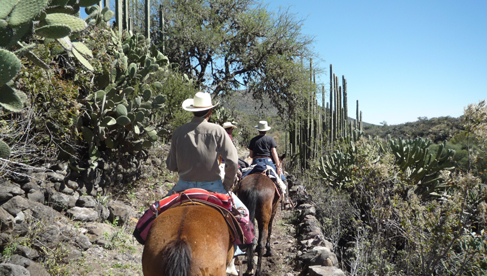 Equitrekking: What level of rider do you need to be to visit your ranch?
Ursula Wiprächtiger: Beginner, intermediate, advanced or expert all are welcome at Rancho Las Cascadas. The terrain and horses are excellent for any of these levels and we split the riders accordingly into small groups. However, we often have families or friends wishing to spend their holiday together, but many of them are of different riding abilities. So do they have to spend whole days apart, each alone on a different ride? No! We have the perfect solution: combined rides! Friends of different levels go out together for these rides. We send them out with two or more guides. During the rides they separate, each level with their wrangler (guide) according to their ability. One group canters and gallops while the other enjoys walking or slow canters and time to admire the countryside. Further down the road they join together and this interchanges frequently with times apart and times together.
Equitrekking: Do guests have a favorite activity either in or out of the saddle?
Ursula Wiprächtiger: In addition to wonderful horseback riding through diverse countryside, guests also enjoy our included daily cultural tours to incredible places like Teotihuacan with the famous pyramids of the sun and the moon, the awesome colonial town of San Miguel de Allende for some great shopping, the colorful market of Jilotepec and more. For details visit the 'Included Tours' page on our website.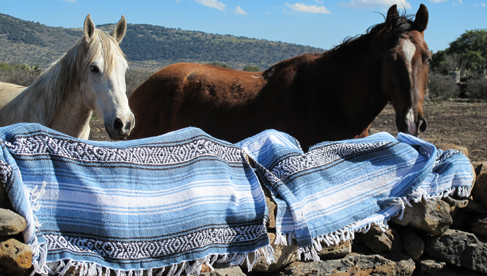 Equitrekking: What do travelers find most surprising when they visit you?
Many guest reviews say this place is even more beautiful than described. It is a Mexico not spoken of, a place to find peace and tranquility, to calm down and relax, and enjoy a great time among friendly staff, amazing horses and fellow travelers from all over the world.

Learn more about Rancho Las Cascadas in the Equitrekking Vacation Guide, a comprehensive resource for dude ranches, riding holidays, cattle drives and equestrian vacations, and at the Rancho Las Cascadas website.