Meet Your Host - Padlock Ranch Working Cattle Ranch
Learn about a real working cattle ranch, straddling Montana and Wyoming.

When you visit the historic Padlock Ranch the fact that you stay in a comfortable lodge in Wyoming and saddle up your horses in Montana won't be the only thing that surprises you about this working ranch, which takes a small number of guests each week to participate in cowboy work and experience American West culture.
Explore the rolling hills and sagebrush fields of this Ranchester, Wyoming ranch vacation destination in this interview with Les Nunn, your host at Padlock Ranch.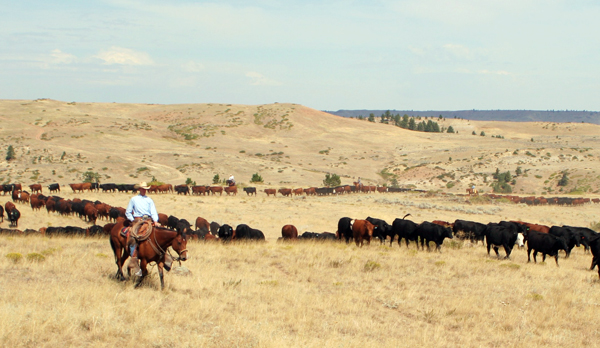 Equitrekking: What's most special about your ranch vacation and location?
Les: It is near Sheridan, WY which was rated #1 western town in America. We have a spectacular view of the Bighorn Mountains and we have wide open, magnificent landscapes.
Equitrekking: What makes Padlock Ranch's cattle drives "authentic"?
Les: It is first and foremost a cattle ranch, with true blue traditional cowboys.
So many guest ranches have cattle to support their guest operation. Here cattle are the livelihood of the ranch and our cowboys are here to because being a cowboy is how they prefer to make their living.
Guests participate in the same activities the cowhands are doing and would be doing whether guests were present or not.
Equitrekking: What's your favorite aspect of running a guest ranch?
Les: Meeting so many different people from so many places around the globe and seeing the satisfaction they get from getting a glimpse of our culture and lifestyle.
I love to share our story and have others experience the Padlock legacy!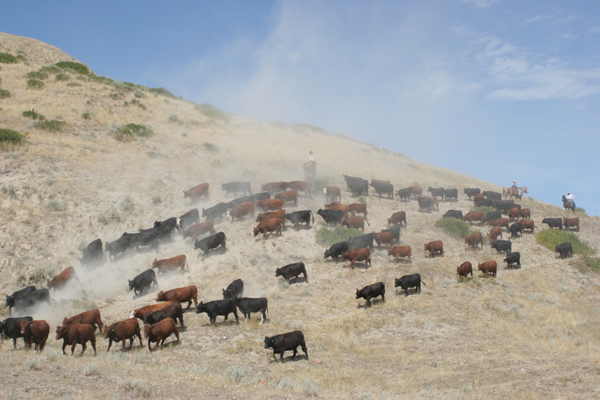 Equitrekking: What is the history of Padlock Ranch?
Les: The ranch was established by Homer Scott in 1943 in Dayton, WY, where the headquarters are still located. He started with about 3000 acres and 300 head of cattle. The ranch is still owned by the Scott family and has grown tremendously since its establishment.
It now encompasses more than 450,000 acres in both Montana and Wyoming and there are nearly 11,000 head of cattle.
Equitrekking: Do guest's have a favorite trail ride or horse activity? If so, what?
Les: I believe gathering and driving cattle is among the most favorite activities by most guests. There are some who really enjoy our branding times.
They also are amazed by vast landscapes, the magnificent vantage points with the Bighorn Mountains as the backdrop, and the beautiful sun rises and sun sets.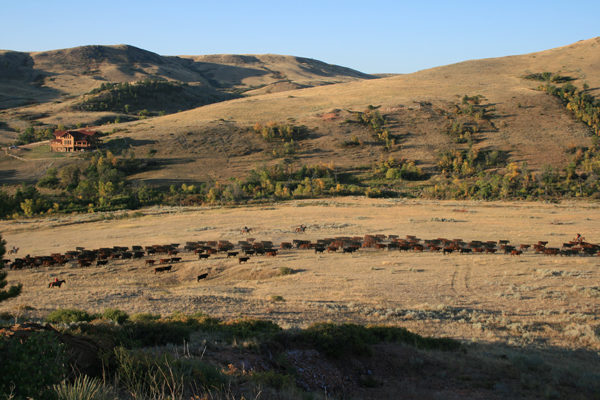 Equitrekking: What do travelers find most surprising when they visit you?
Les: I think what most surprises people is how big it all really is. Few guests come from locations where you can look for miles and not see another road, house, or fence. It's just amazing to them. It surprises me how surprised they are by it because I hardly think about it anymore; its just normal for me.
However, when I do stop and think about it, it is amazing how the country just envelopes you and swallows you. It gives a true sense of serenity.
Equitrekking: What's the number one tip that you can give to guests who want to work cattle on their vacation?
Les: Take time to get some riding in before coming. Being in shape really makes the days that much more enjoyable.
If prior riding isn't an option then I guess the next best tip would be to bring plenty of Ibuprofen... that's a joke.


Learn more about working ranch vacations in Equitrekking's Vacation Guide, a searchable online guide to great horseback riding ranches, including working cattle ranches, guest ranches, family dude ranch vacations and international equestrian vacations.