Meet Your Host - New Mexico Horse Adventures
Meet Steve Simmons, a New Mexico horsemen, magazine publisher, photographer and your host for New Mexico Horse Adventures.
New Mexico Horse Adventures invites travelers to ride horses in historic and remote New Mexico locations, taking in wild horses, sandy mesas and stunning red and white canyons. Learn more about your host for these horseback riding adventures.
Equitrekking: 

What inspired you to start New Mexico Horse Adventures?

Steve Simmons: New Mexico is a wonderful place to explore on horseback. Because of our climate, we can ride 12 months of the year, and we have so much open space, so many wilderness areas and open BLM land.
In the late fall through late spring we ride in the lower elevations where we have broad mesas, historic old villages, and red rock canyons. In the late spring through mid-fall we have lush mountain valleys, streams and rivers, and areas where you can almost disappear on a horse.


Equitrekking: 

What are some of your favorite areas that you take guests who come to trail ride 
with you? Tell us about the scenery.

Steve Simmons: We have it all here in New Mexico. In the cooler months we have broad mesas, red rock canyons, and historic old villages to ride into and across. In the warmer months. we have lush mountains, and beautiful high valleys fill of greenery and water to ride into. In any time of the year, the air is clean and fresh, and it is easy to find quiet places to ride where it is only you, your horse, and your group.


Equitrekking: What level of rider do you need to ride with you? Do you need to bring
your horse?

Steve Simmons: We can work with riders at all experience levels. We enjoy taking beginners and introducing them to basic horse safety and grooming, and showing them that riding a horse can be a very easy and enjoyable activity. Often times, our beginners, who are initially afraid of a horse do not want to get off an hour later.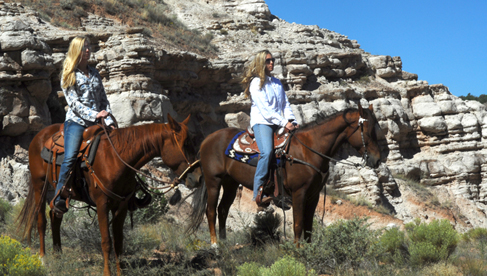 We also enjoy working with more advanced riders, as we also like to just get out and ride. Our visitors are welcome to bring their own horses, or use one of our trail savvy Morgans


Equitrekking: What do travelers find most surprising when they visit you?
Steve Simmons: The beautiful scenery… Everyone thinks New Mexico is sagebrush and sand, but we have such a variety that we can show people -- whatever they want to see.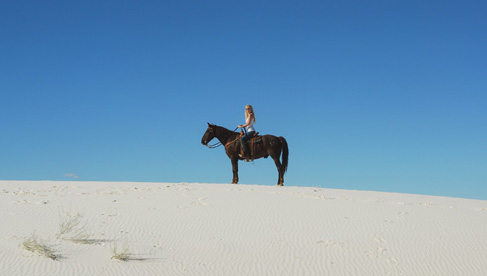 Many of our guests are surprised at the beautiful vistas, and lush greenery of New Mexico. New Mexico has so many cultural activities in the form of historic sites and wonderful art and history museums that there is plenty to do even for a day two off of a horse. New Mexico can be a complete vacation spot for the horse lover who wants a horse adventure and more!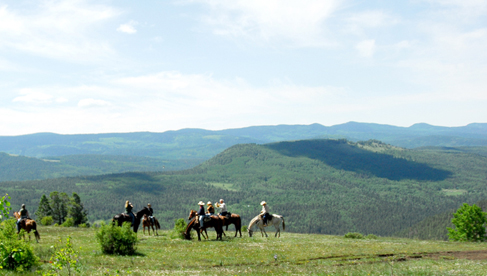 Learn more about New Mexico Horse Adventures on their website. Check out New Mexico Horse Adventures in the Equitrekking Vacation Guide, a comprehensive resource for dude ranches, riding holidays, cattle drives and equestrian vacations.