Meet Your Host - Colleen Hodson of the Dude Ranchers' Association
Meet Colleen Hodson, Executive Director of the Dude Ranchers' Association (DRA), located in Cody, Wyoming. It is her job to ensure that the more than 100 ranch members of the association provide the most complete and memorable experience possible to guests. From Arkansas to California and all the way through British Columbia, Collen has traveled to evaluate each ranch, ensuring that guests receive the type of experience they seek.
Equitrekking: You have visited a lot of ranches in your career with the Dude Ranchers' Association. What's been your favorite part of the experience and has it made you a better rider?
Colleen Hodson: I have visited over 110 ranches and being able to see the amazing places these ranches' are located in is probably the best thing about my job. That being said, the ranchers, ranch managers and the entire staff at every DRA dude ranch goes way above and beyond to make sure your stay is exactly what you want it to be.
Having horses of my own and riding on regular basis for the past 30 years I thought I would find the riding a little regimented and more geared to just the beginner rider. Well was I wrong! They truly can accommodate any riding level from the most inexperienced to the most experienced. The wranglers at dude ranches are some of the most well rounded, diverse people I have ever been around. You may get a kid who grew up on a cattle ranch working cows since he was 4, or a kid that just graduated from Cornell and was on the polo team, and everything in between. The one thing they all have in common is their love of horses and people. Their ability to take a novice rider on day one of their stay and turn them into a good, if not great, rider by day three is amazing to watch. So to answer your question, yes - I have learned more about riding and the horse in general in these past 10 years than I ever thought I would and that has made me a much better rider.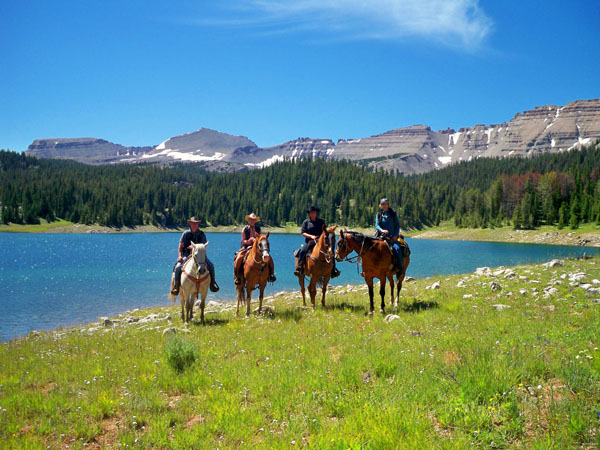 Posing in front of the beautiful scenery at Red Rock Ranch in Kelly, Wyoming.
Equitrekking: The Dude Ranchers' Association has been around for a long time, since 1926, what is the mission of your historic organization?
Colleen Hodson: The association was started to help promote, protect and preserve not only the western way of life a dude ranch offers, but also to protect and preserve the places and the land that these ranches operate in and around. Our mission has not changed much over the years, we still want to help the ranches stay viable so that people who might not otherwise get the chance to experience the wonders of the west can still do so. The ranches truly do consider themselves stewards of the land.
Equitrekking: What are some things that guests should think about when choosing a ranch vacation?
Colleen Hodson: The top three questions I get are: what am I going to do, where am I going to sleep and what will I be eating? Do you want gourmet food; do you want to work cattle; do you want a massage or a facial; how much riding do you want to do; is fishing important; how much time do you have to spend at the ranch; what actives are included in the price; what is available in the area the ranch is located; what will my kids be doing; will we be eating as a family; geographical location, what kind of accommodations are available; cost etc., and of course, are they a member of the DRA, are all questions we can help answer. One of the great things about traveling to a dude ranch is that there is something for everyone and there is a ranch out there to match your specific wants and needs.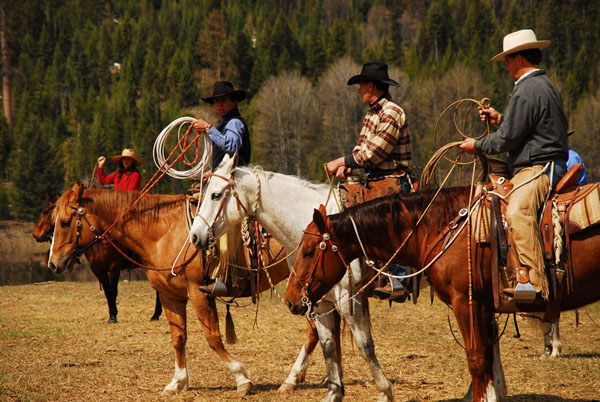 Learning to rope cattle at McGinnis Meadow Cattle & Guest Ranch in Libby, Montana.
Equitrekking: What do travelers find most surprising about their dude and guest ranch experience?
Colleen Hodson: The things I hear most often are how incredible the food was, how amazing the accommodations are and how fast guests connected with their horses. Parents are always telling me about how their child remembers the name of their horse, the ranch and their wrangler for years after yet can't hardly remember a thing about the cruise vacation last year.
People are pretty apprehensive when they find out there are no TV's in the rooms (for most ranches) and that cell service is sketchy at best. However I can't tell you the amount of times I have heard guests say to an owner/manager, "I did not know what we were going to do without our phones, TV' s and all the other devices that holds us captive but THANK YOU! We have actually been acting like a family this week, talking to each other, eating with each other and just having fun with each other, we can't remember the last time we were able to reconnect like this."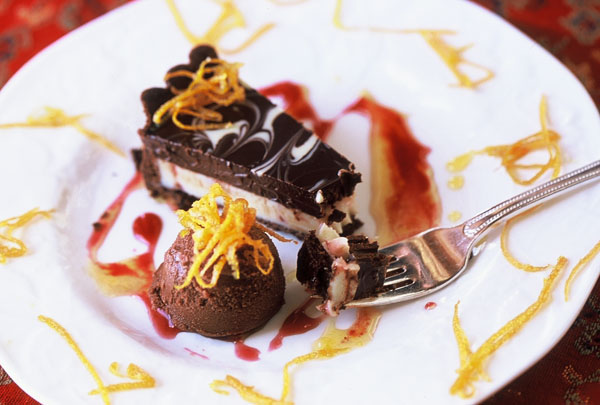 One of the many delicious desserts you can enjoy at The Home Ranch in Clark, Colorado.
Equitrekking: How is the dude and guest ranch industry changing and how does the Dude Ranchers' Association fit in with this changing travel climate?
Colleen Hodson: We are seeing a couple of changes, as I am sure are most travel destination vacations. The length of time a person has to spend on a vacation seems to be less than in the past. Eight years ago, most all dude ranches had a 7 night minimum stay and that was a requirement for membership. However, we have now had to loosen that requirement to 3 nights. Travelers are looking for deals and, of course, want to get the most bang for their buck. The good news is that dude ranches have always been like that - once you get onto a ranch you can pretty much put your wallet away for the rest of the week.If you break it down, it is much more economical to stay at a ranch then trying to piece meal your vacation together. We are the original "all inclusive" vacation model.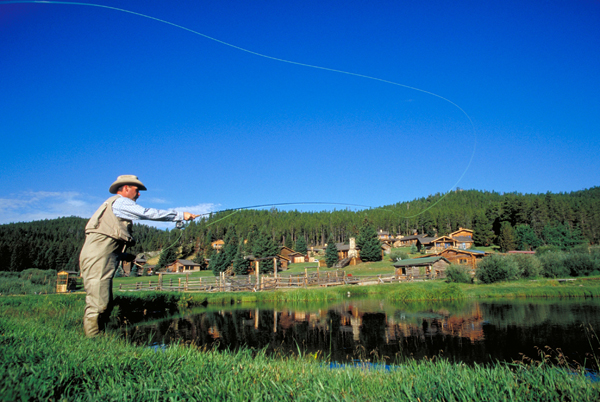 Dude ranches offer a wide variety of activites and fun for the whole family.
Equitrekking: What resources does the Dude Ranchers' Association make available to travelers?
Colleen Hodson: I know that finding the perfect ranch for you and your family can be overwhelming, the good news is we have a great website that lets you search by state, activities, price, amenities, ranch policies etc., and because they are a member of the DRA, you know that the ranch has been inspected on a regular bases. If you still need a little more assistance we are always available here at the office to help you either get started or help you to narrow down your choices based on what you are looking for.
Learn more about the Dude Rancher's Association and great dude ranch vacations in the Equitrekking Vacation Guide, a comprehensive resource for dude ranches, riding holidays, cattle drives and equestrian vacations.